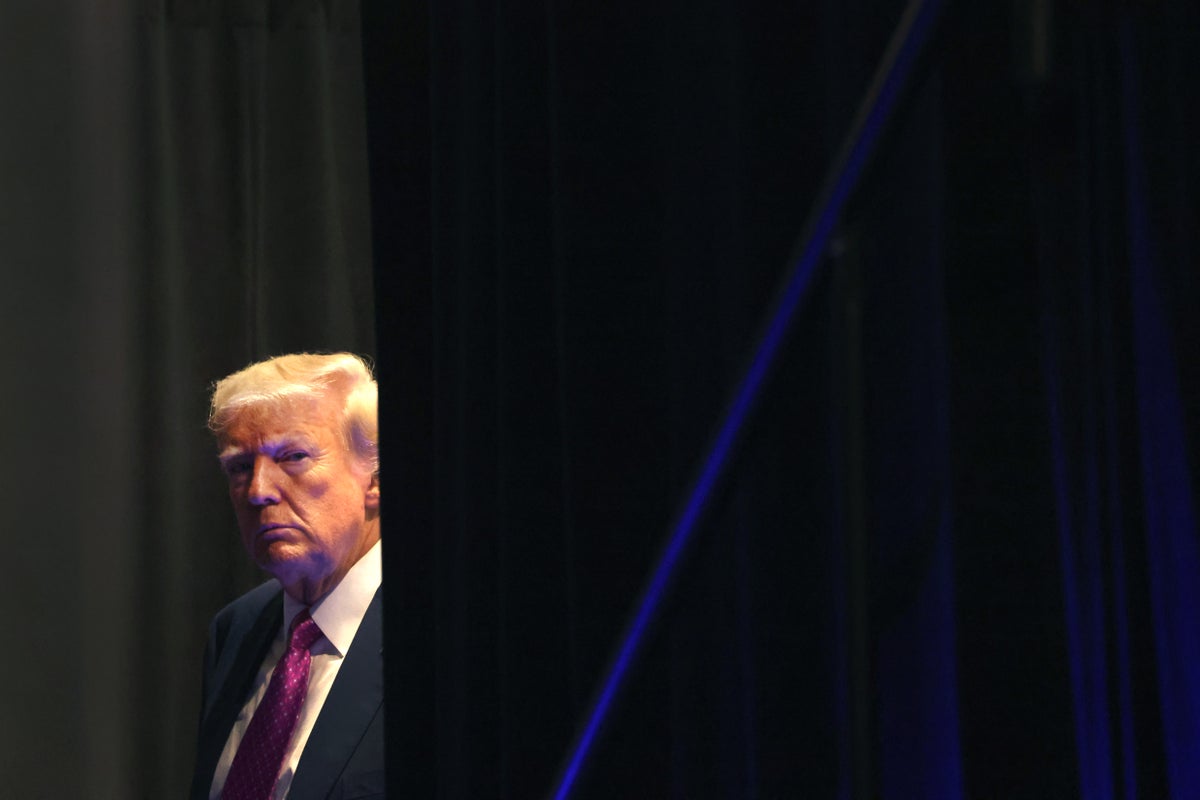 Audio of former president Donald Trump appearing to flaunt his possession of classified military documents has been broadcast by CNN.
In the recording, which allegedly came from a meeting at Mr Trump's Bedminster golf club and estate in July 2021, the former president can be heard audibly shuffling documents and describing his "big pile of papers" to associates.
The existence of the tape was already known but this is the first time it has been heard in public.
"These are the papers," Mr Trump says at one point, referring to a military document concerning Iran and US military joint chief of staff Mark Milley. "This was done by the military and given to me."
"They presented me this — this is off the record," Mr Trump is heard to say at another point in the recording, describing the information he is showing to others as "highly confidential" and "secret".
The audio records Mr Trump speaking to several people and apparently showing them documents relating to a possible attack on Iran that he says were drawn up by Gen Milley and which he himself says are still classified.
The former president is heard saying: "Isn't it amazing? I have a big pile of papers, this thing just came up. Look. [PAPERS SHUFFLING] This was him. They presented me this – this is off the record – but they presented me this. This was him. This was the Defense Department and him."
One of the other people in the room can be heard to say: "Wow." Another says: "Oh my gosh."
Apparently referring to an ongoing public row with Gen Milley, Mr Trump is then heard to say: "This totally wins my case, you know."
He is then heard saying: "Except it is, like, highly confidential." His guests are heard laughing as he says this.
The former president then says: "Secret. This is secret information. Look, look at this. You attack, and …."
One of his guests then jokes that "Hillary would print that out all the time, you know", referring to Hillary Clinton's controversial use of a private email server for which she was criticised but not criminally charged.
Mr Trump then says: "See as president I could have declassified it. Now I can't, you know, but this is still a secret. Isn't that interesting? It's so cool. I mean it's so – look, her and I, and you probably almost didn't believe me, but now you believe me."
The former president was indicted earlier this month and charged with 37 counts related to his alleged mishandling of classified documents after leaving the White House, including willful retention of national defence secrets in violation of the Espionage Act, conspiracy to obstruct justice, corruptly concealing documents, concealing documents in a federal investigation, scheme to conceal, and making false statements.
In May, CNN reported that among the evidence prosecutors used to build their case against the former president was an audio recording of a summer 2021 meeting, in which Mr Trump allegedly acknowledged holding onto a classified Pentagon document detailing potential battle plans against Iran.
In an interview with Fox News, Mr Trump denied possessing such a document.
"That was a massive amount of papers and everything else talking about Iran and other things," he said. "And it may have been held up or it may not but that was not a document. I did not have a document per se."
He suggested the papers may have been newspaper and magazine clippings.
The Independent has contacted Donald Trump for comment.
It was not immediately clear how CNN had come into possession of the recording.
play youtube
,
xnxx
,
xvideos
,
porn
,
porn
,
xnxx
,
Phim sex
,
mp3 download
,
sex 4K
,
Straka Pga
,
gay teen porn
,
Hentai haven
,
free Hentai
,