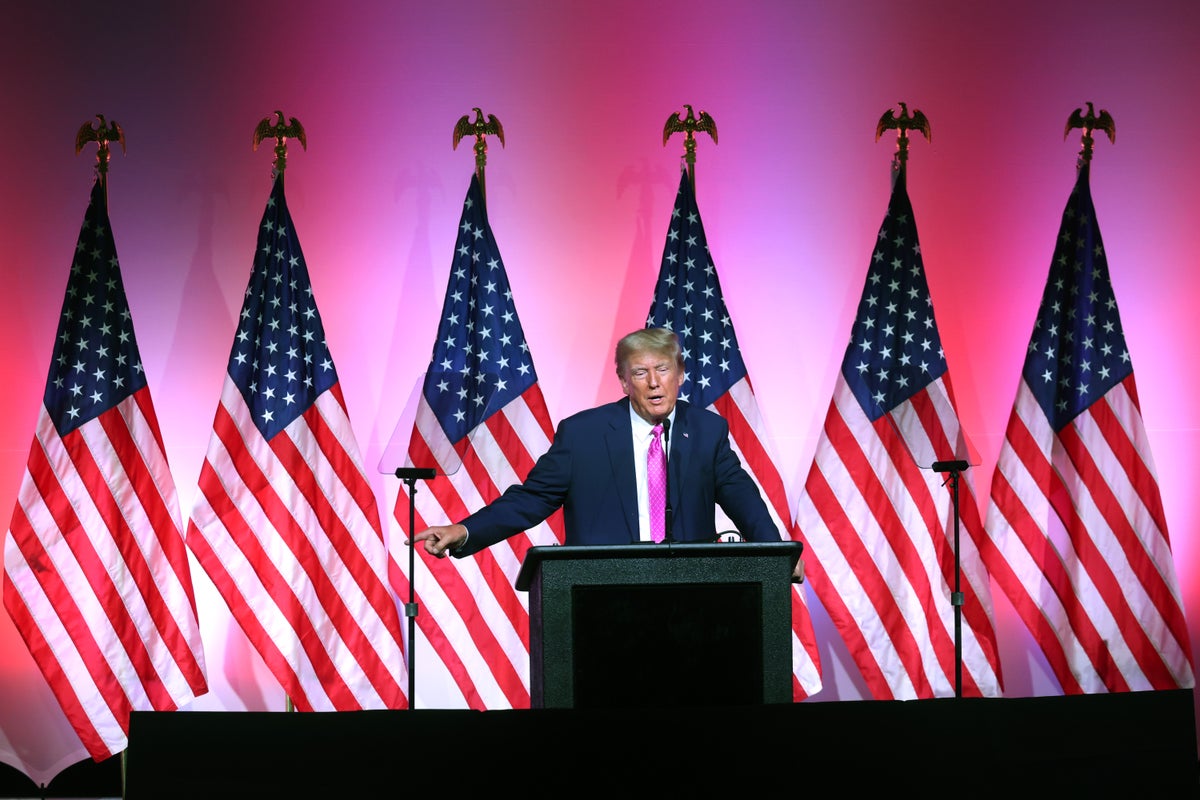 Critics slammed Donald Trump after he appeared to flaunt his possession of classified military documents in an audio clip aired by CNN.
The former president, who was indicted earlier this month and charged with 37 counts related to his alleged mishandling of classified documents after leaving the White House, apparently showed the papers relating to a possible attack on Iran that he said were drawn up by US military joint chief of staff Mark Milley and which he himself said were still classified.
Reacting to the audio clip which allegedly came from a meeting at Mr Trump's Bedminster golf club and estate in July 2021, lawyer and activist George Conway said: "If the defendant doesn't go to prison for at least five to ten years, it would be a travesty. The prosecutors have him dead to rights, in more ways than we can count."
Follow the latest updates about Trump's leaked CNN audio here.
CNN anchor Jim Sciutto also took to Twitter, criticising the former president. "It's difficult to think of more highly sensitive intelligence than military contingency plans to attack one of the country's most severe national security threats, Iran," he said.
"This is incredibly damning listening to it. Somehow so much worst listening than even reading," said journalist Garrett M Graff.
"This literally couldn't be more incriminating," said Tommy Vietor, a staffer in the Barack Obama administration.
While the existence of the tape was already known, this is the first time it was heard in public.
"These are the papers," Mr Trump could allegedly be heard saying at one point in the audio clip, refering to a military document concerning Iran. "This was done by the military and given to me."
"They presented me this – this is off the record," Mr Trump is heard to say at another point in the recording, describing the information he is showing to others as "highly confidential" and "secret".
The audio records Mr Trump speaking to several people and apparently showing them documents relating to a possible attack on Iran.
The former president is heard saying: "Isn't it amazing? I have a big pile of papers, this thing just came up. Look. [PAPERS SHUFFLING] This was him. They presented me this – this is off the record – but they presented me this. This was him. This was the Defense Department and him."
Apparently referring to an ongoing public row with Gen Milley, Mr Trump is then heard to say: "This totally wins my case, you know."
He is then heard saying: "Except it is, like, highly confidential." His guests are heard laughing as he says this.
The former president then said: "Secret. This is secret information. Look, look at this. You attack, and …."
One of his guests then joked that "Hillary would print that out all the time, you know", referring to Hillary Clinton's controversial use of a private email server for which she was criticised but not criminally charged.
Mr Trump said: "See as president I could have declassified it. Now I can't, you know, but this is still a secret. Isn't that interesting? It's so cool. I mean it's so – look, her and I, and you probably almost didn't believe me, but now you believe me."
Slamming the former president, Politico magazine columnist Renato Mariotti said: "This recording is even more damning than it reads in the indictment.
"Trump used a document he admits was classified as a prop to brag and make himself feel important.
"Ironically, moments earlier, Trump and his guest mocked Hillary Clinton for mishandling classified documents." The Lincoln Project labelled him a "traitor".
"Trump is now on record knowingly divulging classified documents to those who did not have authorization. He's a traitor to our country," it said on Twitter.
Mr Trump took to Truth Social on Monday night to fume about the tape, railing against "Deranged Special Prosecutor" Jack Smith and baselessly accusing the DOJ and FBI of leaking it.
"The Deranged Special Prosecutor, Jack Smith, working in conjunction with the DOJ & FBI, illegally leaked and "spun" a tape and transcript of me which is actually an exoneration, rather than what they would have you believe. This continuing Witch Hunt is another ELECTION INTERFERENCE Scam. They are cheaters and thugs!" he wrote.
Earlier in an interview with Fox News, Mr Trump denied possessing such a document.
"That was a massive amount of papers and everything else talking about Iran and other things," he had said. "And it may have been held up or it may not but that was not a document. I did not have a document per se."
play youtube
,
xnxx
,
xvideos
,
porn
,
porn
,
xnxx
,
Phim sex
,
mp3 download
,
sex 4K
,
Straka Pga
,
gay teen porn
,
Hentai haven
,
free Hentai
,