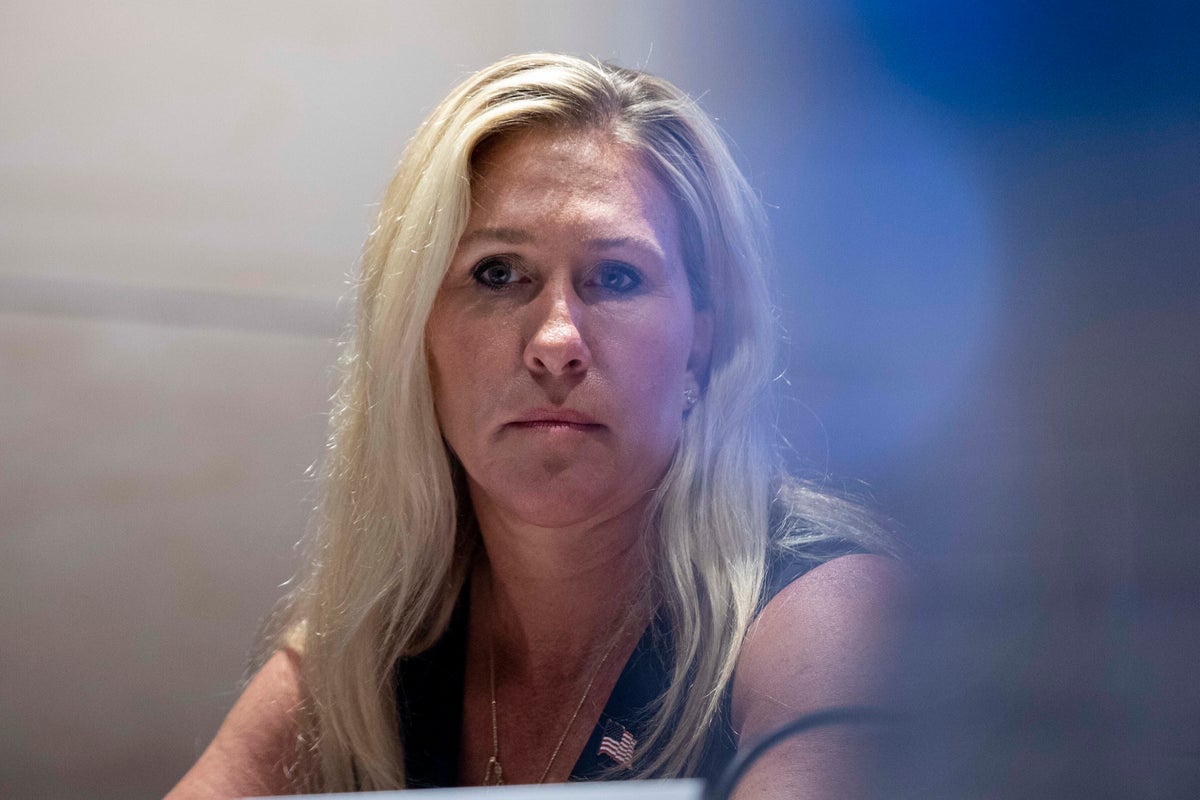 Congresswoman Marjorie Taylor Greene has again called on for Joe Biden to be impeached, apparently taking a joke the president made last week that he "sold a lot of state secrets" literally.
During last week's visit to the US by Indian prime minister Narendra Modi, Mr Biden made a crack that, "I sold a lot of state secrets and a lot of very important things that we shared," before clarifying that he was joking and saying, "all kidding aside," according to the official White House transcript of the event.
Nonetheless, figures on the right like the Republican party congresswoman Ms Greene spread video of the exchange on social media, with Mr Biden's disclaimer he was kidding edited out.
"Joe Biden's brain is going and he's literally admitting his crimes out loud," Ms Greene wrote on Twitter on Monday. "Impeach Biden! It's unreal and so insulting to America."
(Ms Greene has filed multiple attempts to impeach Mr Biden since he took office, citing matters like the chaotic US withdrawal from Afghanistan and the state of security at the US-Mexico border.)
Earlier this month, the far-right rep put forth a measure that would remove funding from special counsel Jack Smith's investigation of former president Donald Trump's alleged mishandling of classified documents.
Mr Trump made history in June by becoming the first former president to be indicted on federal charges, with prosecutors alleging he willfully retained national defense secrets in violation of the Espionage Act, conspired to obstruct justice, and made false statements. Recently obtained audio captures Mr Trump appearing to flaunt in 2021 that he was in possession of a classified US military battle plan against Iran.
Ms Greene said when introducing her funding measure that she considers the investigation, which has netted 37 charges against Mr Trump, is a "weaponized government attempt to take down the top political enemy and leading presidential candidate of the United States, Donald J. Trump."
"We cannot allow the government to be weaponized for political purposes," she said. "I'd also like to ask all of my colleagues to join me in this effort. We have to use the power of appropriations to stop the weaponization of government, especially in light that we know that there are others who are guilty of true crimes."
She has avoided making similar statements about Robert Hur, the special counsel investigating Joe Biden's handling of classified documents during his time as vice-president under the Obama administration. In January, Rep Greene said Mr Biden should be impeached because classified documents were found in 2022 at the Penn Biden Center for Diplomacy and Global Engagement in Washington
The Independent has contacted the Georgia Republican's office for comment.
play youtube
,
xnxx
,
xvideos
,
porn
,
porn
,
xnxx
,
Phim sex
,
mp3 download
,
sex 4K
,
Straka Pga
,
gay teen porn
,
Hentai haven
,
free Hentai
,