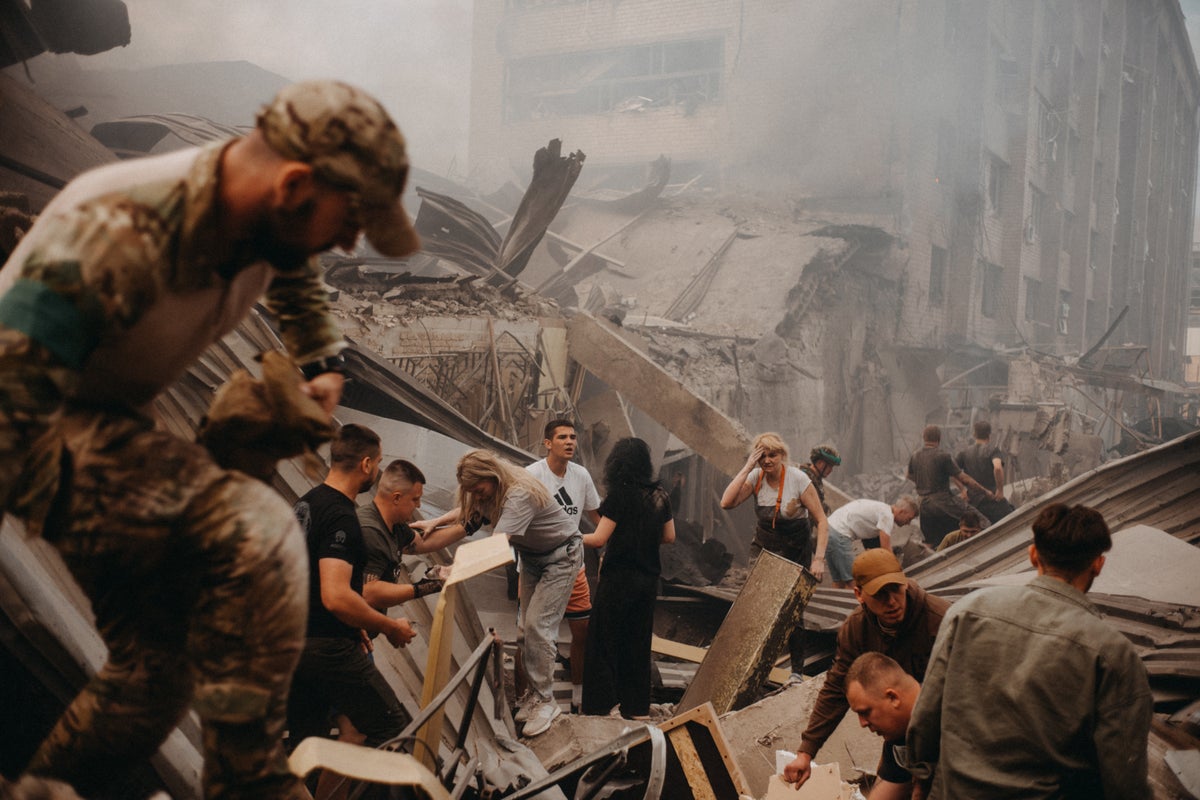 Putin appeals to Russian public after Wagner mutiny
Russian General Sergei Surovikin has been reportedly arrested for allegedly having knowledge about Yevgeny Prigozhin's attempted coup over the weekend.
The defence ministry is yet to officially comment on the alleged arrest of "General Armageddon", who has not been seen in public since last Saturday, when the Wagner chief launched an armed rebellion against Vladimir Putin.
"Apparently, he [Surovikin] chose Prigozhin's side during the uprising" and they have gotten ahold of him, a source was quoted by Moscow Times as saying.
Meanwhile, Belarusian president Alexander Lukashenko said he persuaded Mr Putin not to "wipe out" Wagner mercenary chief, in response to what the Kremlin cast as a mutiny.
While describing his Saturday conversation with Mr Putin, the Belarusian president used the Russian criminal slang phrase for killing someone, equivalent to the English phrase to "wipe out".
"I also understood: a brutal decision had been made (and it was the undertone of Putin's address) to wipe out" the mutineers, he said, according to Belarusian state media.
It comes as twin girls and a child are among 12 people killed in a Russian strike on a restaurant in the city of Kramatorsk using a supersonic Iskander missile, authorities in Ukraine have said.
1688014800
Comment: Putin will cling on to power until people inside the Kremlin are up for the fight
Prigozhin's march on Moscow will have frightened Putin – but the Russian leader survived because no other senior figures joined the call for change, writes historian Peter Frankopan
Joe Middleton29 June 2023 06:00
1688014794
Death toll rises to 12 in Ukraine's Kramatorsk after Russian strike
Rescuers have pulled another body from the ruins of a restaurant in eastern Ukraine's city of Kramatorsk, taking to 12 the death toll following a Russian missile strike, Ukraine's emergency services said today.
Three children were among the dead, while 60 more people were wounded, the authorities said.
Alisha Rahaman Sarkar29 June 2023 05:59
1688013047
Russia to be blocked from accessing UK legal advice
The UK in its fresh bout of sanctions against Russia has banned Kremlin-linked individuals and businesses from accessing British legal expertise.
The Ministry of Justice (MoJ) said a new law would be introduced today preventing UK lawyers from advising Russian companies on certain business deals in a move designed to thwart Moscow's war machine in Ukraine.
Officials said the sanction could impact Russia's ability to obtain legal advice on everything from trade deals between global corporations to international money lending.
Russia is highly dependent on western countries for legal expertise, according to the MoJ, with the UK previously exporting £56m in legal services to Russian businesses every year.
Alisha Rahaman Sarkar29 June 2023 05:30
1688012991
Russian general Sergei Surovikin arrested after Wagner rebellion – report
Russian General Sergei Surovikin has been arrested following the Wager Group's rebellion, the Moscow Times reported, citing defence ministry sources.
The defence ministry is yet to officially comment on the alleged arrest of the general, who has not been seen in public since last Saturday, when Wagner chief Yevgeny Prigozhin launched an armed rebellion against Vladimir Putin.
"The situation with him was not 'OK'. For the authorities. I can't say anything more," one of the sources told the outlet.
A second source said the arrest was carried out "in the context of Prigozhin".
"Apparently, he [Surovikin] chose Prigozhin's side during the uprising" and they have gotten ahold of him, the source added.
Alisha Rahaman Sarkar29 June 2023 05:29
1688011200
Putin's two-faced tirades over the Wagner mutiny could still be his undoing
Claiming treachery one minute, then praising Wagner's role in Ukraine the next, may have allowed the Russian leader to steer out of an immediate storm, writes Mary Dejevsky. But such mixed messages expose cracks in his authority that will be hard to repair
Joe Middleton29 June 2023 05:00
1688009447
Twin sisters among at least 11 dead in Russian missile strike
Fourteen-year-old twin sisters were among at least 11 people killed in a Russian missile strike on a popular pizza restaurant in eastern Ukraine.
Another girl, aged 17, was among the bodies pulled from the rubble following the attack on the eastern city of Kramatorsk on Tuesday, which turned the restaurant into pile of twisted beams.
Around 60 people were wounded, with an eight-month-old baby suffering head wounds.
The strike, along with others across Ukraine into yesterday, show that the Kremlin is not easing up on its aerial bombardment of the country, despite the armed mutiny by the Wagner mercenary group that shook Russia over the weekend.
Sisters Anna and Yulia Aksenchenko would have turned 15 in September, Kramatorsk city council's education department said in a Facebook post under a picture of the two girls smiling for the camera.
"Russian missiles stopped the beating of the hearts of two angels," it said in a Telegram post. "We share the grief of your family and together with you we bow our heads in deep sorrow."
Alisha Rahaman Sarkar29 June 2023 04:30
1688007958
Russian 'spy' to be charged over Kramatorsk strike
An alleged Russian agent involved in the attack on the city of Kramatorsk will be charged with treason, Ukrainian president Volodymyr Zelensky said.
Three teenagers were among the 11 people killed in a missile strike on a popular restaurant. Those helping Russia destroy lives deserve the "maximum penalty", the president said.
Ukrainian authorities said the man allegedly sent video footage of the restaurant to the Russian military hours before it was destroyed.
According to reports, at least 60 others, including Colombian nationals and a leading Ukrainian writer, suffered injuries in the blast.
The attack also damaged 18 multistory buildings, 65 houses, five schools, two kindergartens, a shopping centre, an administrative building and a recreational building, regional governor Pavlo Kyrylenko said.
Alisha Rahaman Sarkar29 June 2023 04:05
1688007600
UN report finds Russia tortured, executed civilians in Ukraine; Kyiv also abused detainees
Russian forces carried out widespread and systematic torture of civilians who were detained in connection with its attack on Ukraine, summarily executing dozens of them, the United Nations human rights office said Tuesday.
The global body interviewed hundreds of victims and witnesses for a report detailing more than 900 cases of civilians, including children and elderly people, being arbitrarily detained in the conflict, most of them by Russia.
The vast majority of those interviewed said they were tortured and in some cases subjected to sexual violence during detention by Russian forces, the head of the U.N. human rights office in Ukraine said.
Joe Middleton29 June 2023 04:00
1688004000
Wagner chief walks free after armed revolt. Other Russians defying the Kremlin aren't so lucky
Mercenary chief Yevgeny Prigozhin led an armed rebellion against the Russian military — and walked free. Others who merely voiced criticism against the Kremlin weren't so lucky.
On Tuesday, Russia's main domestic security agency, the FSB, said it had dropped the criminal investigation into last week's revolt, with no charges against Prigozhin or any of the other participants, even though about a dozen Russian troops were killed in clashes.
The Kremlin had promised not to prosecute Prigozhin after reaching an agreement with him that he would halt the uprising and retreat to neighboring Belarus. That came even though President Vladimir Putin vowed to punish those behind the rebellion.
Joe Middleton29 June 2023 03:00
1688000400
NATO warns not to underestimate Russian forces, and tells Moscow it has increased preparedness
NATO's chief said Tuesday that the power of Russia's military shouldn't be underestimated following the weekend mutiny against it by Wagner Group mercenaries, and said the alliance has increased its readiness to confront Russia in recent days.
Jens Stoltenberg said the alliance may decide to further boost its strength and readiness to face Russia and its ally Belarus when NATO leaders meet in the Lithuanian capital of Vilnius on July 11-12.
"So, no misunderstanding and no room for misunderstanding in Moscow or Minsk about our ability to defend our allies against any potential threat," Stoltenberg said.
Joe Middleton29 June 2023 02:00
play youtube
,
xnxx
,
xvideos
,
porn
,
porn
,
xnxx
,
Phim sex
,
mp3 download
,
sex 4K
,
Straka Pga
,
gay teen porn
,
Hentai haven
,
free Hentai
,