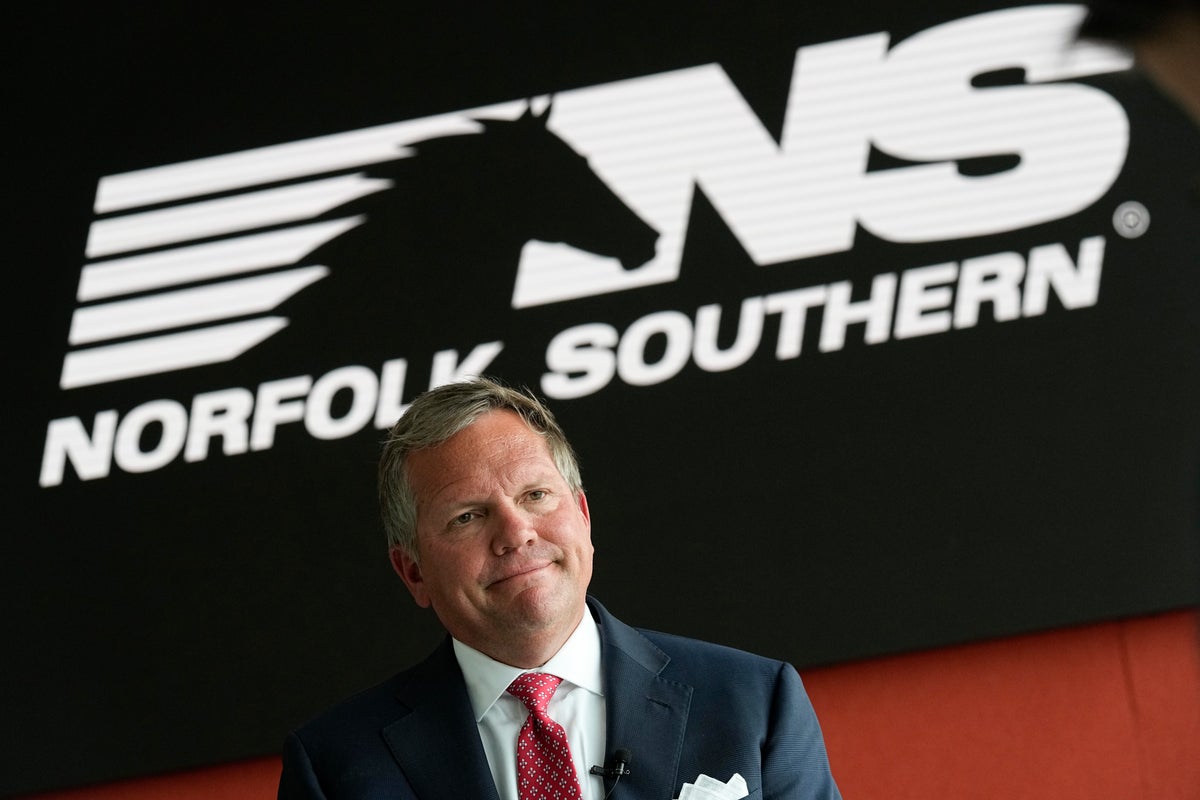 Norfolk Southern's CEO has spoken often of safety and better service since he took the job over a year ago, but it's safety that has dominated discussions after one of his trains derailed and caught fire in February in Ohio, creating towering black smoke, forcing evacuations and raising environmental worries.
Alan Shaw has said his plans include adding more trackside detectors to help spot mechanical problems. He also has hailed work with unions to improve safety — something labor leaders say Norfolk Southern hasn't done much of since it began overhauling operations in 2019.
"That interaction and that engagement with our craft colleagues is really important to me," Shaw said in an interview with The Associated Press at the railroad's Atlanta headquarters last week, a day before federal hearings on the East Palestine derailment began. "I need all 20,000 voices at Norfolk Southern pushing for safety. And that's what you're going to see."
In the interview, Shaw reiterated many of his same safety promises, and offered more details about his plans, but many critics remain skeptical because they haven't seen fundamental changes. And regulators and members of Congress say Norfolk Southern should be doing more than it has announced.
SCRUTINY OVER SAFETY
The railroad — and the entire industry — is under intense watch because chemicals spilled in the East Palestine derailment, and because thousands of people had to evacuate when officials blew open cars of vinyl chloride to burn it and prevent cars from exploding. Several other industry derailments reinforced concerns.
East Palestine highlights that even though freight railroads are regarded as the safest way to ship cargo over land, just one derailment can be disastrous.
The railroad has spent months removing contaminated water and soil, and the cleanup continues. Meanwhile, residents worry about potential long-term harm, though health officials insist the air and water are safe.
Shaw believes "we're a safe railroad" because Norfolk Southern had its fewest derailments and injuries last year in more than a decade. But some other Federal Railroad Association measures have worsened, like the rates of total accidents and railyard accidents.
An FRA report on Norfolk Southern's safety culture is expected soon, and the National Transportation Safety Board continues to examine its safety practices as it investigates what caused the Ohio derailment.
WORKER CONCERNS
The International Association of Machinists and Aerospace Workers union was the only of Norfolk Southern's 13 unions that didn't sign a letter last month promising to cooperate to improve safety. It doesn't think Shaw's pronouncements have translated into meaningful changes and worries new employees and those returning from furloughs might not have enough safety training.
"Mr. Shaw comes across to me as kind of as that used car salesman trying really hard to sell Norfolk Southern and saying all this great stuff," said James Orwan, a Machinist Union general chairman on Norfolk Southern.
One significant change his locomotive mechanics have seen is the resumption of safety meetings at the start of shifts, Orwan said, but the railroad is so understaffed that it can't do some things managers talk about.
Shaw said he has met with that union and is glad officials feel comfortable raising concerns. And Shaw knows "you judge me by the results," but he's convinced the railroad is "making a lot of progress."
Even low-level managers now get bonuses for improving safety and service — not just for keeping the trains moving.
Norfolk Southern has hired a nuclear power expert, Atkins Nuclear Secured, to advise on its safety culture.
"You know, the Navy nuclear program is the gold standard in safety of all of industry," said Shaw, who was impressed by the safety focus during his first professional job helping to install nuclear reactors in Navy ships. "And I wanted that DNA because Norfolk Southern is going to be the gold standard of safety in the rail industry."
But some unions bristle — particularly because Atkins is unfamiliar with railroads.
"Hiring outside consultants may sound good to investors, but the experts are working every day in the cab of the engine," said Eddie Hall, president of the Brotherhood of Locomotive Engineers and Trainmen.
OPERATIONS AND HIRING
Unions say the new lean operating model that Norfolk Southern and the other major freight railroads are using — known as "precision-scheduled railroading" — has made the industry more dangerous because deep workforce cuts make it hard to keep up with jobs and preventative maintenance. And workers say an increasing reliance on longer trains is a safety concern.
Examples cited most often by unions, including at Friday's NTSB hearing, are that inspectors who used to have several minutes to check each car are pressured to do so in one minute or less, and that Norfolk Southern relies too much on abbreviated inspections by train crews instead of detailed ones by experts.
But Shaw said Norfolk Southern's safety record has improved since it started using precision scheduled railroading in 2019. The model's core concepts are something "any industrial company would fully support," he said — while noting that he has also tempered his railroad's approach to that model in the past year to focus more on long-term revenue growth and less on short-term cost-cutting.
And Norfolk Southern, he said, is backing away from rushing inspections.
"My expectation is, is that we will not put an unsafe railcar out onto our network," Shaw said. "In the past, we've had guidelines on inspection times. We've removed those recently."
Norfolk Southern won't be quick to lay off workers when the economy slows, so it can handle the eventual resurgence in demand, Shaw said. The railroad has hired aggressively after cutting too deeply during the pandemic, although it remains more than 1,500 below pre-pandemic levels.
"No company is going to grow over time if it provides a lousy product to its customers every three years," Shaw said.
DERAILMENT AFTERMATH
Steps like adding more trackside detectors — devices that check indicators like wheel-bearing temperatures — after the East Palestine derailment seemed obvious, given that the NTSB has said that an overheating bearing that triggered a warning likely caused the crash.
Norfolk Southern has also pledged over $62 million to help East Palestine recover. Resident Misti Allison, who hosted Shaw at her home for lunch after she testified alongside him at a congressional hearing, said things like $25 million to improve East Palestine's parks are welcome but tangential.
"While I think that he is doing a good job, they are doing it in a way to benefit Norfolk Southern and not necessarily the priorities of the residents," Allison said. "I wish Norfolk Southern's priorities would be about the health and safety of the families."
Shaw said he thinks a lot of the reforms proposed in Congress since the derailment, like strengthening tank car standards and expanding hazmat training, make sense and won't burden railroads.
But, he said, he doesn't think FRA statistics link train length and derailments or crew size and safety, so he doesn't believe Congress or states should regulate those. And he's leery of some proposed standards for trackside detectors in the bill because, Shaw said, they might lock his railroad into current technology instead of future, better sensors.
play youtube
,
xnxx
,
xvideos
,
porn
,
porn
,
xnxx
,
Phim sex
,
mp3 download
,
sex 4K
,
Straka Pga
,
gay teen porn
,
Hentai haven
,
free Hentai
,