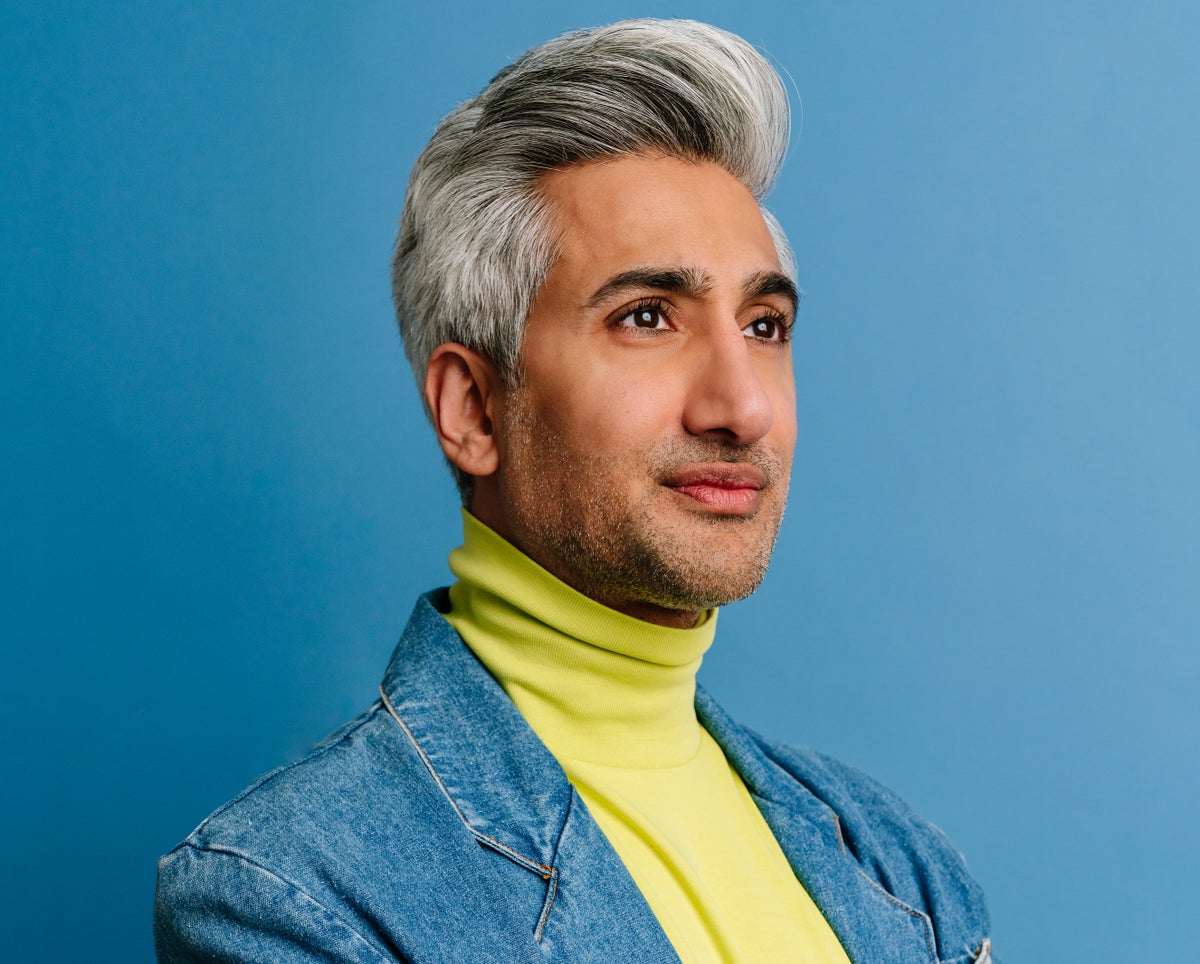 There are those celebrities who transcend the entertainment role they are best known for. Those celebrities who, after making us laugh or cry, become so embedded in the zeitgeist their influence reaches further.
It's a description that is perhaps fitting for The Fab Five. As Tan France says himself: "We have a lot of power in entertainment and politics."
Queer Eye began as a reboot of the popular noughties show, with five big characters making-over the lives of "ordinary" Americans. Now in its seventh season, the makeover show is still that – but is also arguably the most political show in the US. Between French tucks and accent headboards, the Netflix series tackles issues ranging from America's unjust incarceration system to ableism, mental health, and – of course – LGBT+ rights.
However, as the seasons roll on, amassing huge audiences, the reality show and its stars are treading new waters, not only due to their personal fame, but the landscape they traverse. The significant rise in anti-LGBT+ legislation in the US and alarming increase in homophobic and transphobic incidents since Queer Eye started in 2018 would inevitably impact the journeys of five queer people traveling across the South transforming the lives of a new "hero" each episode.
"With season one and two – because we shot them back-to-back and people didn't know who we were at that point – they were a little more open. There were a lot more opinions, a lot more willing to say what they think of people like us," Tan France tells The Independent.
Viewers were given a more honest, less filtered version of America different than the one seen in later seasons, he explains.
"Whereas now they know we're coming to their homes … we don't get a real temperature gauge of what's going on with our heroes," he says, adding that people – both on and off the show – were not only more honest about their views on sexuality, but on race and religion.
"Being Pakistani or being an immigrant mattered more to the heroes in season one and two than they ever have since."
As a religious person himself, the fashion designer highlights what he sees as the closeness of church and state. France explains that although the US was "set up as a nation for separation of church and state", he suggests that within the country "it seems to meld" for people who turn to bigotry.
As a gay and Muslim father, he – understandably – finds this concerning. "The worrying thing is that the people who believe that the queer community is a problem, that people of color are a problem, that immigrants are a problem – their argument is ultimately always a religious one," he says. "I believe the way of religion is that we should be good and kind to everybody, not judge them and treat them disgustingly."
France was one of the first openly gay Muslim men on television, originally from Doncaster, England, and now speaking to The Independent from his home in Salt Lake City. Having lived in the US for 15 years, not to mention regular long visits before emigrating, France says: "I understand America and, at this point, I understand America probably better than I do the UK."
France suggests a cultural shift began around the time former president Donald Trump started gaining political power. "Having somebody who is so divisive will only divide our nation," he says. "The worrying thing is what happens in the US often has a knock-on effect in Europe and we see that things are worsening in other countries for the LGBTQ community."
France felt this change in tolerance in 2015, and increasingly sees the effects today. "That time encouraged people to be a lot more open with their disdain for all marginalised groups, and for them to believe that they are more powerful, or more worthy of respect than the rest of us," he says. "And over the last couple of years, in particular, it seems to have gotten worse and worse." He points specifically to the "conversations about restrooms" in America as a tipping point, referring to the recent legislation passed in Florida, which would make it a misdemeanour trespassing offence for someone to use certain bathrooms that don't align with their sex at birth. "I think that that's going to be rolled out a lot more across the US," he says.
Many notable Republicans have been at the forefront of anti-LGBT+ legislation and rhetoric. Asked about which political figures concern him, France says: "There's obviously [Ron] DeSantis who I think is actively trying to make sure that the party remains separated. And who knows what he actually believes. But if it means that he gets into the Oval Office, I think he'll say whatever is necessary. He's the biggest concern right now."
Speaking of both Mr Trump and Mr DeSantis, France – like many of us – can't help but wonder how much they believe what they say. "I would love to believe that no one's as heinous as the things that those two have said in the past or currently or recently. I would like to give everyone the benefit of the doubt and believe that they can't really think the things that they're saying. But if they believe that it's going to lead them to a position of great power, they'll say whatever it takes to get there."
When watching Queer Eye, it's hard not to be both touched and surprised at the heroes' stories. The people who take part in the makeover show sometimes seem to just need a haircut and some well-fitting pants; others, however, come from situations so complex and heartbreaking a simple week can't completely change their lives.
When asked whether he is surprised by some of the big issues tackled in the show, he says: "Shocking? No. Upsetting? Yes."
Set in Louisiana, one of the most affecting episodes in the latest season starred Maryam "Mary" Henderson-Uloho. While on vacation in New Orleans more than 20 years ago, she was arrested and never returned to her home in Dayton, Ohio. "I went to prison for 12 and a half years, and I had to do 12 and a half years on parole, for obstruction of justice," the now 65-year-old tells the camera.
"I met a guy; we were just having fun when the police stopped us. They wanted me to lie on this man. I didn't talk, I refused." While in prison her eldest son died and she wasn't able to go to his funeral. She grew her hair past her knees, which The Fab Five seemed genuinely shocked to learn was for protection. "Something happens to your brain inside prison; you can't do your time inside if your mind is outside. So I had to cut that piece of my brain [her children], put it in a box and seal it in order to stay focused on surviving," she says.
Within a year of leaving prison, the mother of seven founded SisterHearts Inc, which encompasses a thrift store in Arabi and a decarceration program. "Prison dehumanised me, desensitised me and demoralised me," she says in the show, so the organisation's projects may be as big as helping someone get a job, or ass small as giving a person the autonomy to move something in the store. Her tale shows a particular depth not necessarily seen on every episode.
Speaking on this particular subject, France says: "The one thing that was really surprising was that Louisiana has more people incarcerated than anywhere else in the world. That was very surprising, but again, not shocking because I understand our incarceration system, and that our incarceration numbers are insane in this country and our prison system is screwed up."
Asked about the divisive issue of the death penalty in the US, he is certain on his perspective. "I've always been against the death penalty. I will always be against the death penalty," he says. "I don't think we have a right to take somebody's life regardless of what heinous crime they committed. I think there's a prison system or there should be a prison system there for a reason. We don't have it in the UK and I don't see a reason why we should have it."
Perhaps it's the shiny editing and bubbly music; perhaps it genuinely is the positive affirmations from earnest but funny personalities; or perhaps it is just the simple power of television as you sit in your sweats eating chips. Whatever the reason may be, viewers are given the sense that heroes' lives are truly being changed, leaving you to wonder – does it last? France says that, given the dozens of heroes – both in the US and Japan – it's "not possible to keep in touch," however there are notable exceptions for him. "If somebody's on social media and I felt I had a connection with them, I really do keep in touch with them." For example, Mama Tammye, who captured hearts with her family story in the religious town of Gay, Georgia; dog groomer Rahanna Gray from Philadelphia; and Angel Flores, a weightlifter and coach. "But here's the thing," France says after listing some names, "we're with five very different people and our heroes are very different people. We all connect with heroes very differently, and so I don't think there's much overlap between the five of us with our heroes at all."
Despite his clear awareness of some of the major issues facing the US, France admits he lives in a "bubble" both due to his celebrity and by living in Salt Lake City, Utah, with his family – a family that just grew. The fashion designer and presenter met his husband Rob France, raised Mormon and a former nurse now illustrator, in 2008 and the pair married in 2009.
The Frances have just had their second child through a surrogate. "The process has been magical," France says, a smile instantly appearing on his face. "We live in a nation where surrogacy is legal, which I'm very grateful for. We decided we were going to go for surrogacy as opposed to adoption, which was right for us." He explains it was a long, complex process, but that he maintains strong relationships with the two surrogates for his sons. Although he was not able to attend the birth of his first child due to being stuck in England under Covid restrictions, he was there for the birth of his youngest son, Isaac. "The surrogate is really well, her husband and her children were with her when she was having a baby, which was magical," he says.
France has long been an advocate of formula feeding, and previously criticised those who shame it.  After the birth of his first child, France said he doesn't have "the luxury and privilege" of breastfeeding. "I can't. I physically can't. And therefore I need formula."
France seems accutely aware of the influence he holds, be that with parents feeding their children, or as an openly gay Muslim. What may have started as presenting reality shows has evidently grown into something more. When discussing his representation both of and in the Muslim community, he says: "There is a great community that has been a lot more supportive than I ever thought was possible within the Muslim community."
Although he doesn't check his DMs himself these days, France says his sisters still do and pass on positive comments from Muslims all over the world, or South Asians who seem optimistic about the future because they see someone living so openly.
He adds: "And if that is all I give to the world, I am happy with that."
play youtube
,
xnxx
,
xvideos
,
porn
,
porn
,
xnxx
,
Phim sex
,
mp3 download
,
sex 4K
,
Straka Pga
,
gay teen porn
,
Hentai haven
,
free Hentai
,