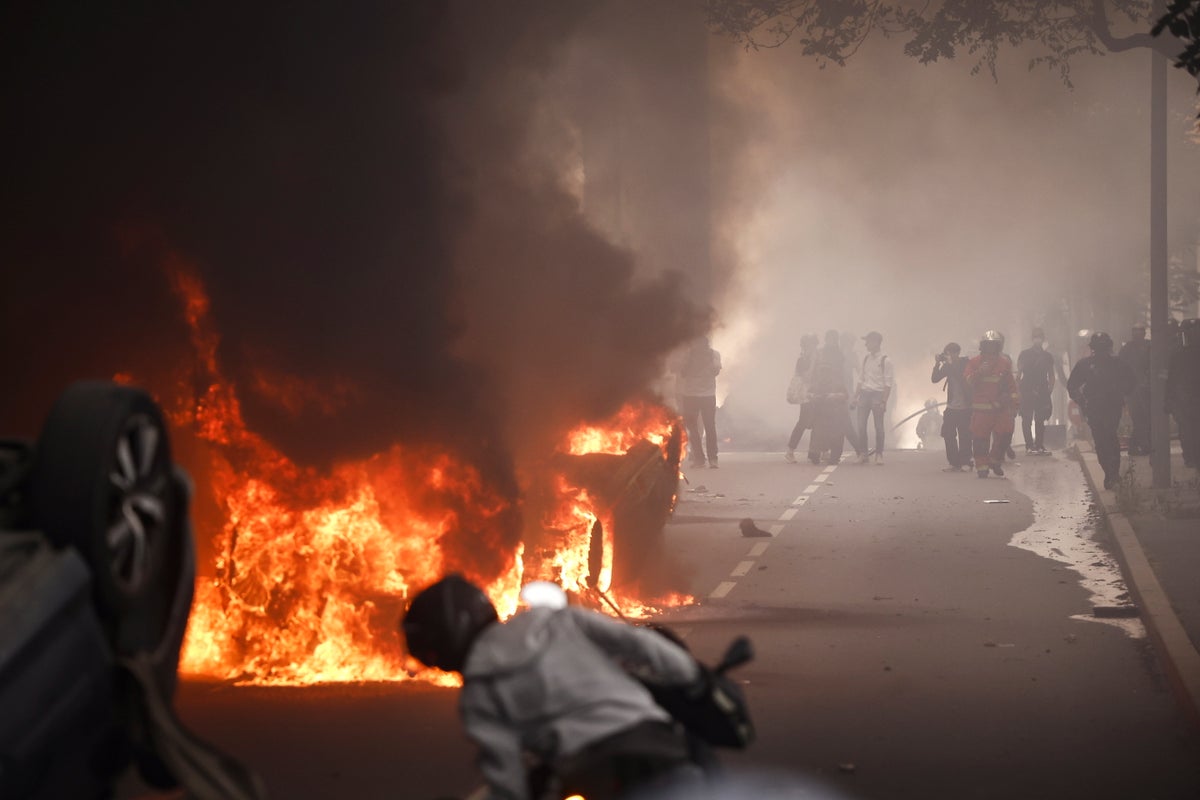 The stones and fireworks flew towards the police from the hands of protesters, while it was not long before vehicles were ablaze – acrid black smoke drifting into the air and mixing with the tear gas released into the crowds by officers.
"This is war" said one protester as he loaded his pockets from a flower bed in preparation for the advancing police. These were the latest clashes in a spate of violence stretching into a third evening in the wake of a teenager shot dead by police during a traffic stop in the Paris suburb of Nanterre.
The officer involved in the shooting of 17-year-old Nahel M is facing preliminary charges of voluntary homicide and was placed under arrest, as President Emmanuel Macron struggles to contain spiralling public anger over the killing.
There had been more than 180 arrests on Wednesday, with around 40,000 officers deployed across France, 5,000 around the Paris suburbs alone, on Thursday evening to quell any further clashes.
Local authorities in Clamart, about five miles from central Paris, imposed a nighttime curfew until Monday. Valerie Pecresse, who heads the greater Paris region, said all bus and tram services were halted after 9pm as people prepared for more violent protests.
"It's millions of euros of public service gone up in smoke, it's millions of public money from working-class neighbourhoods," Ms Pécresse said of the clashes. "It's irresponsible, it's wrong, and it has to stop."
The afternoon began with the largely peaceful march – with thousands participating – in honour of the French-Algerian teenager, led by his mother Mounia. That was in stark contrast to the clashes across the previous two nights, where fires were set and official buildings like town halls were attacked.
As for the march, Nahel's mother was leading the crowd from the roof of a rented van when the procession came to a halt at the Place Nelson Mandela in Nanterre – just metres away from where her son was shot – when the tear gas rolled in. She later told broadcaster France 5 that she doesn't resent the whole police force – just the officer who fired the lethal shot that killed her son.
"I don't blame the police," Mounia said, before adding that the officer "didn't have to kill my son".
A police presence had been notably absent throughout the 90-minute 'marche blanche', but the crowd's chants were directed at them: "No Justice, No Peace". When the lines of officers finally appeared, those mourning Nahel's death finally had a target for their anger.
There had been no signs of violence before the first canisters of tear gas dropped into the crowd, but as soon as the clouds began to billow, dozens of protesters retaliated with fireworks pointed in the direction of armoured police. Loose concrete was thrown at nearby buildings, smashing their glass facades, while a nearby digger was set alight. Protesters scrawled "Vengeance for Nahel" across buildings and bus shelters.
Protesters march in Paris after fatal police shooting of 17-year-old
The unrest has spread to other French cities, from Toulouse in the south to Lille in the north, as frustrations over police violence erupted in scenes reminiscent of the Paris riots of 2005. Then, unrest convulsed France for three weeks and forced then-president Jacques Chirac to declare a state of emergency.
That wave of violence erupted in the Paris suburb of Clichy-sous-Bois and spread across the country following the death of two young people electrocuted in a power substation as they hid from police. Two officers were acquitted in a trial ten years later. Not since that year has there been a protracted crisis of this kind.
This time the spark was the shooting of Nahel during Tuesday's morning rush hour. He initially failed to stop after the Mercedes AMG he was driving, with two passengers inside was spotted in a bus lane. Two police officers caught up with the car in a traffic jam.
When the car made to drive off, one officer fired at close range through the driver's window. Nahel died from a single shot through his left arm and chest, Nanterre public prosecutor Pascal Prache said.
He added: "The public prosecutor considers that the legal conditions for using the weapon have not been met".
Lawyers for Nahel's family have called the killing "an execution". A view shared by Green party leader Marine Tondelier who said that "what I see on this video is the execution by police of a 17-year-old kid, in France, in 2023, in broad daylight"
The officer has acknowledged firing a lethal shot, the prosecutor said, telling investigators he wanted to prevent a car chase, fearing he or another person would be hurt after the teenager allegedly committed several traffic violations. The lawyer for the charged officer, Laurent-Franck Lienard, told French media: "Having devoted his life to protecting people and ensuring the law is respected, he is now being detained for having had to use his firearm as part of his job."
Nahel – who was too young to own a full driving license in France – was known to police for previously failing to comply with traffic stop orders, Mr Prache said.
Police initially said one officer had shot at the teenager because he was driving his car towards him. That version was quickly contradicted by a video circulating on social media. The video shows two police officers beside a Mercedes AMG car, with one shooting at the driver at close range as he pulled away.
Nahel was an only child raised by his single mother, who had been studying for an electrician's certificate, according to French media. He had also joined a community rugby project. The lawyers for his family lawyers said he was "well liked" locally, while his grandmother Nadia called him a "good, kind boy".
Tuesday's killing was the third fatal shooting during traffic stops in France so far in 2023, down from a record 13 last year, a spokesperson for the national police said. A figure that was noted by some of the placards in the march. There were three such killings in 2021 and two in 2020, according to a Reuters tally, which shows the majority of victims since 2017 were Black or of Arab origin.
President Macron had called the killing "unforgivable" on Wednesday and said at the start of emergency meeting to discuss the crisis on Thursday he called the attacks on public buildings and other violence "totally unjustifiable".
"The professionals of disorder must go home," the interior minister, Gerald Darmanin, said, speaking from the northern town of Mons-en-Baroeul where several municipal buildings were set alight. While there's no need yet to declare a state of emergency — a measure taken to quell weeks of rioting in 2005 — he added: "The state's response will be extremely firm."
He also said that scores of police had been injured throughout the clashes with protesters.
Residents around Nanterre are preparing for a long night on Thursday, with parking spaces emptying around the centre as people fear their car being set alight. Several burnt-out vehicles still line the road from last night, with authorities unable to clear it in time before today's trouble broke out.
Several fires were already burning by late-evening – with one engulfing the ground floor of a building, where a bank is located – and the sound of sirens could be heard all over Nanterre.
"The whole sky is black," says one protester, who asked not to be named. "The police caused this mess."
play youtube
,
xnxx
,
xvideos
,
porn
,
porn
,
xnxx
,
Phim sex
,
mp3 download
,
sex 4K
,
Straka Pga
,
gay teen porn
,
Hentai haven
,
free Hentai
,