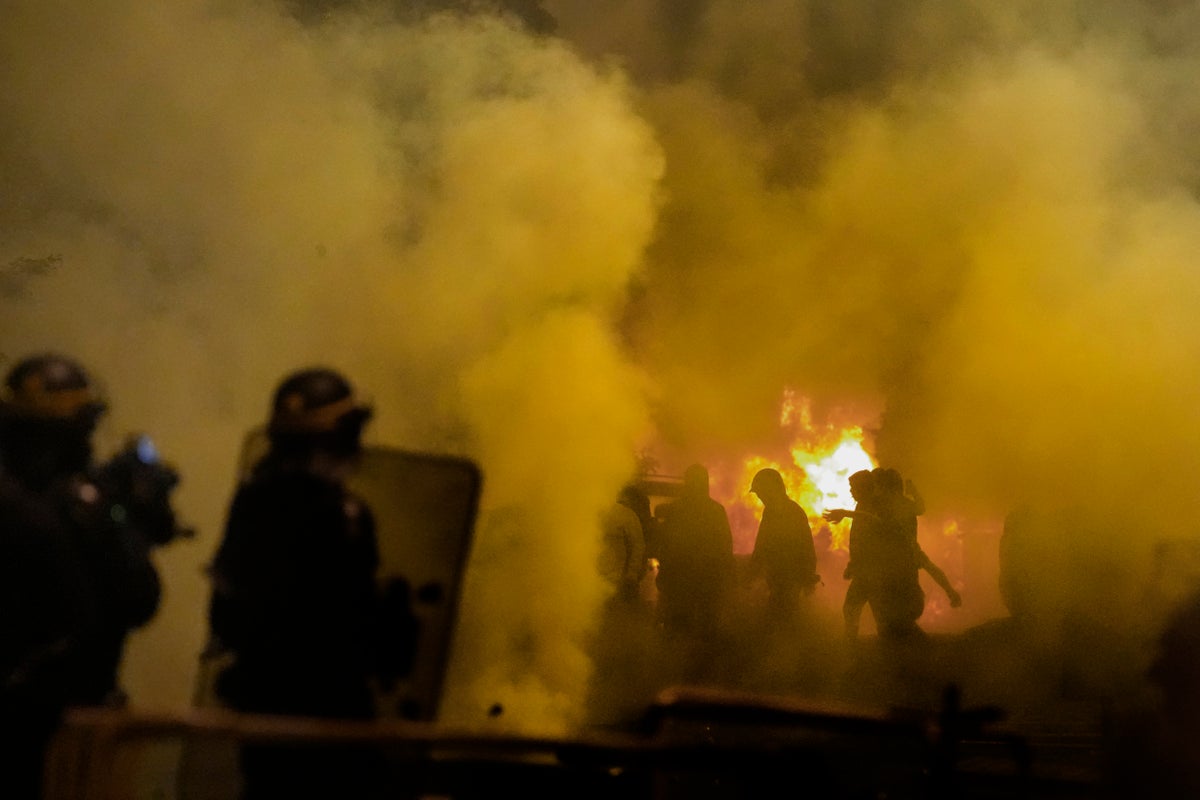 French president Emmanuel Macron held a crisis meeting as Francewas gripped by violence for a second day on Thursday over the police killing of a teenager of North African descent.
Clashes first erupted on Tuesday night in and around the Paris suburb of Nanterre, where the teen, identified as Nahel M, 17, was shot during a traffic check.
Nahel's last name has not been released by authorities or his family. His mother has called for a silent march on Thursday in his honour in the square where the teenager was killed.
"I lost a child of 17-year-old, they took my baby," the mother, who has not been named, said in a TikTok video.
"He was still a child, he needed his mother. This morning he gave me a big kiss and told me he loved me. I told him be careful and I loved him."
According to his mother, they both had left the house together. While he went to get a McDonalds takeout, she left for work.
"And then I am told they shot my son, what can I do," the heartbroken woman said.
"I only had him. I didn't have 10 like him. He was my life, my best friend. He was my son, He was my everything."
The victim's grandmother, who also remained unidentified said: "I will never forgive them. My grandson died, they killed my grandson. We are not happy at all, I am against the government."
"They killed my grandson, now I don't care about anyone, they took my grandson from me, I will never forgive them in my life, never, never, never."
A video shared on social media showed two police officers beside a Mercedes AMG car, with one shooting at the teenage driver at close range as he pulled away.
He died shortly afterward from his wounds, the local prosecutor said.
The teenager, who was too young to hold a full license in France, was driving illegally, a source familiar with the investigation told Reuters.
The Nanterre prosecutor said the boy failed on Tuesday to obey the officers' orders.
A lawyer for Nahel's family, Yassine Bouzrou, said they want the police officer prosecuted for murder instead of manslaughter.
He said he would file an additional complaint for false testimony over the allegation that the victim had tried to run over the police officer.
Police arrested 150 people during a second night of unrest, interior minister Gerald Darmanin said, as public anger spilled onto the streets in towns and cities across the country.
Some 40,000 police officers will be deployed overnight to quell violence that engulfed cities and towns, the ministry said, adding that 5,000 alone will be sent to Paris.
President Macron said the killing was "inexplicable and inexcusable" and called for calm. "Nothing justifies the death of a young person," he told reporters in Marseille on Wednesday.
play youtube
,
xnxx
,
xvideos
,
porn
,
porn
,
xnxx
,
Phim sex
,
mp3 download
,
sex 4K
,
Straka Pga
,
gay teen porn
,
Hentai haven
,
free Hentai
,