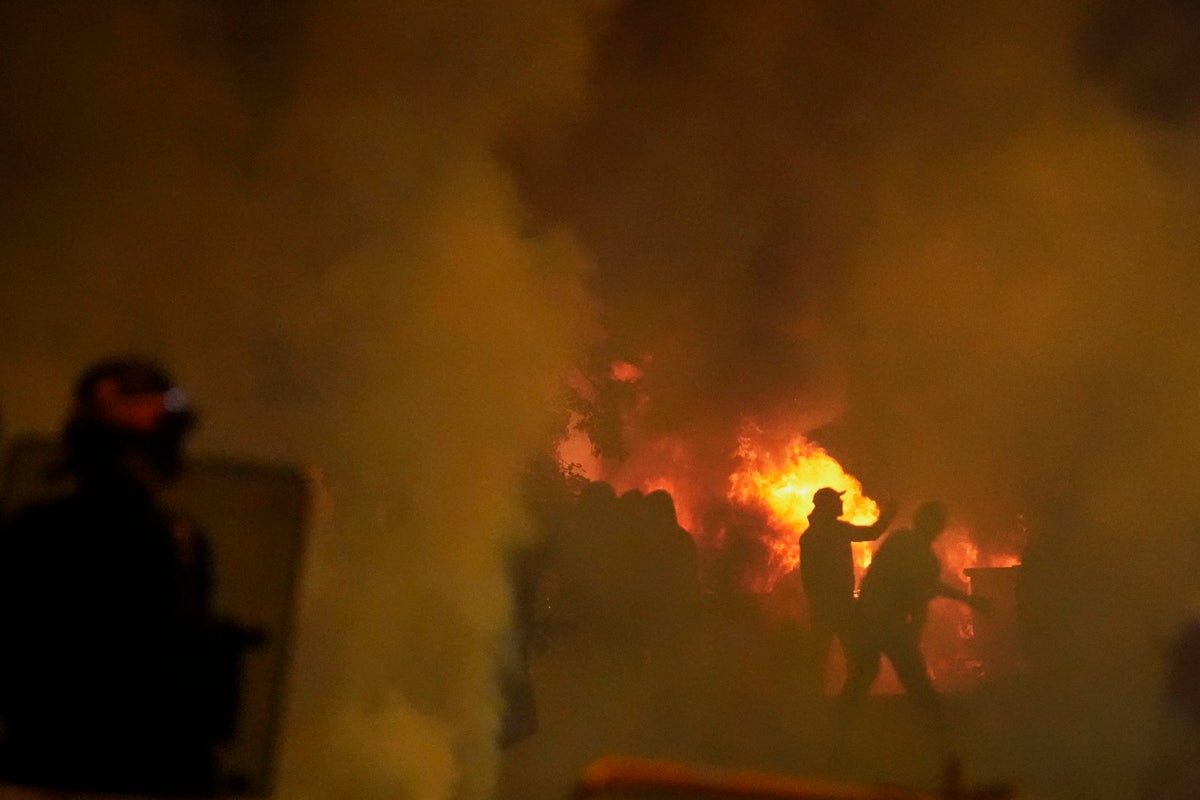 Police arrested 150 people overnight in France as the unrest over the killing of a 17-year-old boy during a traffic check spread across the country.
The violence also drew sharp reaction from French president Emmanuel Macron who condemned it as "unjustifiable", while speaking at the start of a crisis meeting with senior ministers.
The Interior Ministry said dozens of police officers were injured during the clashes. "A night of unbearable violence against symbols of the Republic: town halls, schools and police stations put ablaze or attacked. 150 arrests," said interior minister Gerald Darmanin on his Twitter account.
The killing of a 17-year-old – known only as Nael M – on Tuesday during a traffic check in Nanterre, captured on video, shocked the country and stirred up long-simmering tensions between young people and the police in housing projects and other disadvantaged neighbourhoods around France.
The purported clip of the incident showed two police officers leaning into the driver-side window of a yellow car. One officer fired into the window before the vehicle pulled. The car then crashed into a post nearby.
The victim, who was driving the car, sustained a gunshot wound and died at the scene, the prosecutor's office said in a statement.
A passenger in the car was briefly detained and released, and police are searching for another passenger who fled.
Clashes first erupted on Tuesday night in Nanterre, a town west of Paris, and nearby, with violence resuming on Wednesday after nightfall, as the police and firefighters struggled to contain protesters and extinguish numerous blazes.
Fires could be seen burning at some intersections in the suburb and protesters shot fireworks at police, video from the suburb showed the national police service reporting skirmishes in multiple cities overnight, from Toulouse in the south to Lille in the north.
According to AFP, a prison in Fresnes was also attacked by rioters, with wire agency saying that at least 20 men attacked the jail entrance with fireworks and projectiles.
Around 2,000 riot police were deployed to Paris and suburbs, said Mr Darmanin.
Multiple vehicles were set ablaze in Nanterre and protesters shot fireworks and threw stones at police, who fired repeated volleys of tear gas. Flames shot out of three stories of a building, and a blaze was reported at an electrical plant. Fire damaged the town hall of the Paris suburb of L'Ile-Saint-Denis, not far from France's national stadium and the headquarters of the Paris 2024 Olympics.
French soccer star Kylian Mbappe tweeted: "I hurt for my France."
Nael's mother called for a silent march Thursday in his honor on the square where he was killed.
French activists renewed calls to tackle what they see as systemic police abuse, particularly in neighborhoods like the one where Nael lived, where many residents struggle with poverty and racial or class discrimination.
The government officials including the president earlier condemned the killing of the teen.
Mr Macron earlier described the death as "inexplicable and inexcusable" and said "nothing justifies" a young person being killed. He however, called for calm and said the judiciary would do its work.
In a Twitter post earlier on Wednesday, Mr Macron said he shared the pain of Nael's family while also urging "calm and respect". He however, appeared to soften his language towards the police somewhat, as he expressed gratitude to the forces of law and order who "protect us".
The police officer accused of the killing is in custody on suspicion of manslaughter and could face preliminary charges as soon as Thursday, according to the Nanterre prosecutor's office.
Bouquets of orange and yellow roses now mark the site of the shooting, on Nanterre's Nelson Mandela Square.
Speaking to parliament, prime minister Elisabeth Borne said, "the shocking images broadcast yesterday show an intervention that appears clearly not to comply with the rules of engagement of our police forces".
Deadly use of firearms is less common in France than in the United States, though several people have died or sustained injuries at the hands of French police in recent years, prompting demands for more accountability. France also saw protests against racial profiling and other injustice in the wake of George Floyd's killing by police in Minnesota.
Asked about police abuses, Macron said justice should be allowed to run its course.
A lawyer for Nael's family, Yassine Bouzrou, told the Associated Press they want the police officer prosecuted for murder instead of manslaughter.
Additional reporting from the wires
play youtube
,
xnxx
,
xvideos
,
porn
,
porn
,
xnxx
,
Phim sex
,
mp3 download
,
sex 4K
,
Straka Pga
,
gay teen porn
,
Hentai haven
,
free Hentai
,