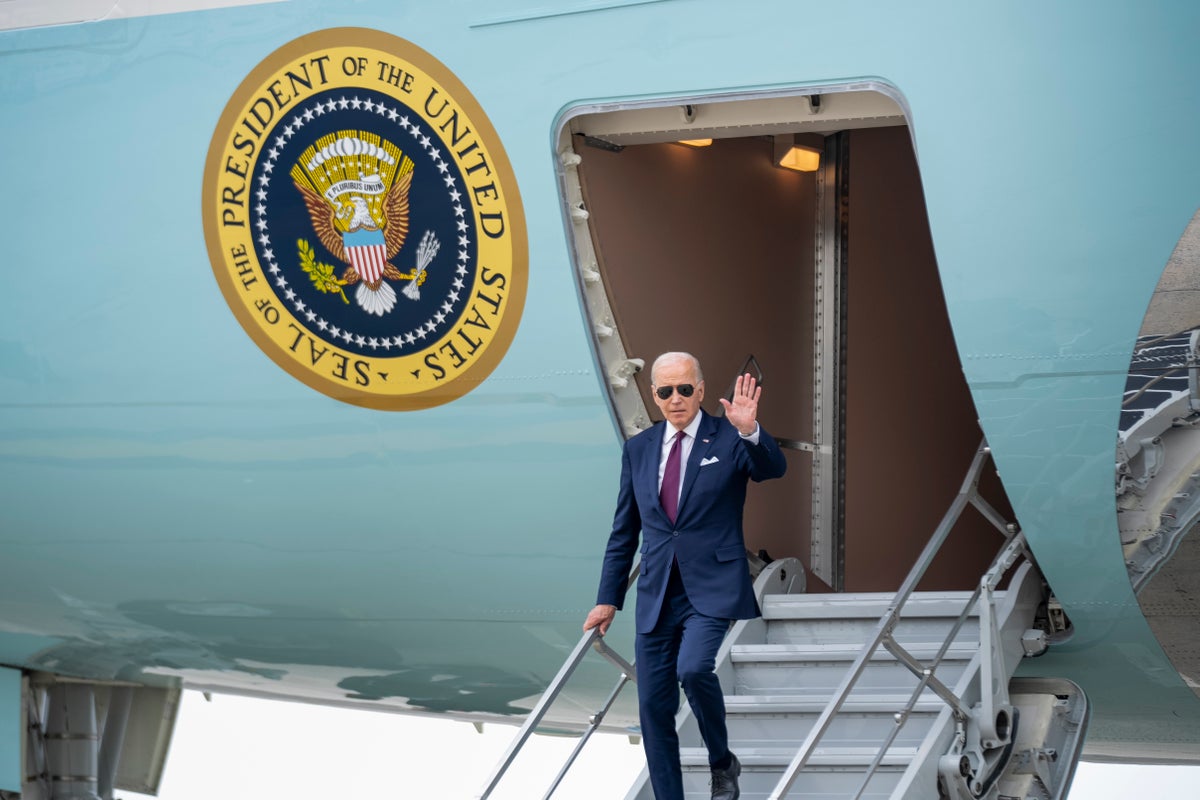 President Joe Biden rarely gives network interviews, and when he sat down in the MSNBC studio on Thursday, it came at an especially busy time, with the Supreme Court having just overturned the use of affirmative action in college admissions and in the aftermath of a revolt in Russia.
The nearly 20-minute conversation addressed those matters. But it also veered heavily into topics like criticism of the media and light-hearted discussion of the late Arizona Republican Sen. John McCain, who was a friend of Biden's.
When Donald Trump was president, he was criticized for giving interviews to sympathetic media outlets where the questions were often soft and even fawning. Biden, meanwhile, has done far fewer formal interviews than his immediate predecessors. His last network interview was in early May and also on MSNBC.
This time, interviewer Nicolle Wallace, who was White House communications director under President George W. Bush and worked on McCain's 2008 presidential campaign, kicked things off by noting how unusual it was for a sitting president to appear in a network studio.
"The president of the United States is here. Really. At the table," Wallace began, before telling Biden, "This is very exciting for us." Biden responded, "It's exciting for me."
The president said the Supreme Court had "done more to unravel basic rights and basic decisions than any court in recent history," pointing to its decision Thursday on affirmative action and its overturning of the constitutional right to abortion last summer.
"I just find it so out of sorts with the basic value system of the American people," Biden said.
He said he did not support the idea of expanding the number of Supreme Court justices, as a number of progressives have urged him to do.
He also spoke about his reelection campaign, acknowledging, "I know the polling numbers are not good." He noted that many polls once suggested he wouldn't win the 2020 Democratic presidential primary or defeat Trump in that year's general election, and they didn't indicate that Democrats would have a stronger-than-expected showing in last year's midterms.
The president then spoke at length about the media, saying, "This is not a criticism of the press. It's an observation. There's a lot to be worried about around the world, and talking to a lot of reporters, they tell me — I'm going to be careful what I say here — a number of reporters have indicated that there's no editors anymore, on what they do."
"Huh," responded Wallace, as Biden continued that he'd been told by some reporters that they are under pressure to build their personal brands, finally concluding, "I just think there's a lot changing."
Wallace asked about the Russian revolt and what the U.S. knew. Biden responded, "We knew things ahead of time," but said he couldn't say what. Wallace followed up, "Did you worry that Trump might have tipped him off, had he still been president?" She was apparently asking whether Trump would have warned Russian President Vladimir Putin of the mercenary leader's plans for the rebellion against Russia's military leaders.
"Oh, God," Biden said. "I don't know. I don't think about that very often."
The president spoke a bit more about Russia's war in Ukraine. Wallace eventually referenced McCain and asked, "What do you think he would think of his Republican Party?"
"I don't think he'd think much of it," Biden said, but quickly added, "I don't know that."
Wallace concluded by again noting the rarity of Biden's in-studio appearance, adding, "Consider it your chair. Consider it an open invitation. There are going to be a lot of things on people's minds, and I hope you'll look at this as a place where you can come and talk about anything that's on your mind."
"Well, I will," Biden said.
MSNBC declined to comment on the interview afterward.
Later Thursday, Biden attended New York fundraisers to collect donations for his reelection campaign. But the visit to New York, where MSNBC's studio is located, was an official one — meaning taxpayers funded at least parts of it.
"It's a mixed — mixed travel trip with official and political — political portions," White House press secretary Karine Jean-Pierre told reporters aboard Air Force One on the way to New York.
Asked what the official part of the trip was, Jean-Pierre responded, "You all are always criticizing the president for not doing enough interviews — right?"
"He's going to New York, and we took the opportunity to go in studio," Jean-Pierre said. "It's his first in-studio interview."
play youtube
,
xnxx
,
xvideos
,
porn
,
porn
,
xnxx
,
Phim sex
,
mp3 download
,
sex 4K
,
Straka Pga
,
gay teen porn
,
Hentai haven
,
free Hentai
,