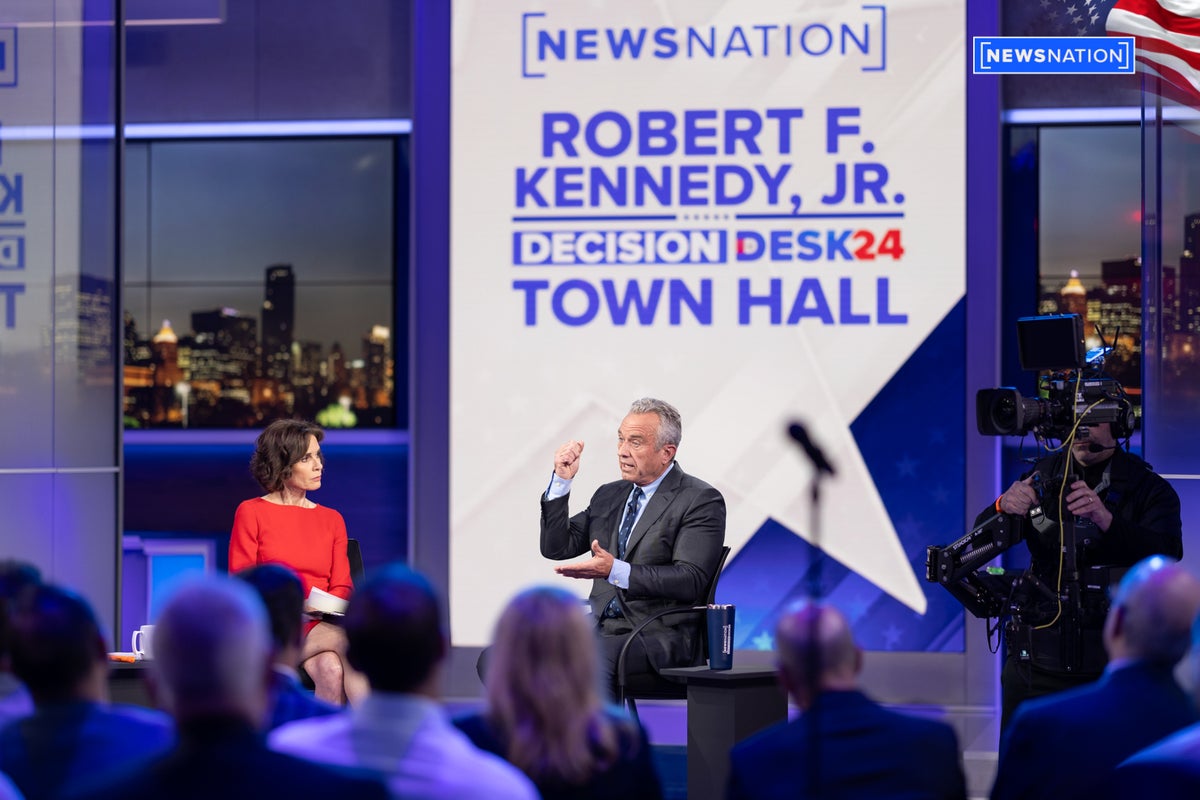 Robert F Kennedy Jr., the longshot presidential candidate and latest scion of the storied Kennedy political dynasty, appears to be leaning in to the "Democrat in name only" label that is beginning to follow his campaign.
The 2024 hopeful appeared on cable news network NewsNation on Wednesday, where he offered a revealing look at his strategy up until this point and appeared to offer an olive branch to former President Donald Trump.
"I'm proud that President Trump likes me, even though I don't agree with him on most of these issues," said Mr Kennedy. "Because I don't want to alienate people, I want to bring people together. I'm proud that all these people like me and that I have independent supporters and Democratic supporters."
Mr Trump previously had called him "a very smart guy" who had been "very nice to [him]" in comments to reporters on Monday.
"Every Democrat says, 'I want to end the polarization. But how do you do that without talking to people who don't agree with you? How do you do that without appealing to people? My purpose is to find the issues, the values that we have in common other than focus on the issues and the personalities that keep us all apart," Mr Kennedy went on to claim.
At the same time, he declined to agree to support the eventual winner of the 2024 Democratic primary, suggesting that party loyalty is low on his list of priorities.
Mr Kennedy spoke with moderator Elizabeth Vargas and members of an audience selected with help from a nonpartisan organisation; Democratic voters peppered him with questions on numerous topics including his well-reported support for conspiracy theories and misinformation about vaccines. Mr Kennedy has long insisted that he is not "anti-vaccine", but at Wednesday's event insisted repeatedly that the FDA and other medical authorities were lying about the safety of many vaccinations.
For that reason, as well as the fact that the incumbent Democratic president is running for re-election and heavily favoured to win, mainstream media networks and reporting outfits have struggled internally with how best (if at all) to cover Mr Kennedy's campaign. The Democratic National Committee (DNC) has scheduled no primary debates for the 2024 season, and is not likely to do so, much to the chagrin of Mr Kennedy and fellow 2024 Democratic hopeful Marianne Williamson.
Mr Biden, 80. is the oldest president to ever hold office and will be 86 when he finally leaves office should he win and serve for a full second term. Many polls have shown that a sizeable chunk of the Democratic Party — not to mention independents — would prefer that the Democratic Party nominate a younger successor, just as most Americans would prefer that the 2024 GOP nominee be someone other than Donald Trump.
He remains the heavy favourite to win a Democratic primary, however, and polls showing Mr Kennedy and Ms Williamson with signficant support do not take into consideration the fact that other, more well-known Democrats with stronger national political operations would quickly jump into the presidential field should Mr Biden bow out.
Among those other Democrats thought to be eyeing national ambitions in 2024 and beyond include Mr Biden's vice president, Kamala Harris, as well as others like governors Gretchen Whitmer and Gavin Newsom.
play youtube
,
xnxx
,
xvideos
,
porn
,
porn
,
xnxx
,
Phim sex
,
mp3 download
,
sex 4K
,
Straka Pga
,
gay teen porn
,
Hentai haven
,
free Hentai
,