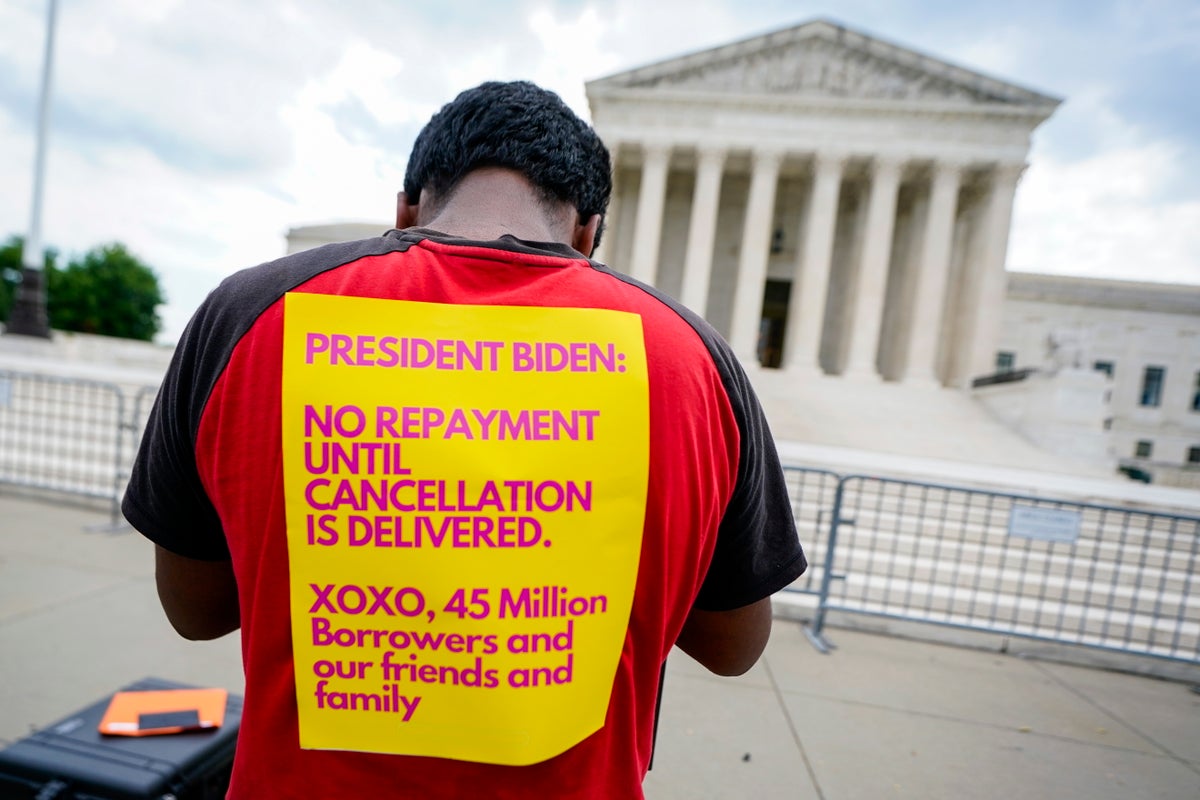 The US Supreme Court has struck down President Joe Biden's plan to cancel student loan debts for millions of Americans, reversing his campaign-trail promise as borrowers prepare to resume payments this summer.
Chief Justice John Roberts delivered the 6-3 decision from the court's conservative majority. The ruling, which stems from a pair of cases challenging the Biden administration and the US Department of Education, argues that the president does not have authority to implement sweeping relief, and that Congress never authorised the administration to do so.
Within 30 minutes on the last day of its term, the court upended protections for LGBT+ people and blocked the president from a long-held promise to cancel student loan balances amid a ballooning debt crisis impacting millions of Americans.
Under the plan unveiled last year, millions of people who took out federally backed student loans would be eligible for up to $20,000 in relief.
Borrowers earning up to $125,000, or $250,000 for married couples, would be eligible for up to $10,000 of their federal student loans to be wiped out. Those borrowers would be eligible to receive up to $20,000 in relief if they received Pell grants.
Roughly 43 million federal student loan borrowers would be eligible for that relief, including 20 million people who stand to have their debts canceled completely, according to the White House.
Roughly 16 million already submitted their applications and received approval for debt cancellation last year, according to the Biden administration.
The long-anticipated plan for debt cancellation was met almost immediately with litigation threats from conservative legal groups and Republican officials, arguing that the executive branch does not have authority to broadly cancel such debt.
Six GOP-led states sued the Biden administration to stop the plan altogether, and a federal appeals court temporarily blocked any such relief as the legal challenges played out.
Since March 2020, with congressional passage of the Cares Act, monthly payments on student loan debt have been frozen with interest rates set at zero per cent.
That Covid-19-pandemic era moratorium, first enacted under Donald Trump and extended several times, was paused a final time late last year – until the Education Department is allowed to cancel debts under the Biden plan, or until the litigation is resolved, but no later than 30 June. Payments would then resume 60 days later.
The amount of debt taken out to support student loans for higher education costs has surged within the last decade, alongside growing tuition costs, increased private university enrollment, stagnant wages and GOP-led governments stripping investments in higher education and aid, putting the burden of college costs largely on students and their families.
The crisis has exploded to a total balance of nearly $2 trillion, mostly wrapped up in federal loans. Millions of Americans also continue to tackle accrued interest without being able to chip away at their principal balances, even years after graduating, or have been forced to leave their colleges or universities without obtaining a degree at all while still facing loan repayments.
Borrowers also have been trapped by predatory lending schemes with for-profit institutions and sky-high interest rates that have made it impossible for many borrowers to make any progress toward paying off their debt, with interest adding to balances that exceed the original loan.
One analysis from the Education Department found that nearly 90 per cent of student loan relief would support people earning less than $75,000 per year. The median income of households with student loan balances is $76,400, while 7 per cent of borrowers are below the poverty line.
That debt burden also falls disproportionately on Black borrowers and women.
Black college graduates have an average of $52,000 in student loan debt and owe an average of $25,000 more than white graduates, according to the Education Data Initiative. Four years after graduating, Black student loan borrowers owe an average of 188 per cent more than white graduates.
Women borrowers hold roughly two-thirds of all student loan debt, according to the American Association of University Women.
Mr Biden's announcement fulfilled a campaign-trail pledge to wipe out $10,000 in student loan debt per borrower if elected, though debt relief advocates and progressive lawmakers have urged him to cancel all debts and reject means-testing barriers in broad relief measures.
In November 2020, the president called on Congress to "immediately" provide some relief for millions of borrowers saddled by growing debt.
"[Student debt is] holding people up," he said at the time. "They're in real trouble. They're having to make choices between paying their student loan and paying the rent."
This is a developing story
play youtube
,
xnxx
,
xvideos
,
porn
,
porn
,
xnxx
,
Phim sex
,
mp3 download
,
sex 4K
,
Straka Pga
,
gay teen porn
,
Hentai haven
,
free Hentai
,