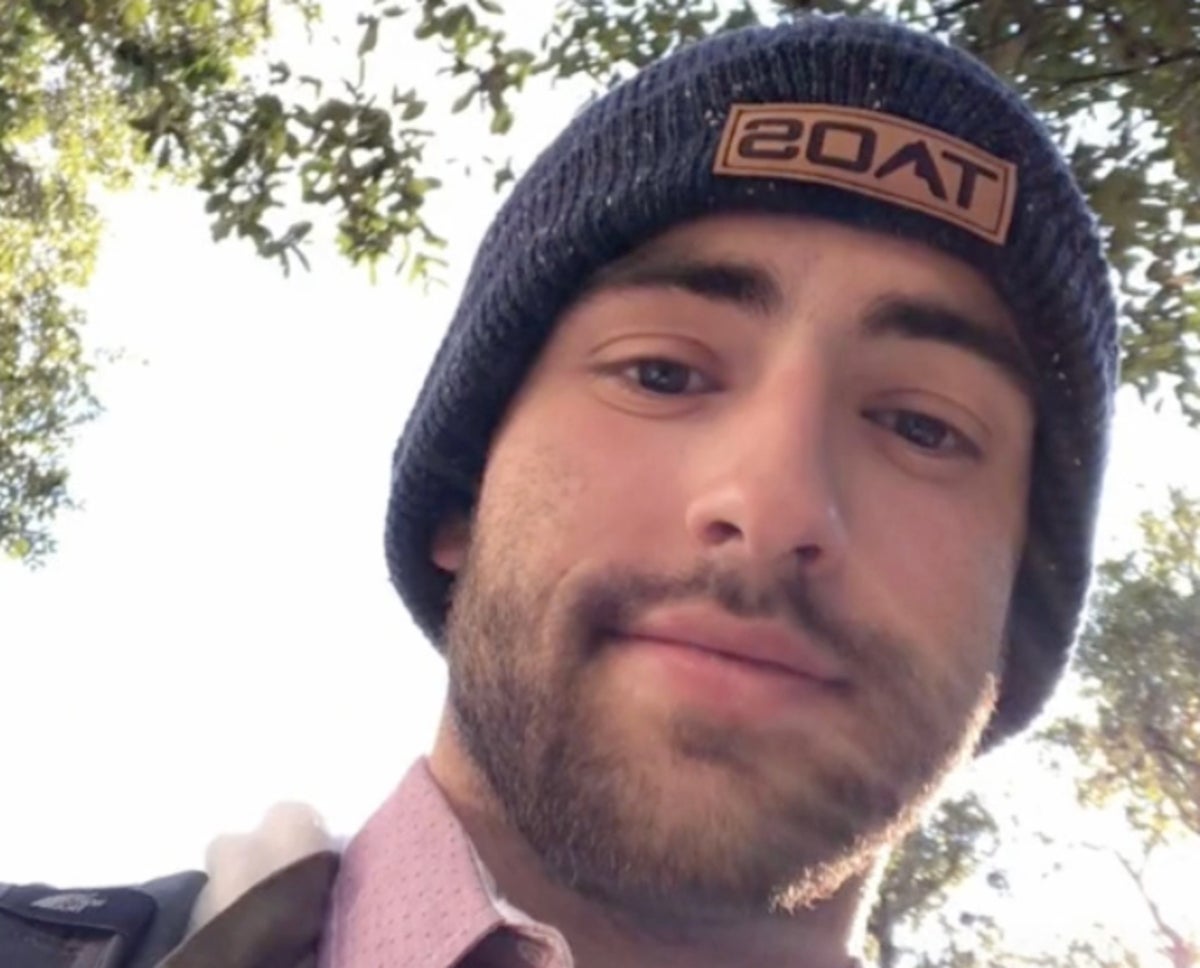 Austin Salyer was lying in bed when he was fatally struck by a bullet his neighbour accidentally fired through the wall that separated their apartments. The criminal justice and military science student at Texas State University had gone to bed early on the night of 16 September 2021 because he had an early ROTC training the next morning.
The pain his parents, Rodney and Bonnie Salyer, experienced as they went through the living hell of losing their only son is still very much present two years later. But they tell The Independent they're committed to telling Austin's story in hopes that it leads to much-delayed justice for their son.
"He had just gone to basic camp at Fort Knox and he absolutely loved that. He was looking forward to the following summer when he would go to his advanced camp," Mr Salyer says. "He was doing everything well, just everything that would make a parent proud."
Austin's killer, 24-year-old Gabriel Brown, was convicted of criminally negligent homicide. However, the 180-day jail sentence Brown was given and the judge's choice to then reduce it to just 90 days have left the Salyers in a seemingly endless search for answers. The judge's and Hays County prosecutors' refusal to explain that sentencing has only exacerbated their frustration.
Following a court process they say was marked by disregard for Austin's loved ones, the grieving parents believe their son was failed by the very system that he dreamed of serving. They are now determined to obtain some semblance of justice for Austin's memory.
"September will be two years, so we've had some time to grieve, some time to adjust," Mr Salyer says. "We still grieve every day. It's not as raw as it used to be, there's kind of a scab from there, but it still hurts every day. There are triggers every day."
The shooting
Brown told authorities that his gun misfired while he was modifying it with a micro-conversion kit and speaking on the phone with his father. According to the Salyers, he called Austin on Snapchat and tried to knock on his door but then went back to his apartment without getting any answer.
The bullet he fired ripped through Austin's left arm and travelled through both his lungs before it lodged in his right arm. It is unclear how long Austin was alive after he was shot, but he managed to at least get out of bed and make it to the living room of his apartment.
"It's just beyond our imagination how you could literally shoot a bullet through a crowded apartment wall, not get a response from the person that you know is living next door and then not do anything else. Just go to sleep," Mr Salyer says.
Austin's body wasn't found until the next morning, when his mother asked friends to check in on him after he failed to answer her calls and she became worried he had overslept. The Texas State student was supposed to wake up at 4.30am for his first road march with his Army platoon.
"This is literally almost 12 hours later. [Brown] still had not called for help. He still had not gotten even something like the apartments to go check on him," Mr Salyer adds. "Nothing. Nothing at this point."
Sentencing change
Hays County prosecutors working on the case and Brown's attorney reached a plea deal that resulted in the initial 180-day sentence. The Salyers hadn't agreed with the charges of negligent homicide or the decision to skip a trial, but they came to terms with the results the system had delivered, they said.
"Criminally negligent homicide would be an open and closed case," Mr Salyer said. "And [they] would have to put more effort into proving manslaughter … We don't get to know everything in this situation, but it does feel like either they lack the passion, they're overwhelmed, or whatever other motives they may have."
Confusion then emerged during Brown's sentencing.
According to a transcript the Salyers obtained from the court, the judge first sentenced Mr Brown to serve a total of 18 days in prison every year – nine of them for Austin's birthday, and nine others for the anniversary of his death. But with a five-year probation, that only equalled a 90-day sentence.
The judge then corrected herself, noting that every separate sentence would be 18 days, bringing the total of days Brown would spend in jail to 36 every year, and 180 in the five years of probation. He was also given community service and was ordered to pay a small restitution to the Salyers.
But court records show that at some point in the following days, the bi-yearly 18-day sentence was scratched out and changed to nine.
"There was no other documentation. There was no initials. There was no indication of who made this change. Today, we still do not know who made this change," Mr Salyer tells The Independent.
A later amendment indicated the change was made by the judge, but did not explain the reasoning behind it. The Salyers allege they were not made aware of the change until they followed up in regard to Brown's probation.
District Attorney Kelly Higgins told Fox 7 that the case is not over and the judge is the only one who can "explain why she decided what she decided." But when the Salyers requested a hearing with the judge to review the developments, they were told they can send her mail but can't meet with her in person to discuss the changes. The defence attorney also filed a motion for "clarification for conditions of probations."
The Salyers say although they don't fully understand what goes behind the scenes, court officials have never bothered to explain to them what exactly led up to the sudden sentencing change.
"We're not even allowed to talk to her. We've asked to speak to her so that we could get an explanation so that we could put our mind at ease and we were told she doesn't," Mr Salyer says. "We're reasonable people … If there's a legitimate reason we could understand that."
Austin's parents have now filed a civil lawsuit against Brown, his father and his girlfriend, who is believed to have been in his apartment around the time the shooting took place. They said that's their last recourse to seek accountability.
"And so that's kind of the point we're at now. It's more about trying to understand why the justice system has failed Austin, why the justice system has failed us, why it's failed his friends, and why it's failed society as a whole," Mr Salyer says.
'It's a life sentence for us'
When they were at the police station following Austin's shooting, Mr Salyer says his wife asked about the shooter.
"We're thinking this is just a kid that just made a stupid mistake, this guy feels terrible," he tells The Independent. "'What condition must this guy be in?' You know, to have killed somebody and seen this. And we're thinking, 'This must be really bad for him.' So one of the first questions my wife asked the police was, 'How is he?'"
They said they have yet to see Brown extend the same courtesy to them, or even express remorse for taking their son's life. In fact, when Ms Salyer took the stand as a witness during the plea deal hearing, Brown's attorney reportedly asked her if she'd want Austin to serve "the maximum sentence" if the roles were reversed, a hypothetical that Ms Salyer found hurtful.
"The only thing [Brown] said on the stand was, 'If I could take that date back, I would.' But that's not saying I'm sorry," Ms Salyer says. "It's salt in the wound. To have somebody kill your son, your only son, your only child. And then from our perspective, not so much as even care."
"And to this day, again, we're almost approaching two years. He has not once said, 'I'm sorry.' He has not once said, 'Can you forgive me? There's been no remorse," Mr Salyer adds. "And that's really what this story is about. We're depending on the justice system to get accountability for his actions … What little sentence he has is temporary. Ours is for the rest of our lives."
The Salyers want their son to be remembered for his heart of gold, for being the type of person who cried over commercials for animal charities, and for wanting to contribute to society in every way he could.
"He would have done anything to help anybody. No matter who you were, no matter where you were from, no matter what your background was. He was there for everybody," Ms Salyer says.
Austins' parents also regret that his body was found so long after he died. They believe had Brown called earlier, Austin, a registered organ donor, would have saved other people's lives.
"That was their magic moment to be able to get those organs from our son and it was just stripped away," Mr Salyer says.
Austin's parents hope they can start a foundation in the future to continue their son's legacy, but in the meantime, plenty of awards have been created in his honour.
"Austin would have been commissioned as Second Lieutenant [this past May.] His ROTC actually invited us to that commissioning ceremony, where they honoured him," Mr Salyer says, "[His high school created an award] called the Austin Salyer Teammate of the Year Award and the words that they've used to describe him are caring, helpful, selfless, noble, loyal, devoted, optimistic, enthusiastic."
From the home where they brought their son from the hospital after he was born, where they raised him and spent 18 years shaping him to be the great man he was on his way to becoming, Ms Salyer reads a letter from a friend of Austin who enlisted in the Army.
After being stationed in Iraq, she asked the Salyers for one of Austin's nametags, which she since has carried with her in every mission.
"Mr and Ms Salyer … Salyer's flag was flown above Syria and Iraq for a total of 15.2 combat hours," Ms Salyer reads from the letter. "Both Salyers and my flag were flown together on the Chinook ride I took back to Iraq, which was the only flight I did not take [while in] direct fire with enemy forces. I believe that was God and Sal.
"Salyer's patch has travelled to three locations in Syria and two locations in Iraq with me and has yet to ever leave my pocket. Thank you all for allowing me to carry him with me on my first deployment. He has kept me safe these last six months."
The Salyers say they have been embraced by a community of people whose lives were impacted by their son's actions and character. With their help in continuing to share Austin's legacy, the grieving parents have also learned to cope with the lingering pain.
"It really honours us to have his memory carried on through his friends. It's so special to us," Ms Salyer says.
play youtube
,
xnxx
,
xvideos
,
porn
,
porn
,
xnxx
,
Phim sex
,
mp3 download
,
sex 4K
,
Straka Pga
,
gay teen porn
,
Hentai haven
,
free Hentai
,