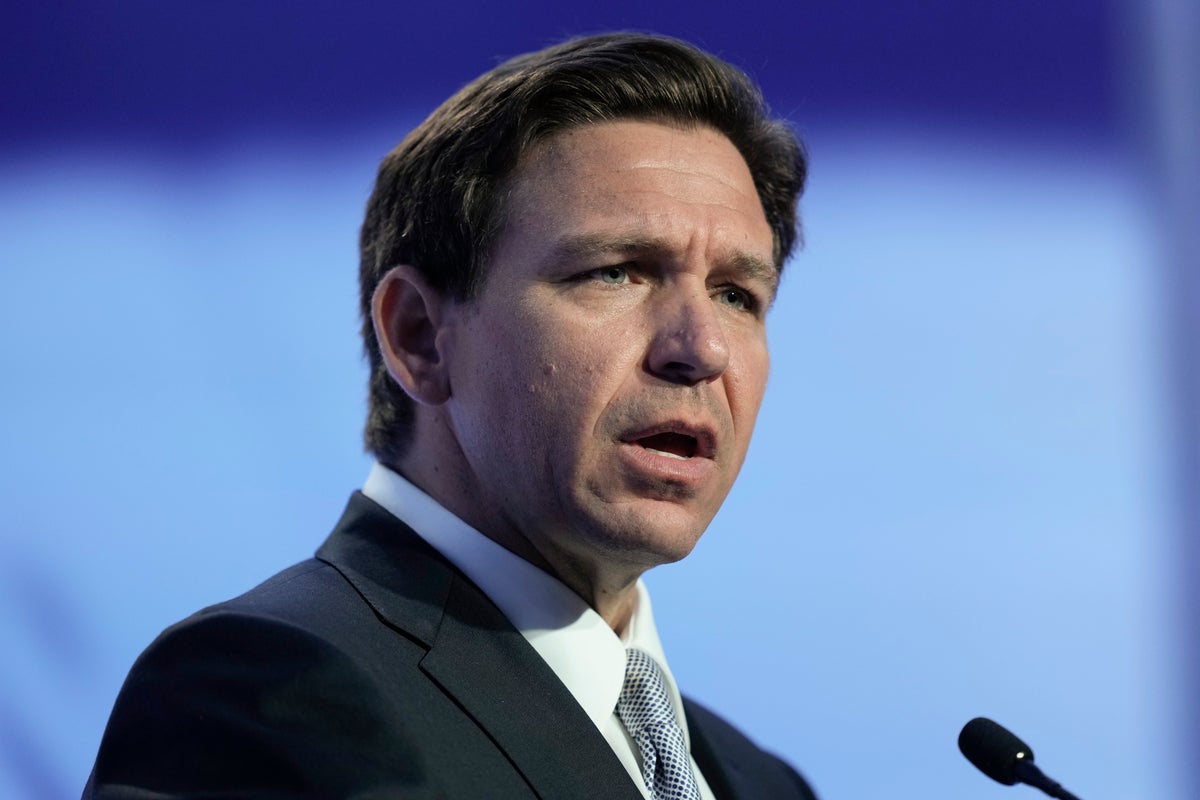 A prominent group that represents LGBT conservatives says a video shared by Ron DeSantis ′ presidential campaign that slams rival Donald Trump for his past support of gay and transgender people "ventured into homophobic territory."
The "DeSantis War Room" Twitter account shared the video on Friday — the last day of June's LGBTQ+ Pride Month — that features footage of Trump at the Republican National Convention in 2016 saying he would "do everything in my power to protect our LGBTQ citizens." Trump had been pledging protection from terrorist attacks weeks after the shootings at the Pulse Nightclub, a gay nightclub in Orlando, Florida, that was the deadliest mass shooting in U.S. history at that time.
The video also highlights "LGBTQ for Trump" T-shirts sold by the former president's campaign and his past comments saying he would comfortable with Caitlyn Jenner, the former Olympic decathlete who came out as a transgender woman in 2015, using any bathroom at Trump Tower and OK with transgender women competing one day in the Miss Universe pageant, which Trump owned at the time of those remarks.
The video then suddenly veers in a different direction, accompanied by dark, thumping music and images of DeSantis, the Florida governor who is trailing Trump by wide margins in the polls for the 2024 Republican presidential nomination.
It promotes headlines that DeSantis signed "the most extreme slate of anti-trans laws in modern history" and a "draconian anti-trans bathroom bill." The images are spliced together with footage of muscular, shirtless men and several Hollywood actors, including Brad Pitt, seen wearing a leather mask from the movie "Troy."
"To wrap up 'Pride Month,' let's hear from the politician who did more than any other Republican to celebrate it," the DeSantis campaign tweeted.
The video drew immediate criticism from prominent LGBTQ+ Republicans, including the Log Cabin Republicans, which bills itself as the nation's "largest Republican organization dedicated to representing LGBT conservatives."
"Today's message from the DeSantis campaign War Room is divisive and desperate. Republicans and other commonsense conservatives know Ron Desantis has alienated swing-state and younger voters," the group said in a tweet, adding that DeSantis' "extreme rhetoric goes has just ventured into homophobic territory.
The group said his "rhetoric will lose hard-fought gains in critical races across the nation. This old playbook has been tried in the past and has failed — repeatedly." The post said DeSantis' "naive policy positions are dangerous and politically stupid."
Jenner accused DeSantis' campaign of using "horribly divisive tactics!"
"DeSantis has hit a new low," Jenner wrote on Twitter.
Representatives of the DeSantis campaign did not immediately respond to requests for comment Saturday.
The video comes as Republicans have been wading into increasingly hostile anti-LGBTQ+ territory, attacking Pride month celebrations, trying to ban displays of rainbow Pride flags and passing legislation to limit drag shows, along with broad attacks on transgender rights.
That rhetoric has seeped into the GOP presidential campaign, taking a prominent role that had been absent during recent past competitive primaries, including in 2016, when Trump, a New York reality TV star, generally presented himself as a supporter of LGBT rights.
DeSantis leaned in on anti-LGBTQ+ legislation as he prepared to jump into the 2024 White House race. He signed legislation banning classroom instruction about sexual orientation and gender identity in all grades, banned gender-affirming care for minors, targeted drag shows, restricted discussion of personal pronouns in schools and forced people to use bathrooms that align with the sex assigned at birth. DeSantis also went after President Joe Biden for prominently displaying the Pride flag at the White House last month.
Trump himself pledged in a speech Friday that if were elected, he would sign executive orders on his first day in office to cut federal money for any school pushing "transgender insanity" and to instruct federal agencies "to cease the promotion of sex or gender transition at any age." Hospitals and health care providers offering gender-affirming care for minors should be deemed in violation of federal health and safety standards and lose federal funding, he said.
Both Trump and DeSantis have also railed against transgender women participating in women's sports and have referred to gender-affirming care for minors as "mutilation."
At Trump's rally in Pickens, South Carolina, on Saturday, the crowd booed Rep. Marjorie Taylor Greene, R-Ga., referenced to Pride month.
"The rainbow belongs to God," she said.
While such rhetoric appeals to the party's conservative base, it risks alienating the more moderate and swing voters who generally decide the outcomes of general elections.
The video, originally posted by the pro-DeSantis "@ProudElephantUS" account, was shared hours after the Supreme Court's conservative majority ruled that a Christian graphic artist who wants to design wedding websites can refuse to work with same-sex couples.
The decision marked a major defeat for gay rights, with one of the court's liberal justices writing in a dissent that the decision's effect would be to "mark gays and lesbians for second-class status."
play youtube
,
xnxx
,
xvideos
,
porn
,
porn
,
xnxx
,
Phim sex
,
mp3 download
,
sex 4K
,
Straka Pga
,
gay teen porn
,
Hentai haven
,
free Hentai
,