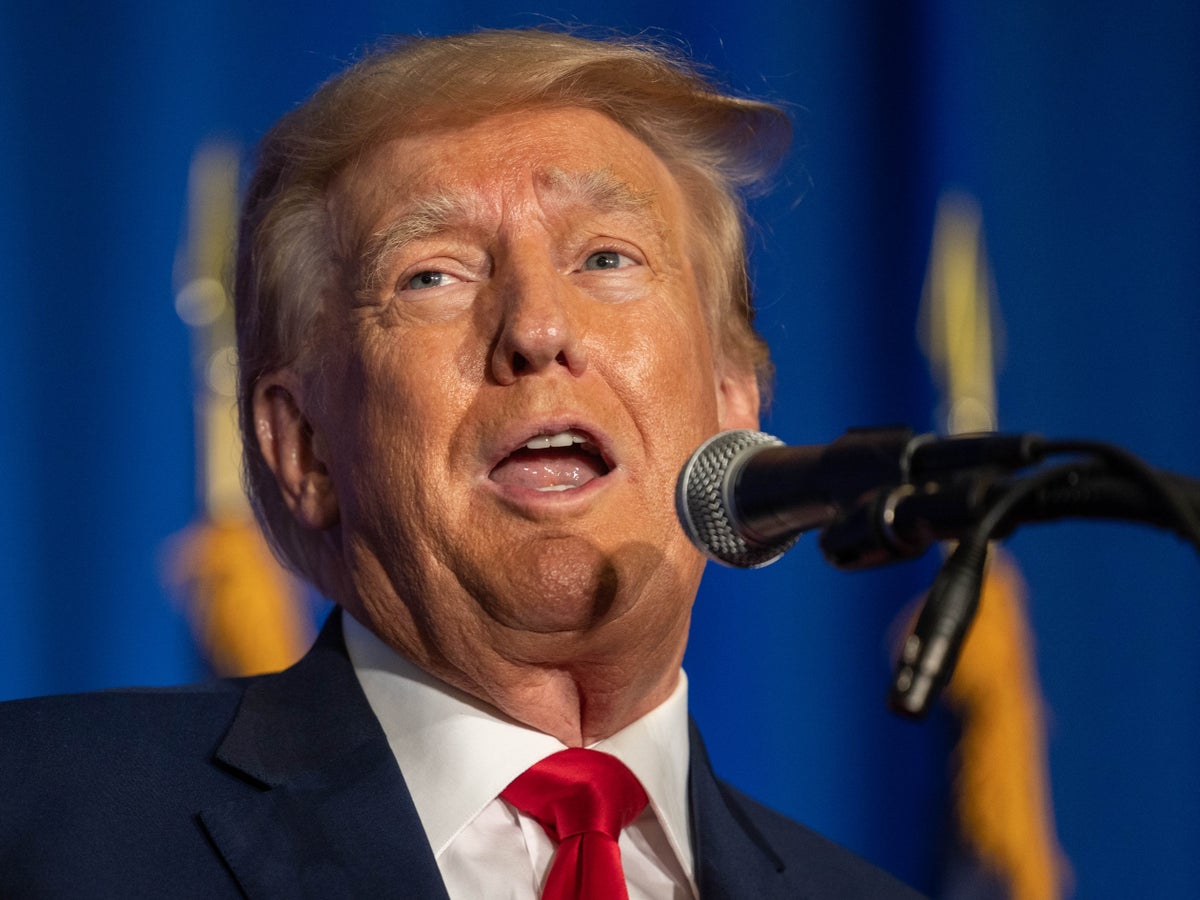 Donald Trump reportedly tried to push Arizona Governor Doug Ducey to flip the state's 2020 election results in his favour, according to a new report.
The latest allegations against Mr Trump claim the former president wanted Mr Ducey to find enough votes to overturn his loss, according to The Washington Post.
Anonymous sources, "familiar" with the call, toldThe Post that the former president also tasked his vice president Mike Pence with calling Mr Ducey and pushing him to find evidence back Mr Trump's false claims of voter fraud.
Mr Pence reportedly called Mr Ducey several times to discuss the election but did not follow up on Mr Trump's alleged demands.
The Independent has contacted Mr Trump and Governor Ducey for comment.
Mr Ducey is no longer in office, and offered a brief statement toThe Post.
"This is neither new nor is it news to anyone following this issue the last two years," Daniel Scarpinato, a spokesman for Mr Ducey, said in a statement. "Governor Ducey defended the results of Arizona's 2020 election, he certified the election, and he made it clear that the certification provided a trigger for credible complaints backed by evidence to be brought forward. None were ever brought forward. The Governor stands by his action to certify the election and considers the issue to be in the rear view mirror."
A Trump spokesperson claimed toThe Post that the "2020 Presidential election was rigged and stolen," and insisted the former president should be praised for "doing the right thing — working to make sure that all the fraud was investigated and dealt with".
No election fraud claims have ever been substantiated with evidence.
Mr Trump's calls were reportedly made on 30 November 2020, while Mr Ducey was signing documents to certify the 2020 election results during a live-streamed video ceremony.
Those in proximity to Gov. Ducey heard his cellphone play a ringtone-version of "Hail to the Chief," the song traditionally associated with the US President.
Mr Ducey did not take the call during the ceremony.
A donor who dined with Mr Ducey earlier this year said the former governor was surprised that special counsel Jack Smith did not attempt to reach out to him concerning the phone calls between himself, Mr Trump, and Mr Pence.
Mr Smith is leading the Justice Department's investigation into Mr Trump's attempts to overturn the 2020 election.
The donor spoke to the Washington Post on condition of anonymity.
It is unclear if Mr Smith's office has reached out to Mr Ducey since the diner met with the former governor.
The Washington Post spoke with two individuals familiar with the investigation who said Mr Smith has questioned witnesses about Mr Trump's calls to governors including Mr Ducey.
Mr Trump made similar calls to election officials in Michigan and Georgia. One of those calls was made on 2 January, 2021 to Georgia Secretary of State Brad Raffensperger. He reportedly asked Mr Raffensperger to find votes to overturn the state's election result.
The relationship between Mr Ducey and Mr Trump turned icy after the governor certified Arizona's election results which declared Joe Biden as president.
"Why is he rushing to put a Democrat in office, especially when so many horrible things concerning voter fraud are being revealed at the hearing going on right now," Mr Trump said in a social media post after Mr Ducey certified the election.
Mr Trump claimed on 5 December that Mr Ducey and Georgia Governor Brian Kemp "fight harder against us than do the Radical Left Dems".
A week later, he dubbed them both RINOs — Republicans in name only.
play youtube
,
xnxx
,
xvideos
,
porn
,
porn
,
xnxx
,
Phim sex
,
mp3 download
,
sex 4K
,
Straka Pga
,
gay teen porn
,
Hentai haven
,
free Hentai
,