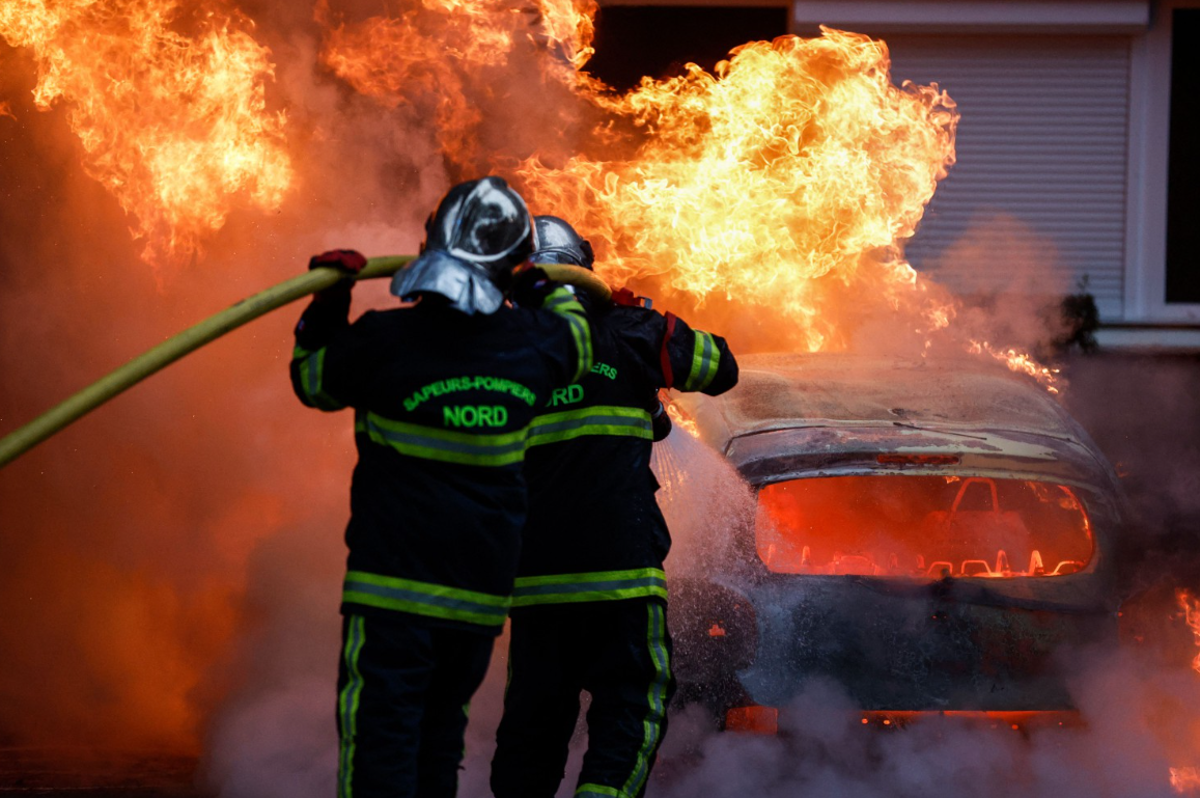 President Emmanuel Macron has urged parents to keep teenagers at home. while his government is considering "all options" to restore order after rioters torched cars and buildings and looted shops across France in a third night of violence over the police killing of a teenager during a traffic stop in a Paris suburb.
There were more than 800 arrests across the country into Friday, with Mr Macron saying a significant proportion of them were you people. Police and firefighters struggled to contain protesters and extinguish numerous blazes through the night that damaged schools, police stations and town halls or other public buildings. There was also looting reported in a number of locations, including central Paris.
Authorities also re fires or skirmishes in multiple cities overnight, from Toulouse in the south to Lille in the north – although the nexus remained Nanterre and the surrounding areas.
The French government is considering "all options" for restoring order, Prime Minister Elisabeth Borne said, calling the violence "intolerable and inexcusable" in a tweet.
"The priority is to ensure national unity and the way to do it is to restore order," she later told reporters during a visit to a Paris suburb.
What happened during the shooting?
The 17-year-old, identified as Nahel M, was driving a car on Tuesday morning when he was pulled over for breaking traffic rules, prosecutors said. The teenager was too young to hold a full driving license in France.
Police initially reported that one officer had shot at the teenager because he was driving his car towards him. But this version of events was quickly contradicted by a video circulating on social media.
On Thursday, The Nanterre prosecutor said that witness statements, CCTV video footage, amateur video footage, and statements from police offers were being used to piece together the timeline of events from Tuesday morning.
Pascal Prache confirmed that two motorcycle police noticed a Mercedes, with one young driver and two passengers travelling quickly in a bus lane at 7:55am on Tuesday.
Police twice attempted to indicate to the car to pull over and park, but the driver continued driving and the two police pursued the vehicle.
The Mercedes had to stop at a at a traffic light, at which point the police asked the driver to turn off engine and exit the vehicle.
The police officers said they drew their weapons and aimed them at the driver to stop him from taking off in the vehicle. However, the driver did pull away at which point the police decided to shoot.
A bullet hit the driver through arm and chest, and the car crashed. One of the passengers fled. Firefighters were called to the scene at 8:21am. They provided first aid to the driver which was unsuccessful.
The officer who fired a single shot said he wanted to prevent the car from leaving and because he feared someone may be hit by the car, including himself or his colleague, according to Mr Prache.
The police officer faces preliminary charges of voluntary homicide for shooting Nahel.
Based on an initial investigation, the prosector Mr Prache said, he concluded that "the conditions for the legal use of the weapon were not met."
How did the riots begin?
Nahel was of North African descent. The incident has fed longstanding complaints of police violence and systemic racism inside law enforcement agencies from rights groups and within the ethnically diverse suburbs that ring major cities in France.
Several people have died or sustained injuries at the hands of French police in recent years, prompting demands for more accountability. France also saw protests against racial profiling and other injustice in the wake of George Floyd's killing by police in Minnesota.
Tuesday's killing was the third fatal shooting during traffic stops in France so far in 2023. Last year there were a record 13 such shootings, a spokesperson for the national police said.
There were three such killings in 2021 and two in 2020, according to a Reuters tally, which shows the majority of victims since 2017 were Black or of Arab origin.
Clashes first erupted Tuesday night in and around the Paris suburb of Nanterre, where Nahel was killed. Bins were set alight and some protesters threw fireworks at police. Officers used tear gas on the crowds. The government deployed 2,000 police to maintain order Wednesday. But violence resumed after dusk. Around 40,000 police were moblilised across France on Thursday, but
How far have the riots spread?
Police and firefighters struggled to contain protesters and extinguish numerous blazes through the night that damaged schools, police stations and town halls or other public buildings, according to a spokesperson for the national police.
The national polic have reported fires or skirmishes in multiple cities, from Toulouse in the south to Lille in the north, though the nexus of tensions was Nanterre and other Paris suburbs.
The interior minister, Gerald Darmanin, said more than 200 officers had been injured in the unrest on Thursday night. More than 6,000 fires were attended by the fire brigade and the police, he also said, adding that nearly 500 buildings had been affected.
The unrest has revived memories of riots in 2005 that convulsed France for three weeks and forced then-president Jacques Chirac to declare a state of emergency.
That wave of violence erupted in the Paris suburb of Clichy-sous-Bois and spread across the country following the death of two young people electrocuted in a power substation as they hid from police.
Two officers were acquitted in a trial ten years later.
What has been the response from the government?
President Emmanuel Macron held a crisis meeting with senior ministers over the shooting on Friday morning – the second in two days.
The French government has so far stopped short of declaring a state of emergency — a measure taken to quell weeks of rioting around France that followed the accidental death of two boys fleeing police in 2005.
Mr Darmanin said the Interior Ministry had issued instructions for the complete shutdown of all public bus and tram services before sunset on Friday
Darmanin instructed regional prefects who are under his command to shut down bus and tram services at 9pm local time, before it gets dark, everywhere across France, the ministry said. The Paris region had already announced such a shutdown to protect transport workers and passengers. Concerts at the Stade de France by singer-songwriter Mylene Farmer, scheduled for Friday and Saturday night, have also been cancelled,
In the southern city of Marseille, France's second-largest, authorities banned public demonstrations set for Friday, and encouraged restaurants to close outdoor eating areas early. They said all public transport would stop at 7pm
Mr Darmanin also ordered a ban on the sale and carrying of powerful fireworks, which rioters have launched at police officers and buildings, as well as on the sale of canisters of gasoline, acids and other chemicals and flammable liquids, the ministry said.
Reuters and the Associated Press contributed to this report
play youtube
,
xnxx
,
xvideos
,
porn
,
porn
,
xnxx
,
Phim sex
,
mp3 download
,
sex 4K
,
Straka Pga
,
gay teen porn
,
Hentai haven
,
free Hentai
,