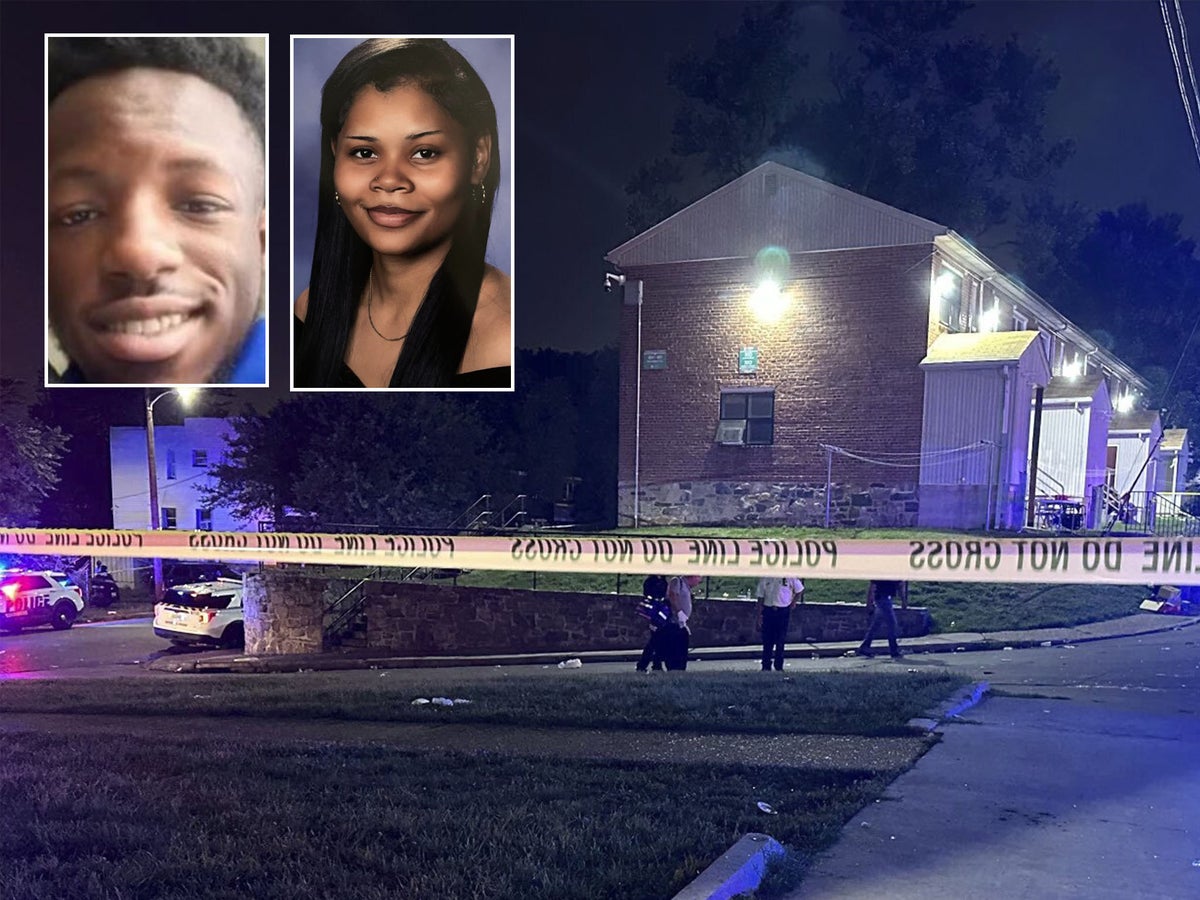 A high school graduate and a 20-year-old man became the latest victims of America's spate of gun violence and mass shootings this weekend.
Kylis Fagbemi, 20, and Aaliyah Gonzalez, 18, were partying at a block party in the Brooklyn Homes area of South Baltimore, Maryland, in the early hours of Sunday morning when gunfire broke out.
In total, 30 people were shot – including the two victims killed.
Among the 28 who survived, half were children.
Baltimore police believe at least two shooters are behind the attack and are seeking those involved, while the victims' families and the community come to terms with the tragedy.
Here's what we know so far:
The victims
On Sunday afternoon, police identified the two victims killed in the attack.
Aaliyah Gonzalez, 18, was shot and killed on the scene.
Kylis Fagbemi, 20, was rushed to hospital where he succumbed to his injuries.
Gonzalez's heartbroken mother paid tribute to her daughter in a Facebook post, sharing photos of her recent high school graduation.
"MY BABY!!! Worst day of my life! I cannot do life without her. I NEED HER!!," she wrote.
"Why would they do this to a perfect angel. I love you so much baby. I didn't get there fast enough. God this is a mistake!!! Please!!"
In a follow-up post, she added: "I always said, 'No matter how much I say I love you, I love you more than that.'"
The shooting
At around 12.35am on Sunday morning, Baltimore police received multiple calls reporting a shooting on the 800 block of Gretna Court.
Officers responded to the scene, where the community had been holding its annual Brooklyn Day block party, to find 30 victims suffering from gunshot wounds.
One female victim was pronounced dead on the scene while nine victims were rushed to local hospitals and 20 walked into area hospitals across the region. One male victim died at the hospital from his injuries.
Among the 28 victims who survived, three were in critical condition and 14 were minors.
The non-fatal female victims injured were one 13-year-old, one 14-year-old, two 15-year-olds, three 16-year-olds, two 17-year-olds, two 18-year-olds, three 19-year-olds, one 20-year-old, one 23-year-old and one 32-year-old.
The non-fatal male victims injured were one 13-year-old, one 15-year-old, two 16-year-old, two 17-year-olds, three 18-year-olds, one 22-year-old and one 31-year-old.
Witnesses revealed how they initially mistook the gunfire for fireworks going off.
"The shots were just going on and on and on," Lakell Nelson, 54, told the Baltimore Sun.
But, reality set in when two women told her they had been shot.
"I kinda didn't believe them at first because they were walking up the street. I said, 'Show me,' and the girl was like, 'I was shot in my butt," she said.
"When she turned around, I saw the hole through her shorts."
Ms Nelson said she drove the two women to a local hospital.
The shooters
Baltimore Police said that they believe there was at least two shooters in the attack.
Acting Baltimore Police Commissioner Richard Worley told Fox Baltimore on Sunday afternoon: "We know for sure there are more than one. We don't know how many."
As of Monday morning, the suspects' identities remain unknown and no arrests had been made.
Mayor Brandon Scott described the actions of the soooters as "cowardly" and urged people to come forward with information.
"This was a reckless, cowardly act that happened here and that has permanently altered many lives and cost two people their lives," he said in a press conference on Sunday.
"I want those who are responsible to hear me, and hear me very clearly."
Speaking to the perpetrators, he said: "We will not stop until we find you, and we will find you. Until then, I hope that every single breath you take, that you think about the lives that you took, think about the lives that you impacted here tonight."
He added: "Treat this as if it were your family. How you would want people to treat it if you were mourning, if this was your neighborhood, if this was an event in your community that this happened at. We want you to treat it that way because that's how we have to treat each other as Baltimoreans."
Anyone with information is urged to contact Homicide detectives at 410-396-2100. Those who wish to remain anonymous may utilise the Metro Crime Stoppers tip line, at 1-866-7LOCKUP. You may also text tips through the Metro Crime Stoppers of Maryland website.
play youtube
,
xnxx
,
xvideos
,
porn
,
porn
,
xnxx
,
Phim sex
,
mp3 download
,
sex 4K
,
Straka Pga
,
gay teen porn
,
Hentai haven
,
free Hentai
,