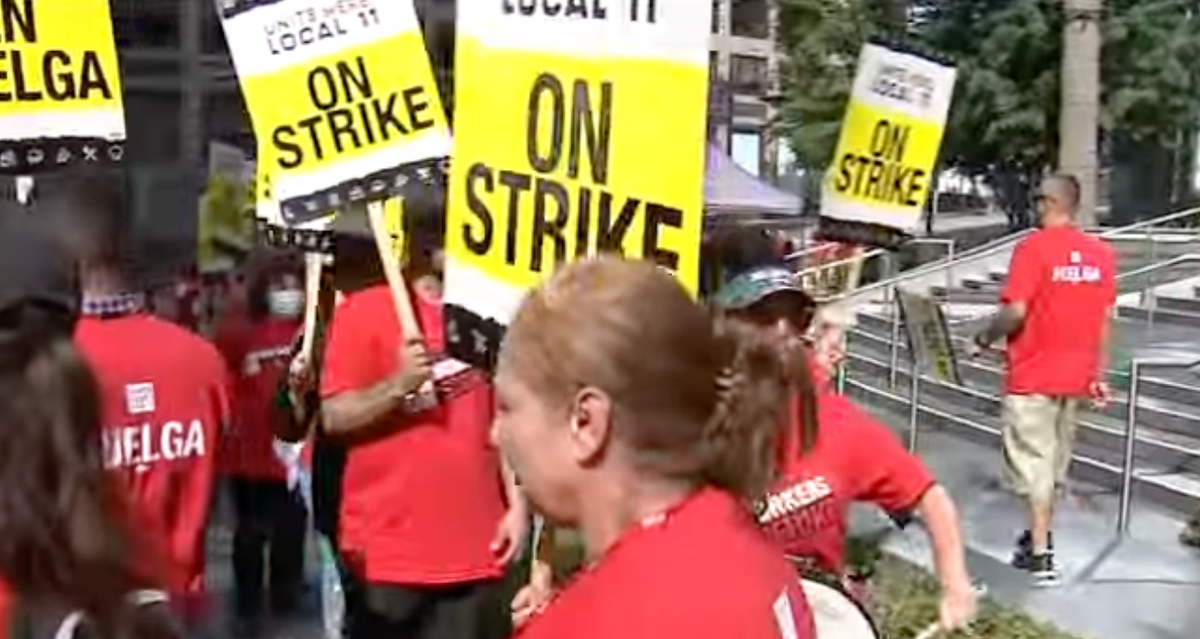 Thousands of hotel workers in Southern California walked off the job on Sunday to demand higher salaries and better benefits.
The strikes came after a contract between the hotels and Unite Here Local 11, the union representing 15,000 hotel workers across 62 hotels, expired on Saturday.
Thousands of employees held rallies in Los Angeles, Santa Monica, and Orange counties, ABC News reported, at locations of major hotel chains including Intercontinental, Marriott and Hilton.
Workers are demanding higher wages, better health insurance and pension benefits, and more adequate staffing as tourism rebounds to pre-pandemic levels.
The union has been negotiating a new contract since April, according to The Los Angeles Times. Union leaders approved a strike last week after they failed to reach an agreement with most hotel chains.
The Westin Bonaventure Hotel & Suites, the largest employer of hotel workers in Los Angeles, reached a tentative agreement with the union on 29 June. Roughly 600 workers will benefit from the agreement.
"It is the first domino to fall, but it is a big domino. We applaud the Bonaventure for putting the workers and the city first," Union President Kurt Petersen told The LA Times.
"This is the best contract ever for hotel workers in Los Angeles and sets a standard for workers in this city. There is still work to do, but it takes steps as we head towards the World Cup and Olympics."
Among the concessions made by Bonaventure is that it will not discriminate against potential employees' immigration status or previous criminal history.
"The Westin Bonaventure Hotel and Suites has had and continues to have a strong working relationship with Unite Here Local 11," Bonny Kirin-Perez, the hotel's managing director, said in a statement. "We are glad that we were able to negotiate a contract that is mutually beneficial. We look forward to our continued partnership."
However most major hotels in the area — including the Sheraton Grand Hotel and Hotel Indigo in Los Angeles and Hampton Inn, Fairmont Miramar and Courtyard Marriott in Santa Monica — remain without a contract.
Housekeeping supervisor Diana Rios-Sanchez toldThe New York Times that she lives in a one-bedrroom apartment in downtown LA with her three children and doesn't know she can afford to stay in the city much longer.
"All we do in hotels is work and work and get by with very little," Ms Rios-Sanchez said. "We take care of the tourists, but no one takes care of us."
Several of California's representatives in Congress voiced their support for the workers.
"When a hotel mega-chain broke the law and laid off thousands of Californians, I stood with @UNITEHERE11 and demanded government take action. I continue to stand with these workers as they negotiate for living wages and benefits. I urge hotel operators to make a fair deal," Congresswoman Katie Porter said in a statement.
According to The LA Times, Unite Here Local 11 called for the current $20 and $25 hourly wages for housekeepers to be increased by $5, and then by $3 every year for the following three years that a contract would be in place.
Keith Grossman, leading bargaining efforts for the hotels, told the newspaper that the hotels had offered to bump the pay to $25 an hour in Beverly Hills and $31 in Los Angeles by early 2027.
"The hotels want to continue to provide strong wages, affordable quality family health care and a pension," Mr Grossman said.
play youtube
,
xnxx
,
xvideos
,
porn
,
porn
,
xnxx
,
Phim sex
,
mp3 download
,
sex 4K
,
Straka Pga
,
gay teen porn
,
Hentai haven
,
free Hentai
,