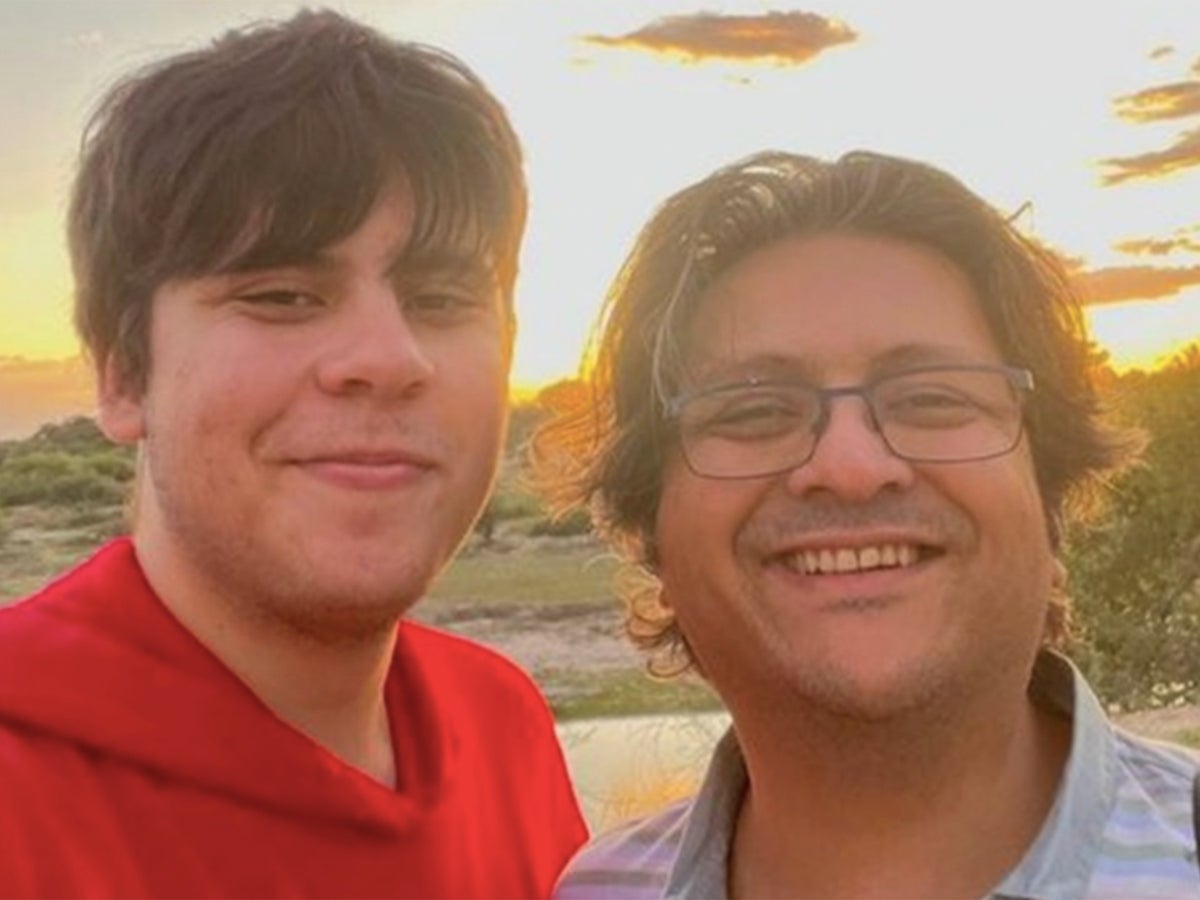 More details have emerged about the father and son who died in the Titan disaster as the teenager's mother reveals she was on board the support boat when the implosion happened.
Christine Dawood, mother of 19-year-old Suleman Dawood and wife to Shahzada Dawood, both of whom were on the doomed submersible, has revealed she gave up her place on the trip so her son could go.
Ms Dawood and her 17-year-old daughter, Alina, were on the Polar Prince, the sub's support vessel, when the Titan lost communications and was never heard from again, she told the BBC.
The mother-of-two revealed she had stepped back to allow her son to take her place on the trip, and he was "so excited" to try to break a Guiness World Record while on it – solving a Rubik's Cube 3,700 metres below the sea.
UK-based business advisor Shahzada, 48, was one of the five people on the submersible on June 18, along with his son.
The pair set off with three other crew members, Hamish Harding, Stockton Rush and Paul-Henry Nargeolet on Sunday 18 June but the submersible never returned.
It lost contact with its mothership Polar Prince an hour and 45 minutes into the journey and parts of the wreckage were found days later after a mamouth search by international agencies.
Who is Shahzada Dawood?
Shahzada was born in Pakistan and now lives in Surbiton in Surrey with his wife, Christine Dawood and their two children.
The 48-year-old is a business advisor and serves on the boards of a number of charities and organisations.
When he died, he was on the board for Prince's Trust International and was vice chair of Pakistan's Engro Corporation.
In a statement before his death was announced, Shahzada's family said: "Shahzada has been actively advocating a culture of learning, sustainability, and diversity in his capacity as vice chairman of Pakistan's Engro Corporation.
"Passionate about social impact, he works extensively with the Engro Foundation, The Dawood Foundation, the SETI Institute, and Prince's Trust International.
"Out of the office, he has spoken passionately at the United Nations in 2020 on International Day for Women & Girls in Science and Oxford Union in 2022.
"His interests include photography, especially wildlife photography, and exploring different natural habitats while Suleman is a big fan of science fiction literature and learning new things."
Who is Shahzada's wife Christine Dawood?
Christine Dawood is a coach and psychologist who was born in Germany. The couple share two children, Suleman, 19 and Alina, who is older.
Ms Dawood was originally pursuing a career in engineering but left this behind when she was involved in an near-fatal plane crash in 2019 while travelling with her husband.
Writing about the incident in her blog, Ms Dawood said: "I've read many times that people start to pray in such situations or that their life flashes by like a movie.
"My husband told me later that he was thinking of all the opportunities he'd missed and how much he still wanted to teach our children."
Who are the Dawood children?
Suleman was studying business at the University of Strathclyde in Scotland when he went on the Titan trip with his father.
Alina, the older sibling, majored in English Literature at university and received honours and awards for her academic work.
Alina and Suleman were raised in both Pakistan and London.
Professor Sir Jim McDonald, Strathclyde University principal, said in a statement: "I write to you with a heavy heart to share the news that one of our students, Suleman Dawood, is a passenger on board the submersible that is missing in the North Atlantic.
"We are deeply concerned about Suleman, his father and the others involved in this incident.
"I know you will join me in sending our thoughts and prayers to their families and loved ones."
Speaking to the BBC about her son, Ms Dawood said Suleman was "so excited" to try to break a world record with his Rubik's cube while under the sea.
She said her son loved the puzzle game and could solve it in as little as 12 seconds. He had an aim to solve the Rubik's cube at 3,700 metres under the ocean's surface, therefore achieving a Guiness World Record.
The Dawood family are beleived to be among the richest in Pakistan and has strong links to the UK.
What happened to Shahzada and Suleman Dawood?
The father and son were reported dead on June 22, four days after leaving on the Titan submersible with three other men to go down to the wreckage of the Titanic.
The submersible set off on Sunday June 18, but all contact was lost with it one hour and 45 minutes into the journey.
A rescue mission included two remote operated vehicles being dispatched to search the area around the Titanic from the ocean's surface down to the depths.
Debris from the sub was then discovered two days later on June 20.
The US Coast Guard said they discovered debris on the floor of the ocean "consistent with the catastrophic loss of the pressure chamber".
It wasn't until four days after the trip first set off, on Thursday June 22, that OceanGate Expeditions released a statement, which said: "We now believe that our CEO Stockton Rush, Shahzada Dawood and his son Suleman Dawood, Hamish Harding, and Paul-Henri Nargeolet, have sadly been lost."
Crews are continuing to carry out an investigation into the scene and what happened.
play youtube
,
xnxx
,
xvideos
,
porn
,
porn
,
xnxx
,
Phim sex
,
mp3 download
,
sex 4K
,
Straka Pga
,
gay teen porn
,
Hentai haven
,
free Hentai
,