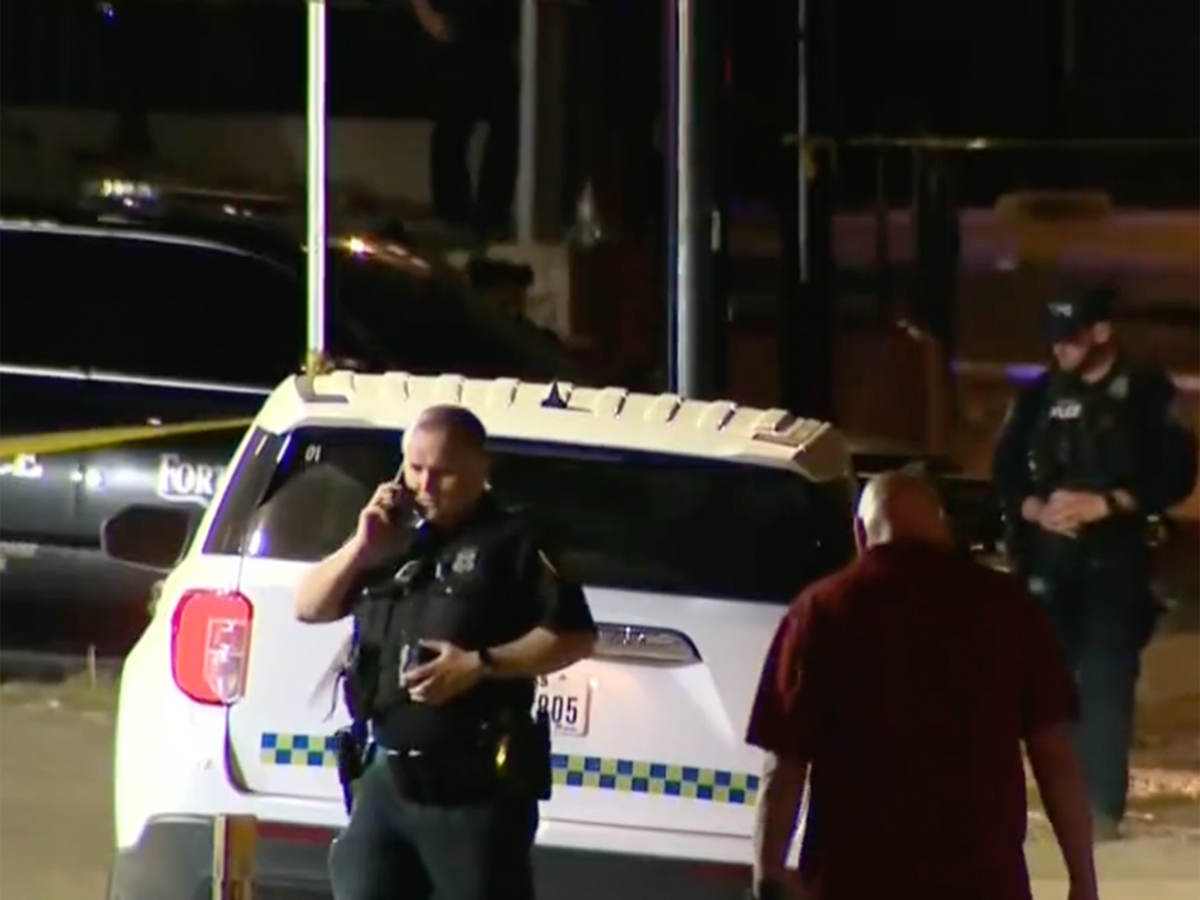 July 4 is a time for parties, fireworks, hot dogs and vacations from work.
But this year, it was also a time marred by gun violence.
On Monday night, three people were killed and another eight injured when gunfire erupted at the end of an Independence Day celebration in Fort Worth, Texas.
The annual ComoFest was held in the Como neighbourhood, with hundreds of local residents gathering to watch the fireworks display – some of them never to return home again.
It marked just one of four shootings in Fort Worth on the eve of July 4, leaving a total of 17 dead or wounded across the city.
Here's what we know so far:
The shooting
The massacre unfolded just before midnight on Monday night in the area of Diaz Avenue and Horne Street, not long after the neighbourhood's annual ComoFest came to an end.
Fort Worth Police said that at least one person opened fire in the crowd, shooting at least 11 people and sending terrified revellers running for their lives.
Officers arrived on the scene to find several shooting victims in a parking lot.
"We had a shooting. It appears that we had multiple victims that were shot. Probably three of them were transported to Harris Southwest," said Fort Worth Police Captain Shawn Murray in a late-night press conference.
"Five more victims were transported to John Peter Smith."
Police said that emergency responders struggled to reach the victims due to the large crowds of people and the number of vehicles in the area.
Instead, officers resorted to loading victims into their patrol cars and driving them to waiting paramedics, police said.
Sources told ABC11 that the shooting began with an argument that quickly escalated to gunfire but would not say if the shooting is thought to be gang related.
The victims and shooters
One shooting victim was pronounced dead at the scene while the other 10 were rushed to hospital, reported WFAA.
Two other victims were pronounced dead in hospital taking the death toll up to three.
The identities of the victims are currently unknown but one of the 11 is believed to be a juvenile.
As of late Tuesday morning, no arrests have been made and the identities of the shooter or shooters remain unknown.
Capt. Murray said that investigators are working to determine what led up to the shooting and how many people shooters there may be.
"We don't if this was domestic related or gang related. It's too early to tell," he said.
"We just know someone shot a bunch of times. We don't know if it was a single shooter or more than one shooter.
"We hope it is just a single shooter and not a crossfire situation. Homicide will figure that out… how many shooters there were."
Many of the surviving victims are said to be refusing to cooperate with police, ABC11 reported, meaning police are relying on the public for help.
The aftermath
Texas congressman Marc Veasy responded to the night of violence in his home community in a tweet.
"Last night, two senseless acts of violence happened in the community where I grew up. I am praying for the Como and Polytechnic communities. We must do all we can to end gun violence and save lives," he tweeted.
Meanwhile, Texas Senator Ted Cruz ignored the latest mass shooting in his home state as he posted a July 4 message celebrating "the freedoms we are so blessed to share".
"Wishing Americans across this land a Happy Fourth of July as we celebrate our nation's independence and the freedoms we are so blessed to share. May our liberty endure forever, and may God bless this country as He has for the past 247 years!" he wrote.
Four shootings in Fort Worth on eve of July 4
On the eve of July 4 holiday, a total of 17 people were shot in four separate shootings across Fort Worth.
Just over an hour before the mass shooting at ComoFest, Fort Worth Police were called to a separate incident where three men were shot.
It was just after 10pm on Monday night and police said a fight broke out between a group of people at a home in the 2100 block of Christine Avenue in the Polytechnic Heights area.
At least two people opened fire, striking three people.
Officers responded to the scene to find three men suffering from gunshot wounds – one in the head, one in the back and one in the leg.
All three were taken to hospital for non-life-threatening injuries.
Fort Worth police also responded to a third shooting – this time to the 4000 block of Knox Street where a man and woman had been shot.
The woman was shot in the ankle and the man suffered an injury to the hand – from either a bullet or flying glass – while they were riding in a car, police said.
A suspect was taken into custody with the gang unit now investigating the incident.
Meanwhile, in a fourth incident, a man was shot at the AMC theatre on Hulen Boulevard just after 1.30am.
The shooting again began as a fight between a group of people, prompting gunfire to erupt. The victim's condition is currently unknown.
This also isn't the first time Fort Worth's ComoFest ended in tragedy.
Two years ago in 2021, eight people were shot close to a car wash on Horne Street during the celebrations. All shooting victims survived back then.
America's deadly Independence Day
Beyond Texas, other communities in the US were also rocked by gun violence throughout the Independence Day holiday.
Over in Philadelphia, five people were killed and at least two others wounded in the Kingsessing neighbourhood on Monday night, when a gunman dressed in a bullet-proof vest and armed with an AR-15-style rifle and a handgun opened fire.
The mass shooting unfolded at around 8.30pm when Philadelphia police said the 40-year-old suspect left his home and began shooting at victims.
Police initially said that four men were killed but early on Tuesday revealed that a fifth victim, a 31-year-old man, had since been found dead inside a home. Two children – aged two and 13 – were also injured in the shooting but are in stable condition.
The suspect was arrested on the scene. As well as the two firearms, he was also found with a police scanner.
Police said the motive remains unknown but that there is no known connection between the suspect and victims.
This came after a mass shooting at a July 4 block party in Baltimore in the early hours of Sunday morning left two dead.
At around 12.35am on Sunday, Baltimore police received multiple calls reporting a shooting on the 800 block of Gretna Court.
Officers responded to the scene, where the community had been holding its annual Brooklyn Day block party, to find 30 victims suffering from gunshot wounds.
One 18-year-old woman – Aaliyah Gonzalez – was pronounced dead on the scene while nine victims were rushed to local hospitals and 20 walked into area hospitals across the region. A 20-year-old man – Kylis Fagbemi – died at the hospital from his injuries. No arrests have been made.
Anyone with information or videos in connection to the ComoFest shooting is asked to call Fort Worth Police at 817-392-4330. You could also call Crime Stoppers of Tarrant County at 817-469-8477.
play youtube
,
xnxx
,
xvideos
,
porn
,
porn
,
xnxx
,
Phim sex
,
mp3 download
,
sex 4K
,
Straka Pga
,
gay teen porn
,
Hentai haven
,
free Hentai
,