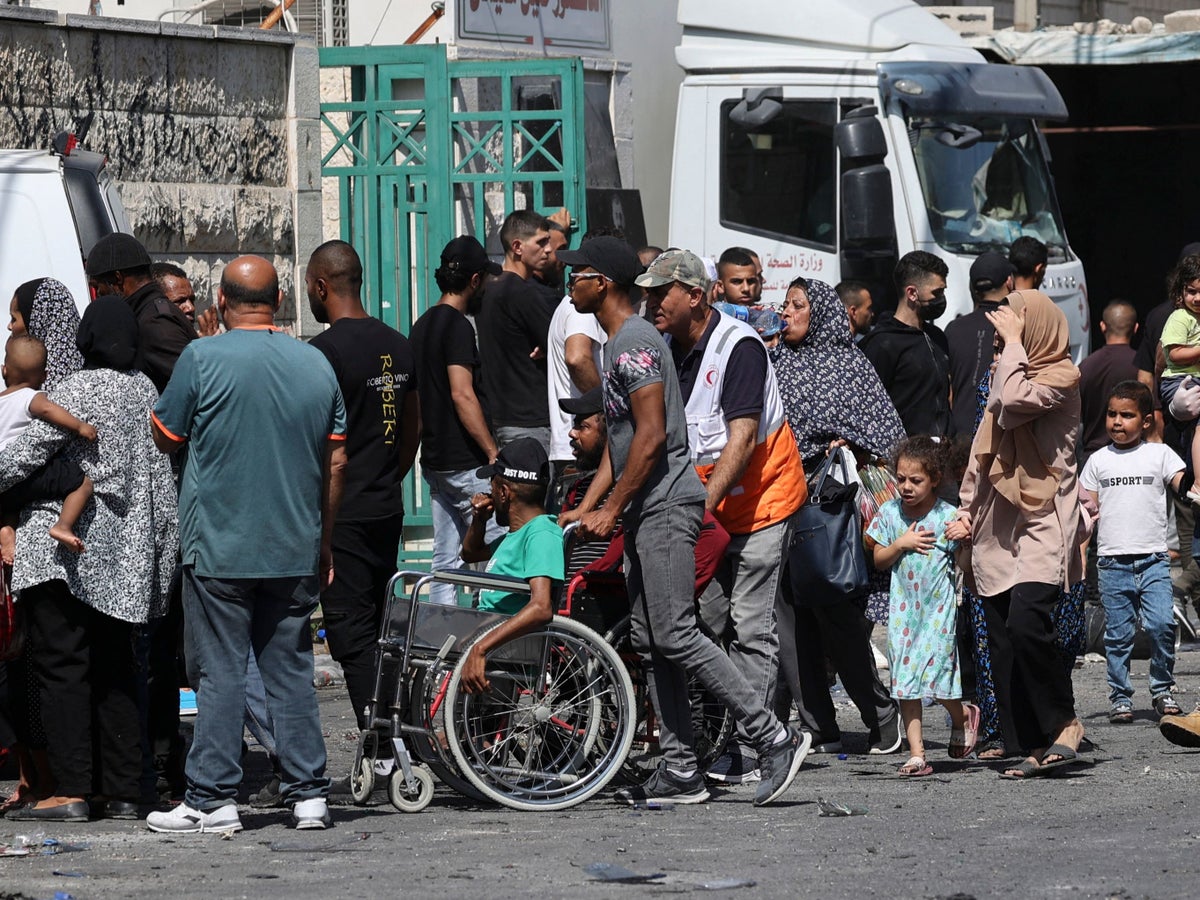 Thousands have fled Israel's biggest military operation into the occupied West Bank in decades, as a car-ramming in Tel Aviv underlined the risk of violence spreading.
At least 10 Palestinians, including three children, have been killed and over 100 injured during Israeli's operation in Jenin refugee camp which started with a drone strike on Monday. The United Nations has said Israeli military bulldozers destroyed key roads stopping ambulances from entering the camp, which has lost access to drinking water, electricity and in some areas some food supplies.
"At this moment we are completing the mission, and I can say that our extensive activity in Jenin is not a one-time operation," Israeli Prime Minister Benjamin Netanyahu said.
Israel's military said it aimed to "thwart terrorism and remove threats"  – while a defence source said forces had begun began to withdraw late on Tuesday.
UN agencies said they were deeply "alarmed" and "concerned" by the violence, adding that the level of injuries was placing a strain on "fragile and underfunded" health system in Jenin while medical teams had restricted access preventing them from reaching the critically injured.
The population of Jenin, located in the far north of the occupied West Bank, are mostly descendants of Palestinians that fled or were forced to flee the conflict which surrounded the creation of Israel in 1948. In the early 2000s it was the theatre of some if the worst bloodshed during the Second Intifada.
This year the densely populated area, where some 14,000 people live in less than half a square kilometre, has again become the focal points of a wave of violence that has swept the occupied West Bank. In 2023 alone more than 140 Palestinians have been killed by Israeli forces in the occupied West Bank while Palestinian attacks targeting Israelis have killed at least 26 people.
The Israeli military has described Jenin of being a "stronghold of terrorist activity" accusing militant groups of basing fighters within densely populated urban areas. Jenin and the outlying areas have become the target of intensified raids ordered by Israel's nationalist-religious government .
In Tel Aviv, a Palestinian drove his car into a crowded bus stop and then began stabbing bystanders, injuring eight people. CCTV video circulated online showed a pickup truck strike two people as it mounted a pavement and bicycle lane at speed. The driver is seen scrambling out of a window, stabbing a cafe-goer and chasing other people with knife in hand.
Hamas said the attacker, identified as 23 year-old Abdel-Wahab Khalyleh, who was shot dead at the scene, was a member. It said the attack was "an act of self-defence in the face of the ongoing Zionist massacre in Jenin."
In Jenin, drones circulated overhead and sporadic gunfire and explosions sounded near the refugee camp, which fighters from militant groups including Hamas, Palestinian Islamic Jihad and Fatah have fortified with a range of obstacles and watching posts to counter regular army raids.
Power and water supplies remained cut off in the camp and in some areas of the city for a second day after bulldozers that ploughed up roads looking for improvised bombs cut power cables and a main water pipe.
Israeli forces said they uncovered several underground explosives caches, one concealed in a tunnel under a mosque.
The Palestinian Red Crescent said it has evacuated 500 families from the camp – around 3,000 people. Trucks brought food, water and other supplies collected by volunteers in nearby Nablus.
Medicins Sans Frontiers said the ongoing operation had obstructed medical response and that several gas canisters had landed in the courtyard of one of the centres they supported that as treating people with gunshot wounds .
Dr. Wissam Bakr, Director of the Jenin Governmental Hospital, that serves the ares said that their staff were overwhelmed.
"The medical teams, especially the surgeons and anaesthetists, have been working for 40 hours nonstop, and still are on top of their work to help the wounded," he said.
Jihad Hassan, 63, who fled the camp with his family after his son was wounded, said the drone strike had prompted him to leave.
"You don't hear a sound, you just see the explosion," he said, as he waited with his son at the Jenin Government Hospital. "It is something, when a person is forced to leave their home," he said.
Many offices and businesses across the occupied West Bank closed on Tuesday in response to calls for a general strike to protest the operation, which the Palestinian Authority has described as a "war crime".
Mohammed Moustafa Orfy, Egypt's permanent representative to the Arab League, said the operation would hinder efforts to bring reconciliation after months of escalating violence.
"What is happening in Jenin, from brutal killing using the Israeli war machine, is aimed at shrinking to a very large extent the chances of reviving the peace process," he said.
Rishi Sunak said the Israel army must "demonstrate restraint" and prioritise civilian safety, as he urged all parties to avoid "further escalation".
"We support Israel's right to self-defence, we have condemned the recent terrorist attacks," he told MPs, but Israel must "adhere to principles of necessity and proportionality when defending their legitimate security interests."
The UN's child agency warned that children had been caught in the crossfire, adding that 2023 was fast becoming one of the deadliest years in two decades for young people in the occupied West Bank.
play youtube
,
xnxx
,
xvideos
,
porn
,
porn
,
xnxx
,
Phim sex
,
mp3 download
,
sex 4K
,
Straka Pga
,
gay teen porn
,
Hentai haven
,
free Hentai
,