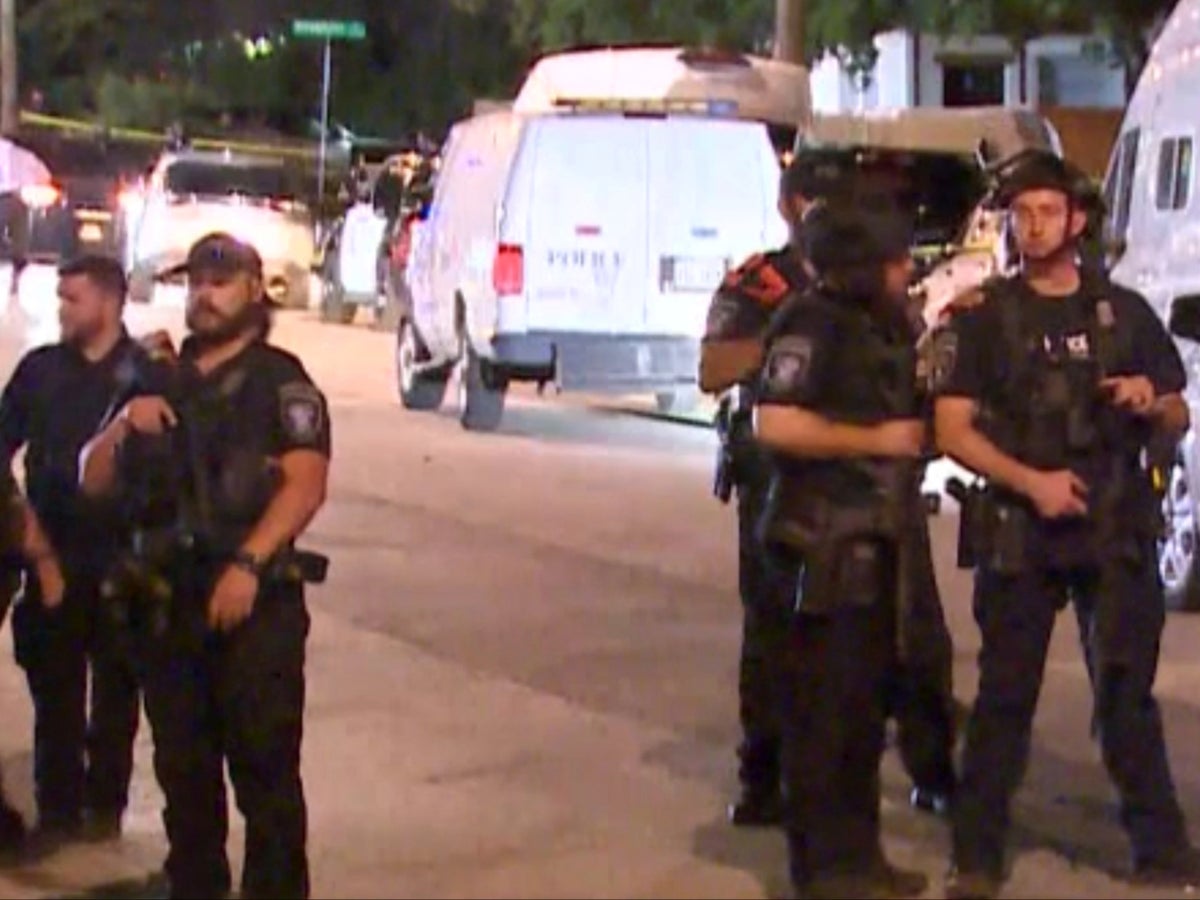 2 dead, 6 injured in west Fort Worth shooting
At least 17 people have been shot – three of them fatally – across four shootings in Fort Worth, Texas, on the eve of July 4. Two of the victims were identified Tuesday as Cynthia Santos, 22, and Paul Willis, 18, who were killed hours after the ComoFest event ahead of the Fourth of July holiday.
The shootings in the area took place at a range of locations, including ComoFeset, a residential home, an AMC movie theatre, and in a car.
Following a wave of shootings this week, Joe Biden renewed his calls to reinstate the assault weapons ban.
In a Wednesday statement, he called on Republicans in Congress to "come to the table on meaningful, common sense reform".
1688518855
Fort Worth rocked by second shooting on eve of July 4
The community of Fort Worth was rocked by a second shooting on the evening before the July 4 holiday.
Just over an hour before the mass shooting at ComoFest, Fort Worth Police were called to a separate incident where three men were shot.
It was just after 10pm on Monday night and police said a fight broke out between a group of people at a home in the 2100 block of Christine Avenue in the Polytechnic Heights area.
At least two people opened fire, striking three people.
Officers responded to the scene to find three men suffering from gunshot wounds – one in the head, one in the back and one in the leg.
All three were taken to hospital for non-life-threatening injuries.
Graig Graziosi5 July 2023 02:00
1688515255
Fort Worth police ask public for help in tracking down shooters
Police are asking anyone with information about the shooting to call the Fort Worth Homicide Unit at 817-392-4330 or crime stoppers.
If anyone has personal videos during the time of the shooting or events leading up to the shooting they are also being asked to contact police.
Graig Graziosi5 July 2023 01:00
1688511655
Gun control group reacts to mass shooting: 'Gun violence shouldn't be as American as the 4th of July'
"It it feels like we can't go a single day in the US without a mass shooting. We are the only industrialized country in the world that wakes up to news of a mass shooting, sometimes multiple, every single day. Unfortunately, because of the gun industry's influence on our lawmakers, there is no place in America that's safe from gun violence," said Kris Brown, president of gun violence prevention organisation Brady.
"Gun violence shouldn't be as American as the 4th of July. But the tragic reality is the July 4th weekend is often our country's deadliest peak in gun violence. Already, 2023 is on track to set the record for the highest number of mass shootings of any year in US history."
"If an assault weapon was indeed used in the Philadelphia shooting, its ability to gun down multiple people in a matter of seconds is indicative of why these weapons of war have no place in our communities. Highland Park, Ill. experienced a similar assault weapons shooting on this day last year. Unfortunately, 40 states, including Pennsylvania, still allow these weapons of war in our communities.
"This Independence Day, multiple families will be in mourning because of a uniquely American crisis that our policymakers refuse to address. Our hearts go out to the families and survivors of these horrific tragedies."
Graig Graziosi5 July 2023 00:00
1688508055
Over in Philadelphia: Five killed in mass shooting
Five people have been killed and at least two others wounded in the Kingsessing neighbourhood of Philadelphia on Monday night, when a gunman dressed in a bullet-proof vest and armed with an AR-15-style rifle and a handgun opened fire.
The mass shooting unfolded at around 8.30pm when Philadelphia police said the 40-year-old suspect left his home and began shooting at victims.
Police initially said that four men were killed but early on Tuesday revealed that a fifth victim, a 31-year-old man, had since been found dead inside a home. Two children – aged two and 13 – were also injured in the shooting but are in stable condition.
Graig Graziosi4 July 2023 23:00
1688504400
Shooting marks second at annual ComoFest
The mass shooting came just hours after the neighbourhood's annual ComoFest came to an end.
This isn't the first time Fort Worth's ComoFest ended in tragedy.
Two years ago in 2021, eight people were shot close to a car wash on Horne Street during the celebrations. All shooting victims survived back then.
Graig Graziosi4 July 2023 22:00
1688502655
America's mass shooting crisis, in numbers: More than halfway through 2023, US on pace for record-setting year
At least 346 mass shootings were recorded within the first six months of 2023 and through the July 4 weekend, a rate of at least one every day, and outpacing the rates of mass shootings at similar points in the calendar in previous years.
Three people were killed and eight others were wounded in a mass shooting at a festival in Fort Worth, Texas on 3 July. Five people were killed and two others were injured when a gunman in a bulletproof vest fired into a crowd of strangers in Philadelphia that same night.
And in Baltimore, two people were fatally shot and 28 others – half of which were children – were injured in a hail of gunfire during a block party in Baltimore on 2 July.
The deadly incidents underscore the nation's failure to combat an epidemic of gun violence even as officials across the US and in the highest courts in the country loosen gun laws and make it easier to arm Americans in public.
Graig Graziosi4 July 2023 21:30
1688499392
Two victims identified in Forth Worth mass shooting
Two of the victims killed during a mass shooting on Monday in Fort Worth, Texas, have been identified.
Cynthia Santos, 22, and Paul Willis, 18, were both killed in the shooting, according to WFAA.
One other person was killed, and eight others were injured.
Graig Graziosi4 July 2023 20:36
1688498439
America's gun violence in numbers
So far in 2023, 340 mass shootings have taken place across America, according to the Gun Violence Archive.
This means this year is on track to record 679 mass shootings – the highest number since 2014.
This would also be a 61 percent increase from the 417 recorded in 2019, the year before Covid-19 ravaged the nation.
Rachel Sharp4 July 2023 20:20
1688497239
Fort Worth Mayor Mattie Parker says she is 'devastated' by mass shooting
"I am devastated by the news of a mass shooting in Fort Worth last night," she tweeted.
"My heart breaks for the victims, their loved ones, and the entire Como community that works to build positivity and celebration in their community and our city."
Rachel Sharp4 July 2023 20:00
1688496039
President Biden releases statement on July 4 gun violence
"Over the last few days, our nation has once again endured a wave of tragic and senseless shootings in communities across America — from Philadelphia to Fort Worth, Baltimore to Lansing, Wichita to Chicago. Today, Jill and I grieve for those who have lost their lives and, as our nation celebrates Independence Day, we pray for the day when our communities will be free from gun violence. "Today also marks one year since a shooter armed with an AR-15-style weapon fired upon a crowd of Americans gathered for an Independence Day parade in Highland Park, Illinois. In mere moments, this day of patriotic pride became a scene of pain and tragedy. "In the year since, Illinois Governor J.B. Pritzker, Highland Park Mayor Nancy Rotering, legislative leaders, and numerous advocates, and gun violence survivors have fought tirelessly to turn the pain of Highland Park and other acts of gun violence into meaningful action on behalf of all Illinoisans. This past January, they succeeded in banning assault weapons – like the one used in Highland Park – as well as high-capacity magazines across Illinois. "Their achievement will save lives. But it will not erase their grief. It will not bring back the seven Americans killed in Highland Park or heal the injuries and trauma that scores of others will continue to carry. And as we have seen over the last few days, much more must be done in Illinois and across America to address the epidemic of gun violence that is tearing our communities apart. "It is within our power to once again ban assault weapons and high-capacity magazines, to require safe storage of guns, to end gun manufacturers' immunity from liability, and to enact universal background checks. I urge other states to follow Illinois' lead, and continue to call upon Republican lawmakers in Congress to come to the table on meaningful, commonsense reforms that the American people support."
Rachel Sharp4 July 2023 19:40
play youtube
,
xnxx
,
xvideos
,
porn
,
porn
,
xnxx
,
Phim sex
,
mp3 download
,
sex 4K
,
Straka Pga
,
gay teen porn
,
Hentai haven
,
free Hentai
,