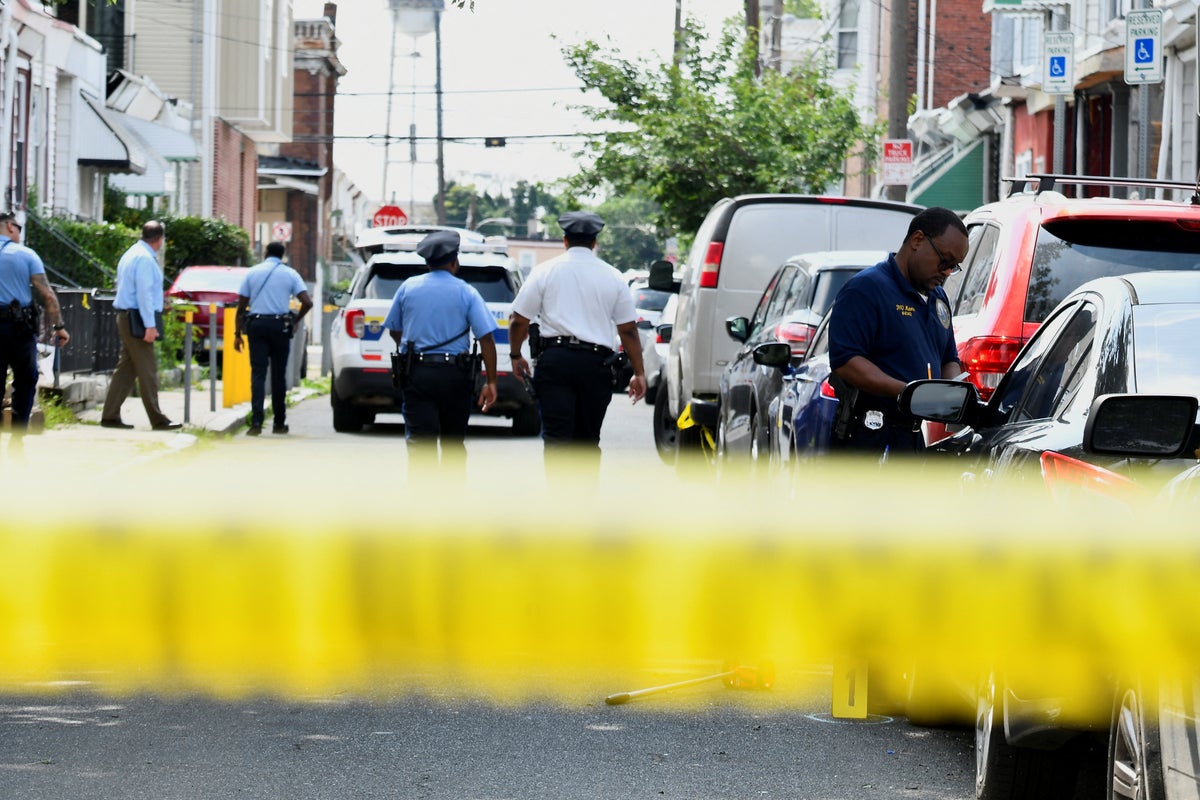 The masked and heavily-armed suspect accused of killing five people in a mass shooting in the Kingsessing neighborhood of Philadelphia has been identified as a 40-year-old with a history of gun offences.
Philadelphia District Attorney Larry Krasner named Kimbrady Carriker on Wednesday as the shooter who sowed chaos and fear into the neighbourhood during the July 4 break, when residents should have been celebrating the holidays.
Dressed in body armour and a ski mask and armed with an AR-15-style rifle and 9mm handgun, Carriker allegedly opened fire in the neighbourhood on Monday night, killing four men and a 15-year-old boy.
Officers responded to the scene when Carriker was still allegedly firing shots, before taking the suspect into custody.
The DA said that that the shooting was "premeditated" but that the victims were targeted at "random".
On Wednesday, Carriker appeared in court and was arraigned on murder charges, where a judge ordered the accused mass shooter to be held without bail.
Carriker is also facing charges of attempted murder, aggravated assault and simple assault, the DA's office said.
No motive has been given for the attack, with investigators still trying to piece together the tragedy.
Heres what we know so far about the suspect:
The suspect: Kimbrady Carriker
DA Krasner confirmed the suspected shooter's identity to CNN on Wednesday ahead of the arraignment on murder charges.
Carriker is a 40-year-old who has had prior brushes with the law.
The suspect had a gun conviction back in 2003, leading authorities to believe that the firearms used in Monday's attack may have been obtained illegally.
"He had a gun conviction back in 2003, and yet here we are looking at, you know, five people dead as a result of a mass shooting rampage, where he was well-armed and had another firearm back at his residence," DA Krasner said.
The DA said that Carriker was carrying a ghost gun on the night of the shooting and that there is reason to believe that both that firearm and the AR-15 "may have been obtained illegally".
Getting to the bottom of the source of the weaoon will take time, however, "because the NRA has done a hell of a job trying to make it difficult for people to investigate the source of a weapon," he said.
"This was someone who set out to kill strangers which of course has become way too common in the United States," he said, adding that there is no known connection between Carriker and any of the victims
The shooting was a "random, premeditated deliberate killing carried out with an assault rifle," he told CNN.
While officials work to determine what motivated Carriker to allegedly terrorise the neighbourhood in Monday's mass shooting, people who knew the suspect have started speaking out.
Tina Rosette, 49, spoke with The Philadelphia Inquirer about her experience living with Carriker.
She said when she knew Carriker was "really smart, intelligent, creative," and was someone who loved to work on computer programs. Ms Rosette said she was shocked to hear Carriker's name in connection with the shooting, and said she did not know the 40-year-old had a gun.
She did note however that Carriker had "an aggressive approach to some things in life" and would teach young people how to fight.
Ms Rosette's daughter, Cianni, lived with her mother and Carriker and found the accused shooter to be "cool" and creative. However she notes that Carriker did have a firearm, and showed it to her several times.
"He was trying to get me comfortable around guns and stuff like that," she told the Philadelphia Inquirer.
Cianni said she stopped talking to Carricker because she found the 40-year-old "pushy" about trying to start a relationship with her.
Ms Rosette said she believed Carriker had been in a "dark place" recently, but did not provide a reason why she felt that way.
The shooting
Shortly before 8:30pm on 3 July, a shooter with a handgun and an assault rifle opened fire on people in the Kingsessing neighbourhood of Philadelphia.
After police arrived, they found numerous victims at the scene and began treating the wounded and loading others into emergency vehicles.
The department estimates that the shooter fired at least 50 shots at the scene, hitting multiple vehicles.
Officers then heard more gunfire break out a short distance away and rushed to the scene.
When police closed the gap they caught glimpse of the shooter and gave chase, eventually cornering the suspect in an ally.
Once the shooter was surrounded, they surrendered to officers. Police said the shooter was wearing body armour, a police scanner, and was carrying multiple magazines.
Police have not determined a motive yet, and said they believe the shooter was firing at random and did not have intended targets.
A second shooter was arrested at the scene after they were believed to have also opened fire on the scene.
On Tuesday, police announced that this second individual would not face charges because they were firing back at the shooter in self-defence.
The victims
The victims were named as: Daujan Brown, 15, Ladhyd Merritt, 20, Dymir Stanton, 29, Joseph Wamah Jr, 31, and Ralph Morries, 59.
Wamah was found dead in his home of a gunshot wound, rather than at the scene of the street shooting. Police believe he was the first victim killed.
"We believe because of where he was found and where his house is on 56th Street, and the fact that we found ballistic evidence that matches the ballistic evidence we found on the street a few hours earlier, we believe this homicide is related," Philadelphia Police Chief Inspector Scott Small said.
In addition to the dead, two children, ages 2 and 13, were wounded by gunfire, and have been hospitalised but are in stable condition. In total, seven people were shot during the incident.
One of the children shot was a twin who was riding in a car with their mother when the shooting occurred. The child's sibling and a 33-year-old woman were also injured by shattered glass, according to police.
Philadelphia Police Commissioner Danielle Outlaw said there is currently no know connection between the victims and the shooter. She called the shooting "disgusting" during Tuesday's press conference.
play youtube
,
xnxx
,
xvideos
,
porn
,
porn
,
xnxx
,
Phim sex
,
mp3 download
,
sex 4K
,
Straka Pga
,
gay teen porn
,
Hentai haven
,
free Hentai
,