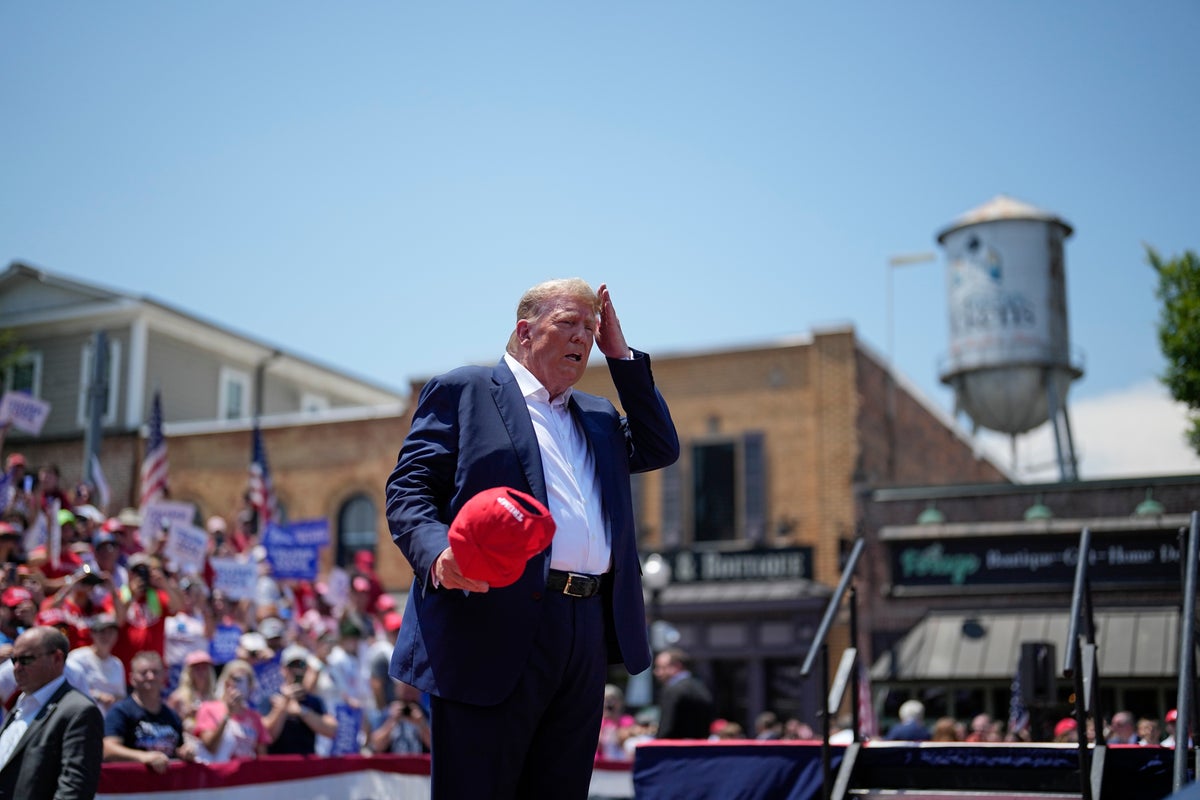 CNN plays tape of Trump appearing to show off classified military documents
Most presidents, current and former, typically spend America's Independence Day celebrating the values of US society that bring its citizens together, joining in the festive and unifying themes of the national holiday. And then there's Donald Trump.
The former president spent July 4 fuming at his enemies on Truth Social, resharing a vulgar message aimed at President Joe Biden and the tens of millions of Americans who voted for him in 2020.
""F**k Biden and f**k you for voting for him", read the post.
Later, he continued his holiday rant by branding the president a "very dangerous idiot in the White House".
He also posted a bizarre image of himself imposed into the Revolutionary War, prompting social media users to suggest he is more like Benedict Arnold – the infamous US traitor – than the Founding Fathers.
In other Trumpworld news, the company planning to merge with Truth Social has reached an $18m settlement with the Securities and Exchange Commission (SEC).
Digital World Acquisition Corp (DWAC) announced the tentative settlement on Monday, ending an SEC probe looking into whether it held talks with Truth Social's parent company before going public – a violation of regulation.
1688550045
Impeachment lawyer says Trump 'likely exposed himself to criminal liability' after calls to Georgia and Arizona leaders
Norm Eisen, a former US ambassador to the Czech Republic and a co-counsel for the House Judiciary Committee during the first impeachment trial of former President Donald Trump, says that Mr Trump likely made himself criminally liable for pressuring both Arizona Governor Doug Ducey and Georgia Secretary of State Brad Raffensperger after the 2020 election.
John Bowden5 July 2023 10:40
1688546445
What's 'Bidenomics'? The president hopes a dubious nation embraces his ideas condensed into the term
President Joe Biden has long struggled to neatly summarize his sprawling economic vision.
It's been hard for voters to digest the mix of roads-and-bridges spending, tax hikes on big companies, tax credits for parents, tax breaks for renewable energy, grants to build computer chip factories, insulin price caps and slogans like "Build Back Better."
And that barely covers the full breadth of what the administration is doing and trying to do.
Last week, the president gave a speech on "Bidenomics" in hopes that the term will lodge in voters' minds ahead of the 2024 elections. But what is Bidenomics? Let's just say the White House definition is different from the Republican one — evidence that catchphrases can be double-edged.
Biden says his economic philosophy is the opposite of a Republican approach that favors broad tax cuts to spur growth. He sees the government as using the tax code in a more targeted fashion and fashioning other programs to foster investment in new technologies, create jobs and boost upward mobility. He wants to do more to educate workers and foster competition within the U.S. economy in hopes of reducing prices.
Read more:
John Bowden5 July 2023 09:40
1688542845
Chris Christie says both Trump and Biden are 'past their sell-by dates'
Chris Christie has said that both Donald Trump and Joe Biden are "past their sell-by dates" as he prepares to take on both in the 2024 race.
The former New Jersey governor and Republican presidential candidate had harsh words for both candidates in a The New York Times op ed published on Saturday.
"I think he's beyond his sell-by date," Mr Christie said of Mr Biden.
"And I think Trump is, too, by the way."
Of Mr Biden, he added: "I think his family should let him go home. Are they actually motivated by love for this guy, or is it motivated by the grift?"
John Bowden5 July 2023 08:40
1688539245
Pence 'doesn't believe' racial inequality exists in schools as he celebrates SCOTUS affirmative action ban
The former vice president discussed the issue on CBS's Face the Nation and said that the time for policies aimed at improving outcomes for minority students in general had passed. A candidate for the 2024 Republican presidential nomination, Mr Pence is up against his former boss, Donald Trump, and other conservatives like Florida Governor Ron DeSantis and former UN Ambassador Nikki Haley.
His comments came as activists and authorities in the higher education field vowed to keep fighting to ensure that diversity would remain a core value in student recruiting.
"Fundamentally, do you believe that there are racial inequities in the education system in the United States?" asked host Margaret Brennan.
"I really don't believe there is [racial inequality in US schools]. I believe there was," Mr Pence said.
Read more:
John Bowden5 July 2023 07:40
1688532045
For presidents, July Fourth is a day to chill or strut or get an earful of red, white and boo
Through history, the Fourth of July has been a day for some presidents to declare their independence from the public. They've bailed to the beach, the mountains, the golf course, the farm, the ranch. In the middle of the Depression, Franklin Roosevelt was sailing to Hawaii on a fishing and working vacation.
It's also been a day for some presidents to insert themselves front and center in the fabric of it all.
Teddy Roosevelt drew hundreds of thousands for his July Fourth oratory. In 2019, Donald Trump marshaled tanks, bombers and other war machinery for a celebration that typically avoids military muscle.
Richard Nixon enraged the anti-war masses without even showing up. As the anti-Nixon demonstrations of 1970 showed, Independence Day in the capital isn't always just fun and games. It has a tradition of red, white and boo, too.
In modern times, though, presidents have tended to stand back and let the people party.
Read more:
John Bowden5 July 2023 05:40
1688529000
Slim majority of Americans support Supreme Court's affirmative action ruling, but most believe politics rules the court
More than half of Americans believe US Supreme Court justices decide cases largely on the basis of their partisan political views, a figure that has shot up 10 percentage points from January 2022.
That figure – 53 per cent – appears to be driven by the gulf between perceptions of the conservative supermajority court among Republican and Democratic voters following several controversial rulings at the end of its latest term, according to new polling from ABC News/Ipsos.
Overall, a bare majority of Americans (52 per cent) support the court's decision against race-conscious admissions in higher education.
That majority includes majorities among white (60 per cent) and Asian (58 per cent) Americans, while 52 per cent of Black Americans disapprove of the ruling.
Read more:
John Bowden5 July 2023 04:50
1688525774
Trump marks Independence Day by sharing vulgar attack on Biden and ominous 2024 message
Former President Donald Trump kicked off his Independence Day activities early on Tuesday by resharing a vulgar meme attacking Joe Biden and the people who voted for him.
Mr Trump took to his Truth Social website at roughly 2am to "re-truth" a post by another user consisting of an image containing the words: "81 million votes …. and I've never seen a pro Biden hat, shirt or flag in my life."
The message repeats a common theme among the ex-president's supporters, who frequently claim that he could not have lost the election because there were fewer open displays of mass support for the man who defeated him during the 2020 campaign.
Read more from Andrew Feinberg in The Independent:
John Bowden5 July 2023 03:56
1688517192
Trump's own words about an indicted president come back to haunt him
Of course, Mr Trump did not imagine his comments about indicted presidents would apply to him – he made them when speaking in 2016 about his then-rival Hillary Clinton.
"We could very well have a sitting president under felony indictment and ultimately a criminal trial," he told a rally in November 2016. "It would grind government to a halt."
At another rally, Mr Trump mentioned the email server probe that dogged much of Ms Clinton's presidential campaign, also suggesting that a potential indictment would wreak havoc in the White House.
Read more:
John Bowden5 July 2023 01:33
1688513412
Democrats' new primary calendar remains unresolved. The party insists that's OK
South Carolina and Nevada are on board but face stiff Republican pushback. Michigan's compliance may mean having to cut the state legislative session short, despite Democrats controlling both chambers and the governor's mansion.
Then there's Iowa, which is looking for ways to still go first without violating party rules.
Months after the Democratic Party approved President Joe Biden's plan to overhaul its primary order to better reflect a deeply diverse voter base, implementing the revamped order has proven anything but simple. Party officials now expect the process to continue through the end of the year — even as the 2024 presidential race heats up all around it.
"Despite the fact that it looked like relatively smooth sailing for the president when he proposed it … the kind of backlash you're hearing, the reactions, are exactly what we would have expected," said David Redlawsk, chair of the political science department at the University of Delaware and co-author of the book "Why Iowa? How Caucuses and Sequential Elections Improve the Presidential Nominating Process."
Read more:
John Bowden5 July 2023 00:30
1688509986
Trump returns to campaign rallies, draws thousands to small South Carolina city
Former President Donald Trump on Saturday marked a return to the large-scale rallies of his previous presidential campaigns, speaking to thousands gathered in the streets of a small South Carolina city on a blazing day ahead of the July 4 holiday.
"There's nowhere else I'd rather be to kick off the Fourth of July weekend than right here on Main St., with thousands of hardworking South Carolina patriots who believe in God, family and country," Trump said to a roaring crowd standing on asphalt as temperatures climbed into the 90s.
It wasn't immediately clear how many people had gathered in the streets of downtown Pickens, a small city in South Carolina's conservative Upstate of around 3,400 residents. Law enforcement officials told some media outlets that around 15,000 people had gathered by 11 a.m., two hours before Trump's remarks.
The heavily Republican area is a popular one for GOP hopefuls as they aim to attract support for South Carolina's first-in-the-South presidential primary. In recent months, other candidates including Florida Gov. Ron DeSantis, former Vice President Mike Pence and biotech entrepreneur Vivek Ramaswamy have all held events in the Upstate, as well as the two South Carolinians in the race: former Gov. Nikki Haley and Sen. Tim Scott.
Read more:
John Bowden4 July 2023 23:33
play youtube
,
xnxx
,
xvideos
,
porn
,
porn
,
xnxx
,
Phim sex
,
mp3 download
,
sex 4K
,
Straka Pga
,
gay teen porn
,
Hentai haven
,
free Hentai
,