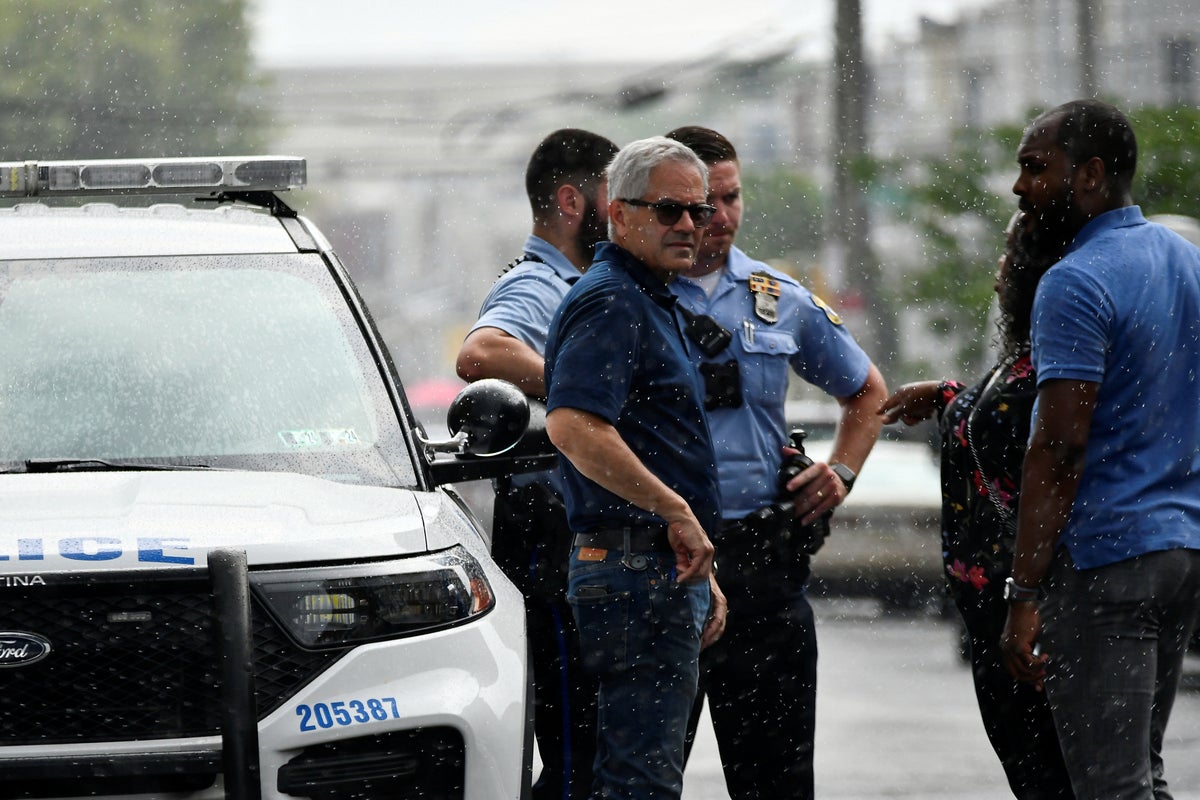 A Philadelphia father was supposed to walk his daughter down the aisle at her wedding just days after he was killed in Monday's horror mass shooting.
Ralph Moralis, 59, was one of the five victims killed on the eve of July 4 when a shooter dressed in a ski mask and bullet-proof vest stalked the streets of the Kingsessing neighbourhood gunning down victims.
Moralis' former partner Tamika Veney described the 59-year-old as a family man who was looking forward to his eldest daughter's wedding this weekend and was going to walk her down the aisle at the nuptials.
Instead, his family has now been left to plan his funeral.
"He did well by his family. He was a regular dude, a good person. He's really going to be missed," she told the Philadelphia Inquirer.
The shooting unfolded at around 8.30pm on Monday when the shooter, armed with an AR-15-style rifle and a 9mm handgun, opened fire in the southwest Philadelphia neighbourhood.
Police said that the shooter appeared to be shooting victims at random along several blocks. Philadelphia District Attorney Larry Krasner identified the suspect as 40-year-old Kimbrady Carriker to CNN on Wednesday.
"On what was supposed to be a beautiful summer evening, this armed and armored individual wreaked havoc, firing with a rifle at their victims seemingly at random," Police Commissioner Danielle Outlaw said in a press conference on Tuesday.
Authorities originally referred to the suspect as a male but said on Tuesday that they now believe they use they/them pronouns.
As well as the firearms and body armour, the shooter was also using a scanner to track the response from police and emergency services.
Officers responded to the scene while the suspect was still "actively shooting" and they were taken into custody.
In total, five people were killed in the attack and another four were injured.
The victims killed were identified as Moralis, Lashyd Merritt, 20; Dymir Stanton, 29; Daujan Brown, 15; and Joseph Wamah Jr, 31.
Initially police believed four victims were killed until Wamah was found dead inside a home in the neighbourhood four hours on from the shooting.
Two children – aged two and 13 – were also shot in the leg but are in stable condition. The two-year-old's twin and a 33-year-old woman also suffered injuries from broken glass caused by the shooting.
Philadelphia DA Mr Krasner announced on Tuesday that the suspect is facing charges of murder, aggravated assault and weapons offences.
An arraignment was set for Wednesday.
The mass shooting marks just one of several which claimed lives across America over the July 4 holiday, prompting lawmakers and President Joe Biden to reignite calls for action to tackle the nation's plague gun violence.
play youtube
,
xnxx
,
xvideos
,
porn
,
porn
,
xnxx
,
Phim sex
,
mp3 download
,
sex 4K
,
Straka Pga
,
gay teen porn
,
Hentai haven
,
free Hentai
,