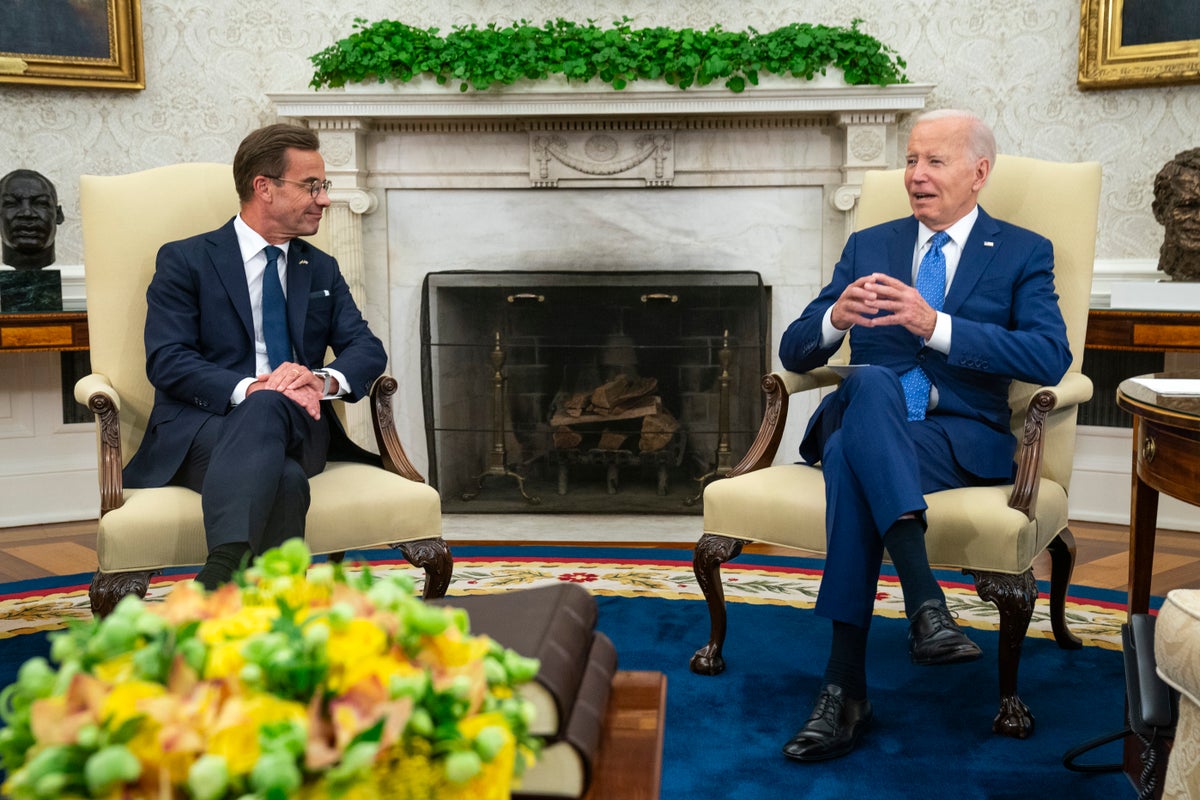 Senior officials from Sweden and Turkey will gather at NATO headquarters on Thursday to examine Turkish President Recep Tayyip Erdogan's objections to the Nordic country joining the military alliance and to see what more, if anything, can be done to break the deadlock.
NATO Secretary-General Jens Stoltenberg will lead the meeting, which will involve the countries' foreign ministers, intelligence chiefs and national security advisers. Top officials from Finland, which joined NATO in April after itself addressing Turkish concerns, will also take part.
Fearing for their security, Sweden and neighboring Finland ended their longstanding policy of military nonalignment after Russia invaded Ukraine in February 2022 and both applied for NATO membership.
President Joe Biden welcomed Sweden's prime minister to the White House on Wednesday in a show of solidarity as the United States ramped up pressure for the Nordic nation's entry into NATO ahead of the alliance's two-day summit starting next Tuesday.
Only Turkey and Hungary are delaying Sweden's membership. The other 29 allies, Stoltenberg and Sweden have all said the Nordic country has done enough to satisfy Turkey's demands. Sweden has changed its anti-terror laws and lifted an arms embargo on Turkey, among other concessions.
But Turkey accuses Sweden of being too lenient toward groups that Ankara says pose a security threat, including militant Kurdish groups and people associated with a 2016 coup attempt. NATO requires the unanimous approval of all 31 members to expand.
Hungary is also holding up approval of Sweden's candidacy but has never clearly stated publicly what its concerns are. NATO officials expect that Hungary will follow suit once Turkey lifts its objections.
At a European Union summit last week, Swedish Prime Minister Ulf Kristersson said Hungary had given assurances that it would not hold things up. "Twice, I have spoken to Prime Minister (Viktor) Orban," Kristersson told reporters. "Both times he has confirmed that Hungary will not delay."
Turkey is a different matter. A Quran-burning protest, at which the media vastly outnumbered the participants, outside a mosque in Stockholm has fueled tensions. Erdogan criticized Sweden last week for allowing it. Police permitted the protest citing freedom of speech after a court overturned a ban on a similar burning of the Muslim holy book.
It's unclear exactly what Turkey objects to, and Thursday's meeting is designed to flesh that out. Erdogan railed against Sweden while on the campaign trail for elections in May, and NATO officials had expected him to relent after he was reelected.
Erdogan is also seeking upgraded F-16 fighter jets from the U.S., but Biden has suggested that Sweden's membership should be endorsed first.
play youtube
,
xnxx
,
xvideos
,
porn
,
porn
,
xnxx
,
Phim sex
,
mp3 download
,
sex 4K
,
Straka Pga
,
gay teen porn
,
Hentai haven
,
free Hentai
,