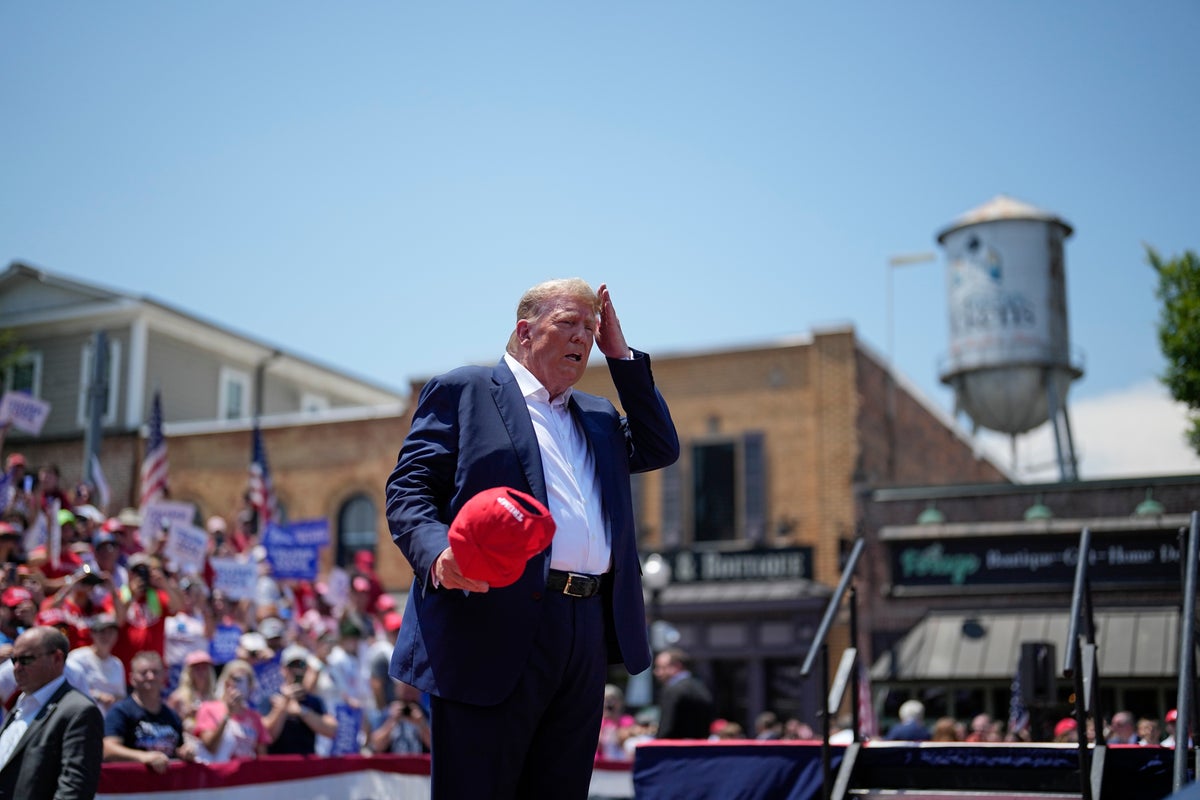 CNN plays tape of Trump appearing to show off classified military documents
Most presidents, current and former, typically spend America's Independence Day celebrating the values of US society that bring its citizens together, joining in the festive and unifying themes of the national holiday. And then there's Donald Trump.
The former president spent July 4 fuming at his enemies on Truth Social, resharing a vulgar message aimed at President Joe Biden and the tens of millions of Americans who voted for him in 2020.
""F**k Biden and f**k you for voting for him", read the post.
Later, he continued his holiday rant by branding the president a "very dangerous idiot in the White House".
He also posted a bizarre image of himself imposed into the Revolutionary War, prompting social media users to suggest he is more like Benedict Arnold – the infamous US traitor – than the Founding Fathers.
In other Trumpworld news, the company planning to merge with Truth Social has reached an $18m settlement with the Securities and Exchange Commission (SEC).
Digital World Acquisition Corp (DWAC) announced the tentative settlement on Monday, ending an SEC probe looking into whether it held talks with Truth Social's parent company before going public – a violation of regulations.
1688618700
White powder found at White House confirmed as cocaine
The white, powdery substance that prompted a brief evacuation of the White House over the weekend has been confirmed to be cocaine by laboratory testing, The Independent has learned.
Andrew Feinberg reports from Washington, DC.
Oliver O'Connell6 July 2023 05:45
1688613343
Trump marks Independence Day by sharing vulgar attack on Biden
Former President Donald Trump kicked off his Independence Day activities early on Tuesday by resharing a vulgar meme attacking Joe Biden and the people who voted for him.
Oliver O'Connell6 July 2023 04:15
1688607943
Truth Social's merger partner reaches SEC settlement
Oliver O'Connell6 July 2023 02:45
1688604343
Trump posted what he said was Obama's address, prosecutors say. An armed man was soon arrested there
Former President Donald Trump posted on his social media platform what he claimed was the home address of former President Barack Obama on the same day that a man with guns in his van was arrested near the property, federal prosecutors said Wednesday in revealing new details about the case.
Oliver O'Connell6 July 2023 01:45
1688600743
Exonerated member of 'Central Park Five' wins primary, nearly assuring seat on NYC Council
Yusef Salaam, one of the exonerated "Central Park Five," has won the Democratic primary, all but assuring him a seat on the New York City Council. It's an improbable feat for a political novice who was wrongly accused, convicted and imprisoned as a teenager for the rape and beating of a white jogger in Central Park.
Oliver O'Connell6 July 2023 00:45
1688597143
Why aren't there more women in the GOP 2024 field?
As Republicans keep jumping into the 2024 race for president, one demographic group seems notably lacking: women.
More than a dozen candidates are seeking the nomination, including several long shots who announced their bids in recent weeks, in what is the party's most diverse presidential field ever. Yet Nikki Haley, a former U.N. ambassador and South Carolina governor, is the only woman among the bunch.
Oliver O'Connell5 July 2023 23:45
1688593543
Voices: Florida man Ron DeSantis has no juice
After the 2022 midterm elections, Florida Gov DeSantis emerged as nearly bulletproof. As he likes to tell voters on the stump, his nearly 20-point re-election victory served as a bright spot in an otherwise rough election night for Republicans.
But despite kicking off his 2024 presidential campaign in a glitchy Twitter conversation with SpaceX executive Elon Musk, the former GOP golden boy has failed to launch. His candidacy has been riddled with stories of awkward retail politicking and losing endorsements to former president Donald Trump. Now there is also evidence that his campaign is on the downturn.
Oliver O'Connell5 July 2023 22:45
1688590843
ICYMI: Trump leaned on Arizona governor to flip state's election results after 2020 loss, report says
The latest allegations against Mr Trump claim the former president wanted Mr Ducey to find enough votes to overturn his loss, according to The Washington Post.
Anonymous sources, "familiar" with the call, toldThe Post that the former president also tasked his vice president Mike Pence with calling Mr Ducey and pushing him to find evidence back Mr Trump's false claims of voter fraud.
Mr Pence reportedly called Mr Ducey several times to discuss the election but did not follow up on Mr Trump's alleged demands.
Oliver O'Connell5 July 2023 22:00
1688589643
Voices: Forget everything else, these four states will decide the presidency
The intelligent folks at Sabato's Crystal Ball at the University of Virginia's Center for Politics compiled a list of four swing states. The list does not mean that these are the only states where candidates should campaign. But it is to say that these are the most evenly split states. Let's take a look…
Oliver O'Connell5 July 2023 21:40
1688588713
Man arrested near Obama home threatened other prominent lawmakers, officials say
The armed man arrested near the home of former President Barack Obama also threatened other lawmakers, according to federal prosecutors.
Taylor Taranto, 37, was arrested in the Kalorama neighbourhood of Washington DC on 29 June after making online threats against Mr Obama. Materials to make Molotov cocktails were located in his vehicle. Mr Taranto is also alleged to have suggested that he was going to attempt to enter Mr Obama's home via "tunnels".
Gustaf Kilander has the details.
Oliver O'Connell5 July 2023 21:25
play youtube
,
xnxx
,
xvideos
,
porn
,
porn
,
xnxx
,
Phim sex
,
mp3 download
,
sex 4K
,
Straka Pga
,
gay teen porn
,
Hentai haven
,
free Hentai
,