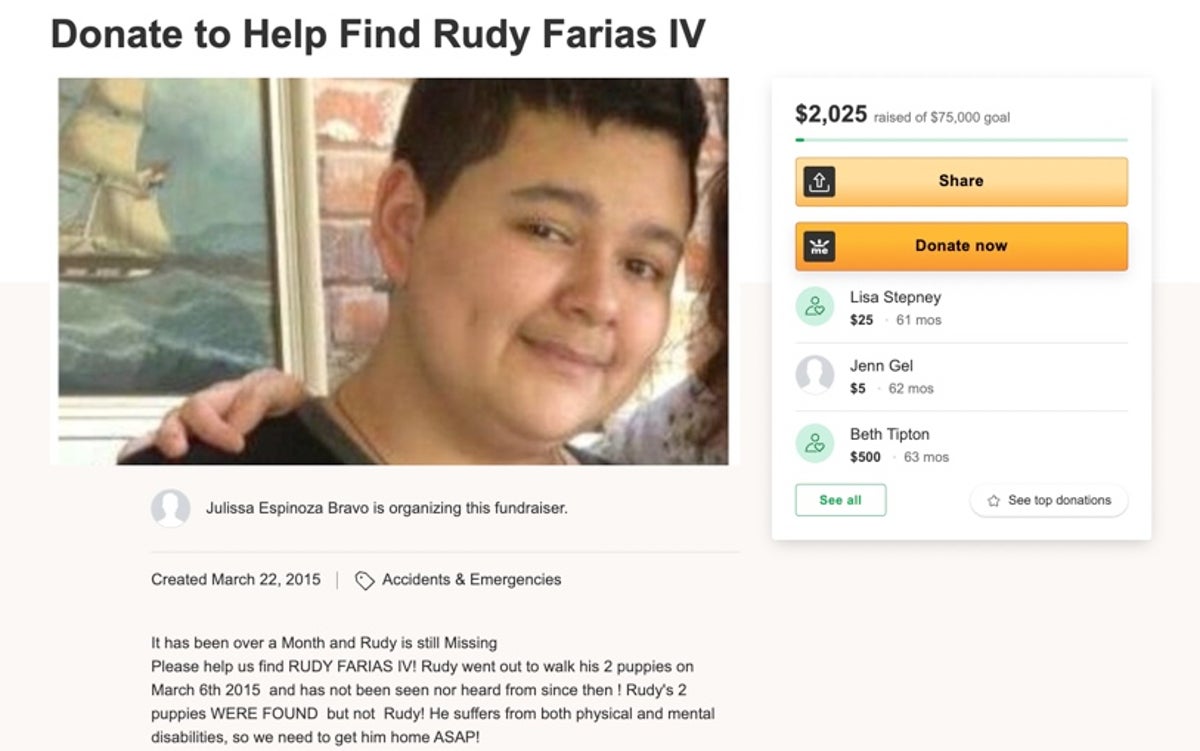 Rudy Farias' mother could soon face legal action from GoFundMe after she raked in thousands of dollars in donations by falsely claiming that her son was missing.
The fundraising platform said in a statement on Thursday that Janie Santana had been permanently banned from GoFundMe and from all future beneficiary opportunities after the bizarre scam came to light this week.
"GoFundMe has zero tolerance for the misuse of our platform and cooperates with law enforcement investigations and those accused of wrongdoing," the spokesperson said in a statement to NewsWeek.
"Our trust and safety team takes swift action against those who exploit the generosity of our community, including with the outright removal of a fundraiser, banning an account for violating our terms of service, and even pursuing potential legal recourse."
Ms Santana filed a missing persons report for her son Rudy, then 17, back on 7 March 2015 after he allegedly vanished while taking his two dogs for a walk near their home in northeast Houston.
Around two weeks later on 22 March 2015, a GoFundMe was launched to help track down the missing teenager.
"It has been over a Month and Rudy is still Missing," it reads.
"Please help us find RUDY FARIAS IV! Rudy went out to walk his 2 puppies on March 6th 2015  and has not been seen nor heard from since then ! Rudy's 2 puppies WERE FOUND  but not  Rudy! He suffers from both physical and mental disabilities, so we need to get him home ASAP!
"All ground searches have been pulled back and now we (The Entire Houston Texas Community ) have to get our own ground search together! People say that it takes a village to raise a child. … NOW… We NEED The Village to Help Find our Child !"
The GoFundMe continued: "We are asking for donations to be able to offer a reward for Information leading us TO Rudy as well as medical expenses for Rudy since he has been missing since  March 6th,and  each day that passes…means his health is deteriorating  gravelly.
"Rudy's mother is a single parent who has already lost her eldest son in 2011 and Rudy's father in 2014 !!! She needs financial assistance since she is unable to work understandably so with her son missing! The bills are pilling up and Rudy's mother's health has also deteriorated  as she is devestated ….mentally…physically and emotionally utterly exhausted!!
"Please dig deep into your hearts and put yourselves in Rudy's mother place… she cannot do this Alone! Give what you can and know that God will bless you and all that you do for her! We Believe that Rudy IS STILL ALIVE AND TIME IS RUNNING OUT!
"God Bless you and know that All monies Will be used accordingly towards the REWARD and the needs of the Search."
Several people dug deep and donated a total of $2,025 to the fundraiser, titled "Donate to Help Find Rudy Farias IV," in the hopes it would help to bring Mr Farias home.
But, the reality was, he wasn't even missing and Ms Santana had been profiting financially from a lie.
Instead, Mr Farias had returned home on 8 March 2015 – one day after he was reported missing and 14 days before the GoFundMe was launched asking for donations.
The bizarre case came to light this week after his mother claimed her son had returned home more than eight years on from his apparent disappearance.
On 29 June 2023, Ms Santana suddenly announced that her son had been found alive but battered and bruised outside a church in Houston.
What began as a remarkable story of a family reunited rapidly unravelled over the following days.
Rumours began surfacing that Mr Farias had been seen at his mother's home throughout his apparent eight-year disappearance.
Neighbours said that he had never been missing at all.
Community activist Quanell X said that the now-25-year-old had since claimed he endured physical and sexual abuse at the hands of his mother for the duration of his alleged disappearance.
On Thursday, Houston Police confirmed in a press conference that Mr Farias had in fact returned home just one day after he went missing in 2015.
Police said that officers had made contact with both Mr Farias and his mother over the years since but that they had given false names and claimed that he was Ms Santana's nephew – not her son.
Despite allegedly lying to police, no criminal charges have been brought against Ms Santana.
GoFundMe also confirmed to NewsWeek that – over the past years – it hadn't received any fraud reports about the campaign from either police or community members.
Now, it remains to be seen whether GoFundMe – and the donors who gave to the campaign – will seek to recover the money raised for Ms Santana.
play youtube
,
xnxx
,
xvideos
,
porn
,
porn
,
xnxx
,
Phim sex
,
mp3 download
,
sex 4K
,
Straka Pga
,
gay teen porn
,
Hentai haven
,
free Hentai
,