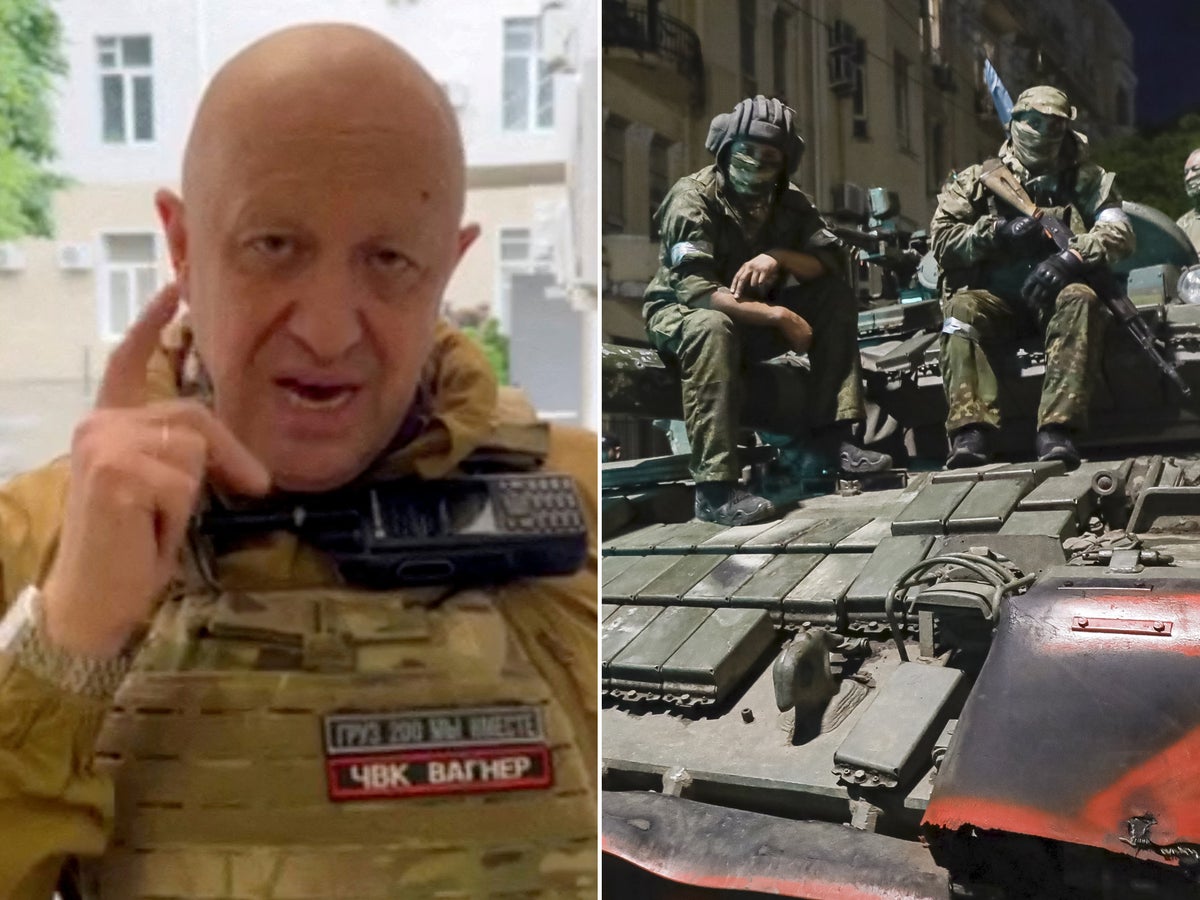 Wagner mercenary chief Yevgeny Prigozhin is in Russia, the Belarusian president has said – despite an agreement with the Kremlin he would move to Belarus in the wake of a short-lived rebellion against Moscow last month.
The statements from President Alexander Lukashenko raise fresh questions about the deal the end what was an extraordinary challenge to the rule of Russian President Vladimir Putin.
"As for Prigozhin, he's in St Petersburg. He is not on the territory of Belarus," Mr Lukashenko – who helped broker the deal to end the Wagner march on Moscow – said. He added that that "as far as I know" the rest of the Wagner fighters were still at their bases. That could mean eastern Ukraine, where Mr Prigozhin's forces have been involved ins some of the fiercest fighting that has followed Moscow's invasion of the country, or a Wagner training base in Russia's Krasnodar region.
Mr Lukashenko said that an offer to Wagner to station some of its forces in Belarus still stands but that, at least for now, "the issue of their relocation has not been resolved". Having said last week that Mr Prigozhin was in Belarus, on Thursday he told reporters that the Wagner chief was in St Petersburg, where he has a home and offices, and that he could also travel to Moscow if he wishes.
Part of the deal between Mr Prigozhin and the Kremlin was that all charges against him would be dropped. The Belarusian president suggested that Mr Prigozhin has been given back the cash and weapons that were confiscated by Russian authorities. Reports in local St Petersburg media on Wednesday had also suggested that Mr Prigozhin was in the city to collect the arsenal.
A business jet linked to Mr Prigozhin left St Petersburg for Moscow on Wednesday and headed to southern Russia on Thursday, according to flight tracking data, but it was not clear if he had been on board. It was later tracked flying north again.
Mr Lukashenko said that that he had spoken to Mr Prigozhin by phone on Wednesday and that he and his Wagner forces intended to continue to work for Russia.
The details around Mr Prigozhin's deal with the Kremlin are still murky and the Wagner's movements may be linked to him being allowed to tie up his affairs. But it seems extraordinary that Mr Putin would allow Mr Prigozhin to move with impunity, given the cracks in the Russian president's authority Mr Prigozhin's munity appeared to expose.
The latest developments may suggest that the threat posed by Mr Prigozhin has not yet been fully defused and that the Kremlin is treading carefully until it can figure out what to do with troops who may still be loyal to him. But the current situation does not exactly project the strongman image that Mr Putin has built his rule upon.
The Kremlin sought to act nonchalantly when asked about Mr Prigozhin's movements on Thursday. "No, we do not follow his movements, we have neither the ability nor the desire to do so," Mr Putin's spokesman – Dmitri Peskov – said.
But a better view of the probable thoughts of those inside the Kremlin was provided by state media and pro-Krelim sources. Online newspapers Fontanka and Izvestia posted videos and photos of Mr Prigozhin's opulent mansion that showed stacks of cash and gold bullion. The Rossiya 1 television channel also aided footage from what it said was a raid by Russian security services on the St Petersburg mansion, while hosts called for Mr Prigozhin to face "accountability" for what was a treacherous act.
All this plays into the idea that while Mr Prigozhin has postured as an enemy of corrupt elites, he owes his wealth to Mr Putin. Russian media also published a collection of selfies that showed him posing in various wigs, fake beards and foreign uniforms, seemingly another attempt to embarrass.
Mr Lukashenko said that he would discuss the situation in an upcoming meeting with Mr Putin. Mr Lukashenko said Mr Prigozhin had his liberty but that journalists were naive if they thought Russian security services were not keeping a very close eye on him.
However, the Belarusian leader shrugged off suggestions that Mr Putin might order Mr Prigozhin killed, saying: "If you think that Putin is so vicious and vindictive to finish him off, no, it's not going to happen."
The Belarusian leader said he doesn't think the mercenaries' presence in his country would lead to its destabilisation and said any Wagner troops there would be required to sign a contract with Belarusian authorities that would outline conditions and limitations of their actions.
Belarusian political analyst Valery Karbalevich told the Associated Press, however, that Mr Lukashenko could feel uneasy about Wagner's presence on his turf. "If this structure rebelled against its master once, it can do it again and again and march on Minsk instead of marching on Moscow," Mr Karbalevich said.
Asked about the deployment of Russia's tactical nuclear weapons to Belarus, Mr Lukashenko claimed they are intended to deter any aggression against the country. "Don't touch us, and we will never use these deadly weapons," he said.
In Ukraine, Russia fired cruise missiles at the western Ukrainian city of Lviv, killing at least five people in an apartment building. Ukrainian officials said it was the heaviest attack on civilian areas of the city since Moscow's forces invaded the country last year.
Meanwhile, Ukraine's President Volodymyr Zelensky was in Bulgaria yesterday as part of a tour to drum up support from allies ahead of a Nato summit next week. Mr Zelensky then travelled to Prague to meet with Czech officials on Thursday night.
In Washington, the administration of Joe Biden has decided to provide cluster munitions to Ukraine and is expected to announce on Friday that the Pentagon will send thousands as part of the latest military aid package for the war effort against Russia. The controversial weapons drop dozens of bomblets that human rights groups say endanger civilians as they release over a wide area, and they can continue to pose a deadly risk long after fighting has stopped.
Associated Press and Reuters contributed to this report
play youtube
,
xnxx
,
xvideos
,
porn
,
porn
,
xnxx
,
Phim sex
,
mp3 download
,
sex 4K
,
Straka Pga
,
gay teen porn
,
Hentai haven
,
free Hentai
,