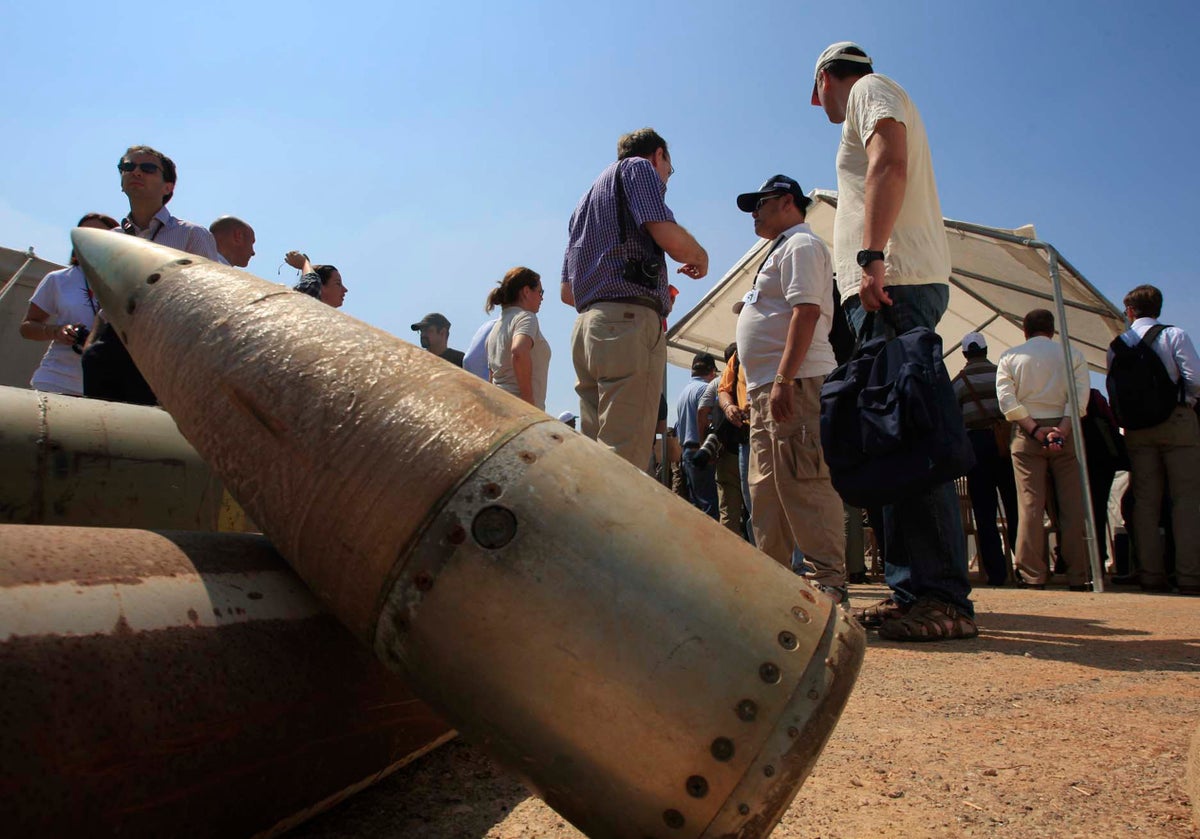 The United States has announced that it is sending cluster munitions to Ukraine to help its military push back Russian forces entrenched along the front lines.
The administration of Joe Biden said that it will send thousands of them as part of a new military aid package worth $800m (£630m).
The move will likely trigger outrage from some allies and humanitarian groups that have long opposed the use of cluster bombs.
Proponents argue that both Russia and Ukraine have already been using the controversial weapon in Ukraine and that the munitions the US will provide have a reduced dud rate, meaning there will be far fewer unexploded rounds that can result in unintended civilian deaths.
Ukraine has welcomed the decision, saying it needs "weapons, more weapons, and more weapons, including cluster munitions" if it is to defeat Russia.
Mykhailo Podolyak, a senior adviser to the Ukrainian president, Volodymyr Zelensky, said the outcome of the war started by Moscow's invasion depended on the volume of arms Kyiv receives.
"In the great bloody war which has been ongoing for more than 16 months, and which will predetermine the future of the world … the number of weapons matters. So, weapons, more weapons, and more weapons, including cluster munitions," he said on Friday.
Here is a look at what cluster munitions are, why they are so controversial and where they have been used.
What is a cluster munition?
A cluster munition is a bomb that opens in the air and releases smaller "bomblets" across a wide area. The bomblets are designed to take out tanks and equipment, as well as troops, hitting multiple targets at the same time.
The munitions are launched by the same artillery weapons that Western allies have already provided to Ukraine for the war — such as howitzers — and the type of cluster munition that the US is sending is based on a common 155 mm shell that is already widely in use across the battlefield.
Why are they so controversial?
In previous conflicts, cluster munitions have had a high dud rate, which meant that thousands of the smaller unexploded bomblets remained behind and killed and maimed people decades later. The US last used its cluster munitions in battle in Iraq in 2003, and decided not to continue using them as the conflict shifted to more urban environments with more dense civilian populations.
On Thursday, Brigadier General Pat Ryder – the Pentagon press secretary – said the US Defense Department has "multiple variants" of the munitions and "the ones that we are considering providing would not include older variants with [unexploding] rates that are higher than 2.35 per cent".
A convention banning the use of cluster bombs has been joined by more than 120 countries, which agreed not to use, produce, transfer, or stockpile the weapons and to clear them after they've been used. The US, Russia and Ukraine haven't signed on.
Why provide them now?
For more than a year the US has dipped into its own stocks of traditional 155 howitzer munitions and sent more than two million rounds to Ukraine. Allies across the globe, including the UK, have provided hundreds of thousands more.
A 155 mm round can strike targets 15 to 20 miles (24 to 32 kilometres) away, making them a munition of choice for Ukrainian ground troops trying to hit enemy targets from a distance. Ukrainian forces are burning through thousands of rounds a day battling the Russians.
Yehor Cherniev, a member of the Ukrainian parliament, told reporters at a German Marshall Fund event in the US this spring that Kyiv would likely need to fire 7,000 to 9,000 rounds daily during the intensified counteroffensive. Providing that many puts substantial pressure on US and allied stocks.
The cluster bomb can destroy more targets with fewer rounds, and since the US hasn't used them in conflict since Iraq, it has large amounts of them in storage it can access quickly, said Ryan Brobst, a research analyst for the Foundation for Defense of Democracies.
A March 2023 letter from top House and Senate Republicans to the Biden administration said the US may have as many as three million cluster munitions available for use, and urged the White House to send the munitions to alleviate pressure on American war supplies.
"Cluster munitions are more effective than unitary artillery shells because they inflict damage over a wider area," Mr Brobst said. "This is important for Ukraine as they try to clear heavily fortified Russian positions."
Tapping into the US stores of cluster munitions could address Ukraine's shell shortage and alleviate pressure on the 155 mm stockpiles in the US and elsewhere, Mr Brobst said.
Is using cluster bombs a war crime?
The use of cluster bombs itself does not violate international law, but using them against civilians can be a violation. As in any strike, determining a war crime requires looking at whether the target was legitimate and if precautions were taken to avoid civilian casualties.
"The part of international law where this starts playing [a role], though, is indiscriminate attacks targeting civilians," Human Rights Watch's associate arms director Mark Hiznay said. "So that's not necessarily related to the weapons, but the way the weapons are used."
Where have cluster bombs been used?
The bombs have been deployed in many recent conflicts.
The US initially considered cluster bombs an integral part of its arsenal during the invasion of Afghanistan that began in 2001, according to Human Rights Watch (HRW). The group estimated that the US-led coalition dropped more than 1,500 cluster bombs in Afghanistan during the first three years of the conflict.
The Defense Department had been due to stop use of any cluster munitions with a rate of unexploded ordnance greater than 1 per cent, by 2019. But the Trump administration rolled back that policy, allowing commanders to approve the use of such munitions.
Syrian government troops have often used cluster munitions — supplied by Russia — against opposition strongholds during that country's civil war, frequently hitting civilian targets and infrastructure. And Israel used them in civilian areas in south Lebanon, including during the 1982 invasion.
During the month-long 2006 war with Hezbollah, HRW and the United Nations accused Israel of firing as many as four million cluster munitions into Lebanon. That left unexploded ordnance that threatens Lebanese civilians to this day.
The Saudi-led coalition in Yemen has been criticized for its use of cluster bombs in the war with the Iran-backed Houthi rebels that has ravaged the southern Arabian country.
In 2017, Yemen was the second deadliest country for cluster munitions after Syria, according to the UN. Children have been killed or maimed long after the munitions originally fell, making it difficult to know the true toll.
In the 1980s, the Russians made heavy use of cluster bombs during their 10-year invasion of Afghanistan. As a result of decades of war, the Afghan countryside remains one of the most heavily mined areas in the world.
What has the White House said?
The United States will provide Ukraine with cluster-style artillery rounds for use on their own territory to repel Russian invading forces, the White House has said.
National Security Adviser Jake Sullivan told reporters on Friday that Kyiv has "provided written assurances" that it would use the controversial weapons "in a very careful way that is aimed at minimising any risk to civilians".
He said the Defence Department would provide further details on the next arms package that will be sent to Ukraine, but he pointed out that Kyiv's forces are "firing thousands of rounds a day to defend against Russian efforts to advance and also to support its own efforts to retake its sovereign territory". The national security adviser suggested the decision to provide Ukraine with cluster weapons already in US stocks was necessary to keep up a steady flow of arms for Kyiv's defence.
"We have provided Ukraine with a historic amount of unitary artillery rounds and we are ramping up domestic production of these rounds. We've already seen substantial increases in production, but this process will continue to take time, and it will be critical to provide Ukraine with a bridge of supplies. While our domestic production is ramped up," he said. "We will not leave Ukraine defenceless at any point in this conflict period."
Mr Sullivan noted that Russia has been using their own version of cluster munitions, which are antipersonnel weapons that make use of small "bomblets" to maximise their effectiveness against massed troops, and pointed out that the Russian weapons have a high rate of failure which leaves the battlefield littered with unexploded ordinance.
He added that the US-made shells that will be provisioned to Kyiv's defence forces have a much lower failure rate, and said Ukraine's government has committed to post-war de-mining that would prevent civilians from being harmed by unexploded submunitions, which in past conflict zones have lingered for years.
While a 2008 treaty, the Oslo Convention on Cluster Munitions, has been signed by more than 100 nations which have agreed to ban the use of such weapons, neither the US, Russia, nor Ukraine are signatories to the treaty.
What has the Pentagon said?
Speaking at a Defence Department briefing on Friday, Undersecretary of Defence for Policy Colin Kohl said the next US arms package to Ukraine would include the Dual-Purpose Improved Conventional Munition, which is used both for anti-armour and anti-personnel purposes.
"With this announcement, we will be able to provide Ukraine with hundreds of thousands of additional artillery ammunition immediately. This decision will ensure we can sustain our support for Ukraine by bringing us to a point where we are producing sufficient artillery ammunition on a monthly basis across the coalition," he said.
Both Mr Kahl and Mr Sullivan also contrasted Russia's use of the weapons on Ukraine's territory with Ukraine's desire to use them to defend their own land.
"When we look at what Ukraine would be doing with these weapons, as opposed to what Russia is doing with these weapons, we see a substantial difference. It doesn't make it an easy decision, and I'm not going to stand up here and say it is easy," Mr Sullivan said, adding that the US had deferred a decision on providing cluster munitions for quite some time because it "required a real hard look at the potential harm to civilians".
"When we put all of that together, there was a unanimous recommendation from the national security team, and President Biden ultimately decided — in consultation with allies and partners and in consultation with members of Congress — to move forward on this step," he said.
Mr Kahl admitted that the US has criticised Russia's use of cluster munitions because they have been doing so indiscriminately, and with older, less reliable systems that cause more civilian casualties. But he said Kyiv has assured the US that they will not use the DPICMs rounds in civilian areas or urban environments, and they have also committed to recording where they are used to aid in cleanup efforts post-war.
The Associated Press contributed to this report
play youtube
,
xnxx
,
xvideos
,
porn
,
porn
,
xnxx
,
Phim sex
,
mp3 download
,
sex 4K
,
Straka Pga
,
gay teen porn
,
Hentai haven
,
free Hentai
,