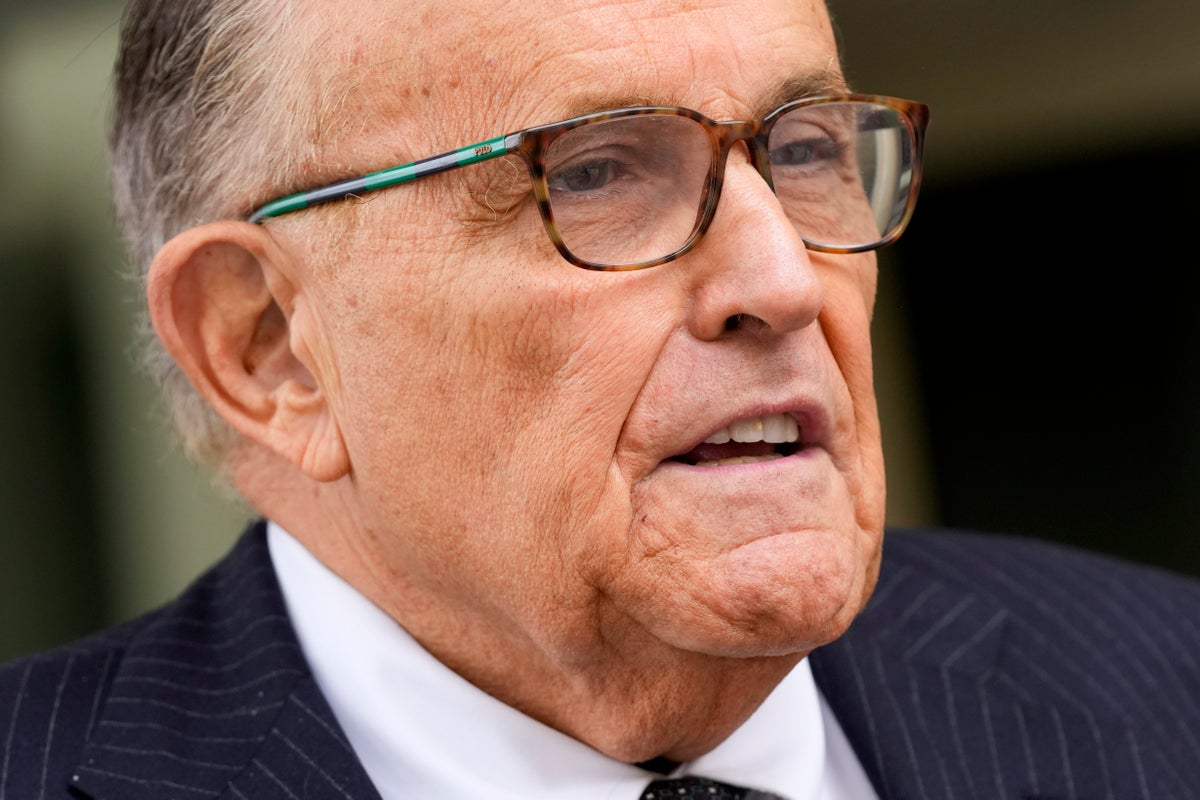 A disciplinary committee in Washington DC has recommended Rudy Giuliani be disbarred in the nation's capital for his spurious efforts to overturn the results for the 2020 presidential election on behalf of Donald Trump.
Mr Giuliani had "no factual basis, and consequently no legitimate legal grounds" to challenge the results of the election in states that Mr Trump lost, while his "frivolous" pursuit to undermine the outcome and disenfranchise voters "seriously undermined the administration of justice," according to the committee's report.
"He claimed massive election fraud but had no evidence of it," the committee wrote on 7 July. "By prosecuting that destructive case Mr Giuliani, a sworn officer of the Court, forfeited his right to practice law. He should be disbarred."
The preliminary report from a committee with the DC Bar Association, which follows a misconduct hearing in December, is not final; his case will be considered by DC's Board on Professional Responsibility and by the DC court of appeals.
Mr Giuliani – who repeatedly and baselessly asserted that the election was fraudulent while pushing lawsuits to subvert the outcome in states that Mr Trump lost – is facing other professional sanctions, investigations and lawsuits tied to his efforts to overturn election results and sow doubt about the outcome of the 2020 election.
The latest report specifically criticises Mr Giuliani's "calculated" attempts to undermine trust in US elections, after he falsely stated in a federal court in Pennsylvania that fraudulent election results in the state would overturn Joe Biden's victory.
"Mr Giuliani has not acknowledged or accepted responsibility for his misconduct," the committee wrote. "To the contrary, he has declared his indignation … over being subjected to the disciplinary process. … We are convinced that a sanction must be enhanced to ensure that it adequately deters both [Mr Giuliani] and other attorneys from acting similarly in the future."
The committee, composed of two attorneys and a member of the public, which unanimously recommended his disbarment, considered "in mitigation" Mr Giuliani's previous work – including his terms as mayor of New York City, including during the chaos of the September 11 attacks and their aftermath.
"But all of that happened long ago," the report stated.
"The misconduct here sadly transcends all his past accomplishments. It was unparalleled in its destructive purpose and effect. He sought to disrupt a presidential election and persists in his refusal to acknowledge the wrong he has done," the committee added. "For these reasons, we unanimously recommend that Mr Giuliani be disbarred."
Ted Goodman, a spokesperson for Mr Giuliani, said in a statement shared with The Independent that the committee is "persecuting" the former mayor "on behalf of the permanent corrupt regime in Washington."
"This is also part of a larger effort to deny President Trump effective counsel by persecuting Mayor Giuliani – objectively one of the most effective prosecutors in American history," he added. "I call on rank-and-file members of the DC Bar Association to speak up in defense of Mayor Giuliani and against this great injustice."
Mr Giuliani's law license was suspended in New York in 2021 for "demonstrably false and misleading statements" surrounding the election.
Voting machine company Dominion Voting Systems also filed defamation lawsuits against Mr Giuliani as well as Trump-allied attorney Sidney Powell, conspiracy theorist Mike Lindell and Fox News for amplifying false claims that the company argues have severely damaged its reputation, compromised integrity in US elections and fuelled harassment and death threats against its employees.
Mr Giuliani also is wrapped up in a lawsuit filed by Georgia election workers who have accused right-wing conspiracy theorists of fuelling threats against them.
The former mayor of New York City also could face federal charges connected to a sprawling investigation under US Department of Justice special counsel Jack Smith into the dubious and far-reaching efforts to undermine election results leading up to the attack on the US Capitol on January 6.
Mr Giuliani reportedly participated in a voluntary interview with prosecutors working under the supervision of Mr Smith, a meeting that Mr Goodman told The Independent last month "was entirely voluntary and conducted in a professional manner," though he declined to elaborate on the current status of Mr Giuliani's discussions with the Justice Department.
play youtube
,
xnxx
,
xvideos
,
porn
,
porn
,
xnxx
,
Phim sex
,
mp3 download
,
sex 4K
,
Straka Pga
,
gay teen porn
,
Hentai haven
,
free Hentai
,