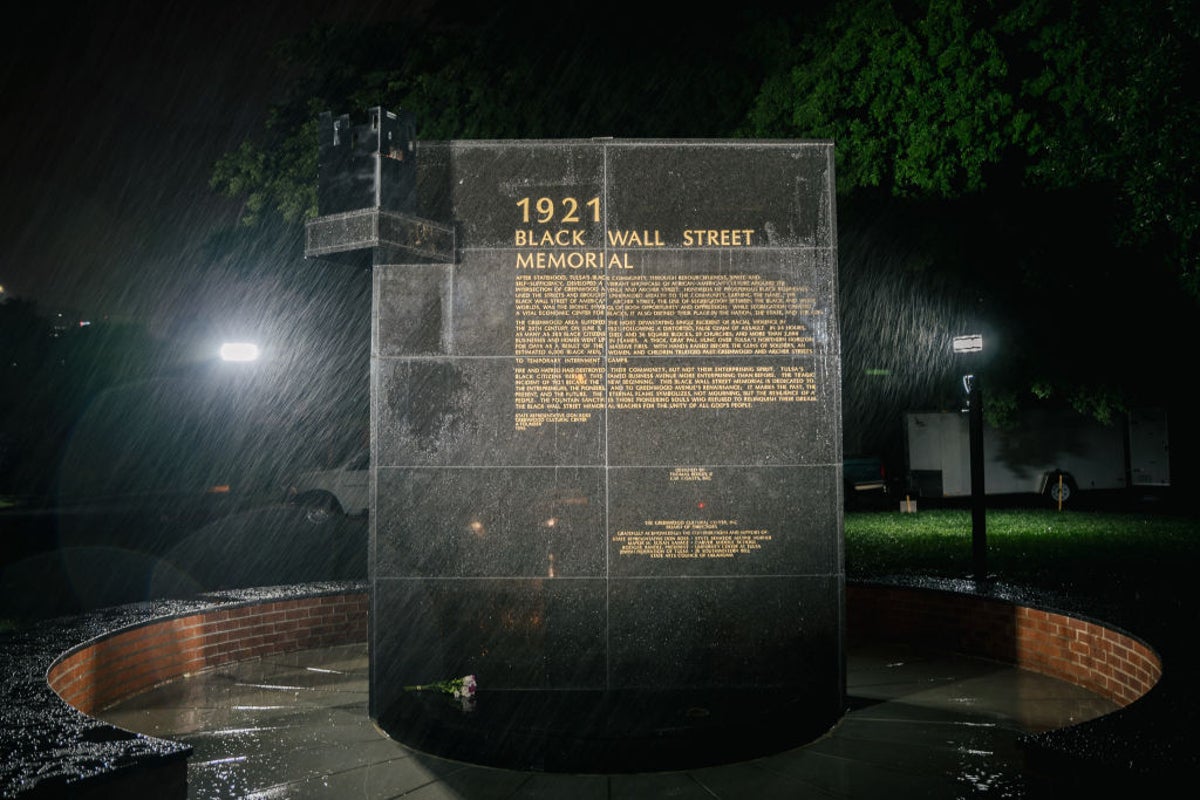 A top Oklahoma education official prompted swift criticism on Thursday by falsely claiming the 1921 Tulsa race massacre wasn't about race.
Ryan Walters, who took office as superintendent of public instruction, mades the comments during a forum at the Norman Public Library on Thursday, after he was asked how accurately teaching about the infamous white supremacist massacre which killed as many as 300 Black people wouldn't violate a state ban on teaching critical race theory.
"I would never tell a kid that because of your race, because of the color of your skin, or your gender or anything like that, you are less of a person or are inherently racist," Mr Walters said in response. "That doesn't mean you don't judge the actions of individuals. Oh, you can. Absolutely, historically, you should. 'This was right. This was wrong. They did this for this reason.' But to say it was inherent in that because of their skin is where I say that is critical race theory. You're saying that race defines a person."
"Let's not tie it to the skin colour and say the skin colour determined it," he added.
The Tulsa race massacre is considered one of the worst acts of white supremacist terror in US history.
During the 1921 massacre, rumours about a young Black man's encounter with a white woman prompted a mob of white vigilantes, in some cases armed and deputised by Tulsa officials, to raze the thriving Greenwood district, a bustling centre of Black business in the city.
The violence killed as many as 300 Black people, injured more than 800, and left tens of thousands of people homeless, according to the Tulsa historical society.
After the massacre concluded, nearly all residents of Greenwood were arrested en masse, and could only be released on the application of a white person.
No one was ever prosecuted for the violence.
The state official's coments attracted swift condemnation.
"No matter what anyone says or does, Tulsa will continue teaching a full, honest, and complete history of our city, state, country, and world," Tulsa superintendent Deborah Gist wrote on Twitter.
"After 100 years we have an Oklahoma elected official still fighting the Tulsa Race Massacre," Oklahoma congressional candidate and former FBI agent Dennis Baker added on Twitter. "MAGA State Superintendent Ryan Walters believes the Tulsa Race Massacre wasn't about race. The Klan hide behind a white robe – Walters proudly displays his red cap."
Many were incredulous that Mr Walters didn't see the role of race in the mob violence.
"I'm sure in his opinion, the Civil War and the Holocaust had nothing to do with race either," state representative Monroe Nichols tweeted. "[Ryan Walters] is a notorious sympathizer of the darkest moments of history and all those who perpetuated them."
The Independent has contacted Mr Walters for comment.
The Tulsa controversy isn't the first time the education official has provoked controversy.
Last month, he called on Oklahoma schools to promote Christianity and display the Ten Commandments to encourage "Western heritage."
play youtube
,
xnxx
,
xvideos
,
porn
,
porn
,
xnxx
,
Phim sex
,
mp3 download
,
sex 4K
,
Straka Pga
,
gay teen porn
,
Hentai haven
,
free Hentai
,