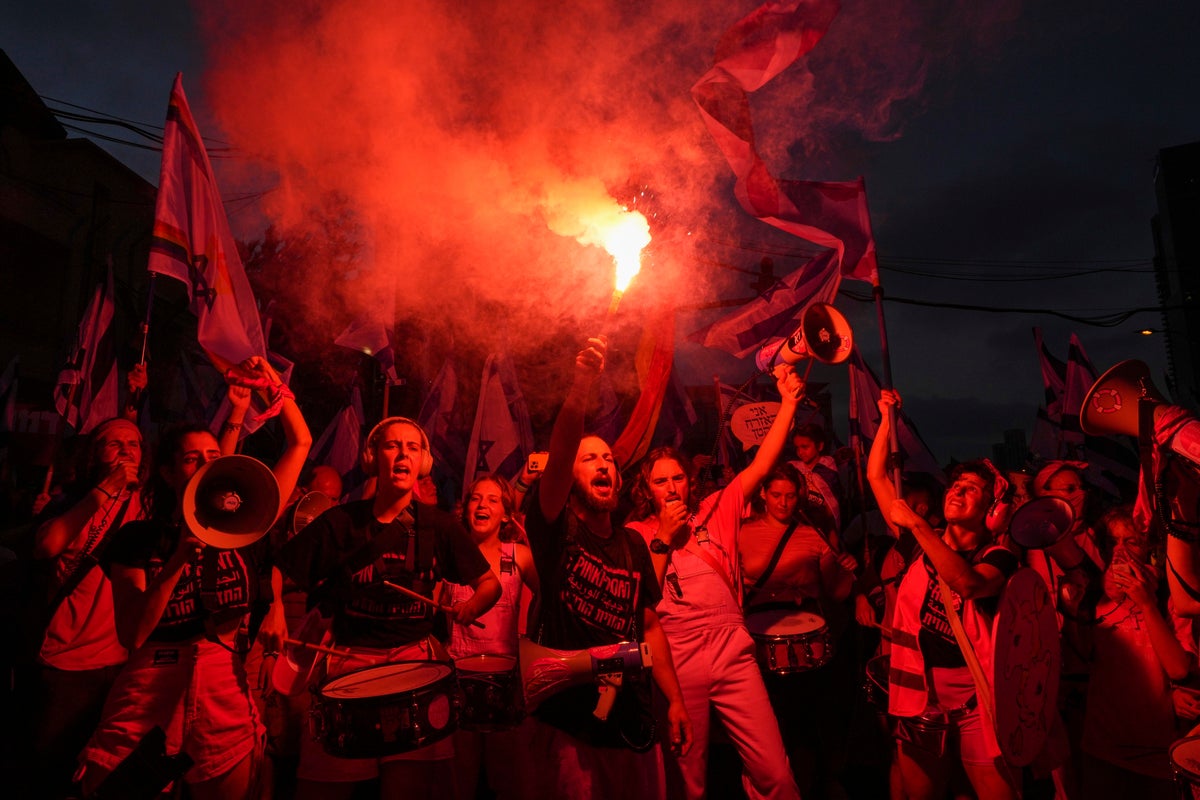 Israel's anti-government protest movement gained new momentum on Saturday night as tens of thousands of people spilled into the streets of cities across the country to oppose Prime Minister Benjamin Netanyahu's contentious plan to overhaul the country's judicial system.
The grassroots movement has staged protests for over six months since Netanyahu's government unveiled the overhaul plan. But in recent weeks, the protests had shown signs of weakening.
Plans by the government to push forward with the overhaul next week in parliament, coupled with the firing of Tel Aviv's police chief, who was accused of being too sympathetic to the protesters, appeared to breathe new life into Saturday's demonstrations.
Some 150,000 people thronged central Tel Aviv, with large rallies in Jerusalem and other major cities.
Netanyahu's allies have proposed a series of changes to the Israeli legal system aimed at weakening what they say are the excessive powers of the country's unelected judges. The proposed changes include giving Netanyahu's allies control over the appointment of judges and power to overturn court decisions they do not support.
His opponents say the plan will destroy the country's fragile system of checks and balances and concentrate power in the hands of Netanyahu and his allies. They also say that Netanyahu has a conflict of interest because he is on trial for corruption charges. A wide swath of Israeli society, including reserve military officers, business leaders, LGBT and other minority groups have joined the protests.
A legislative committee chaired by a Netanyahu ally last week approved a bill that would prevent Israel's courts from scrutinizing the "reasonableness" of decisions made by elected officials. The legislature could hold a preliminary vote on the bill as early as Monday.
The "reasonability standard" was used by the Supreme Court earlier this year to strike down the appointment of a Netanyahu ally as interior minister because of a past conviction for bribery and a 2021 plea deal for tax evasion. Critics say removing that standard would allow the government to pass arbitrary decisions and grant it too much power.
Protesters also condemned the ouster of Tel Aviv's police chief, Ami Eshed, who said this week he was forced to resign because of political pressure to act violently toward protesters. Eshed regularly clashed with the country's hardlne national security minister, Itamar Ben-Gvir, who has demanded that police take a tougher stance against months of anti-government protests.
Saturday's protest is the latest in a series of demonstrations which, since January, have seen thousands of Israelis take to the streets.
Netanyahu put the overhaul on hold in March after mass protests erupted in opposition to it, but announced last month that the plan would move forward. The protests have blocked roads, disrupted the country's main airport and thronged major cities.
play youtube
,
xnxx
,
xvideos
,
porn
,
porn
,
xnxx
,
Phim sex
,
mp3 download
,
sex 4K
,
Straka Pga
,
gay teen porn
,
Hentai haven
,
free Hentai
,