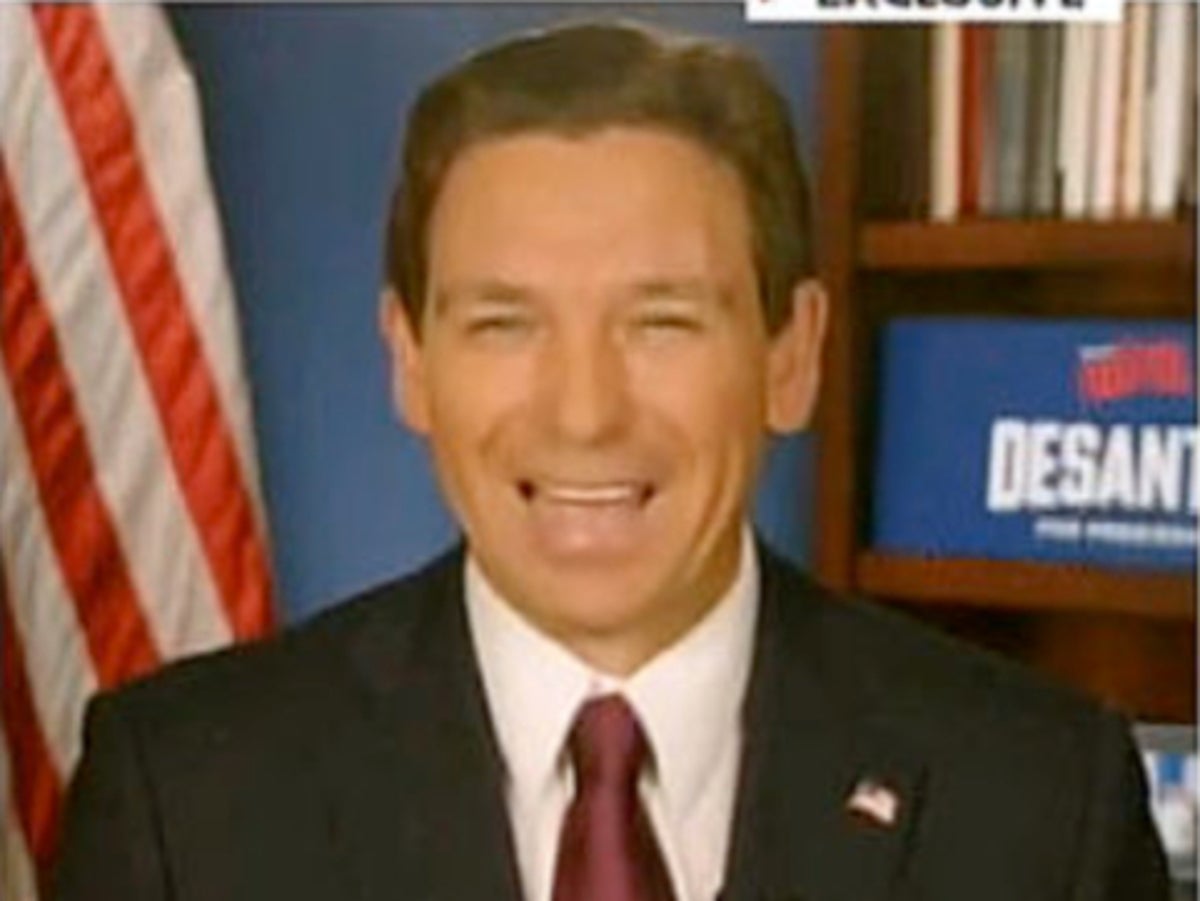 Florida Governor Ron DeSantis was left laughing and speechless after Fox News's Maria Bartiromo pointedly asked him "what happened" to his presidential campaign.
During an interview on her show Sunday Morning Futures, Bartiromo referenced a Politico article titled "Failure to Launch" that highlighted an assessment from a surrogate for Mr DeSantis who admitted "we are way behind" in polling.
"What's going on with your campaign?" Bartiromo asked. "There was a lot of optimism about you running for president earlier in the year. … What happened?!"
Mr DeSantis met the question with nervous laughter before he composed an answer denying that anything had gone wrong, according to Mediaite.
"Maria, These are narratives," Mr DeSantis answered. "The media does not want me to be the nominee. I think that's very, very clear. Why? Because they know I'll beat [President Joe] Biden. But even more importantly, they know I will actually deliver on all these things."
He then expounded on a number of his policy initiatives that he believes scares the media into trying to undermine his campaign.
Mr DeSantis insisted that his campaign was a work in progress, and said he intended to keep fighting to come out on top in the Republican primaries.
"I never expected to just snap fingers and all of a sudden, you know, you win seven months before anyone happens," he said. "You got to earn it and you got to work. And it requires a lot of toil and tears and sweat. And we're going to do that."
The numbers tell a different story, as Bartiromo pointed out; she referenced a Fox News poll showing Mr DeSantis behind his chief rival, former President Donald Trump by 34 points. She also asked Mr DeSantis if he planned on participating in an upcoming debate on 23 August.
Florida Governor Ron DeSantis offers a nervous laugh as Fox News' Maria Bartiromo asks him 'what happened' to his campaign
"Of course, I look forward to doing it," Mr DeSantis said. "I think really, Maria, that's when people are really going to start paying attention to the primary. I think up to this point, a lot of that has been about some of these legal cases. And I think a lot of the voters concern about that and understandably so."
He said the debate would open the door to policy issues that he believes will win him more support among the nation's Republican voters.
"We're going to be able to talk about the vision, and I look forward to doing it," he said. "So I'm glad we're going to get started."
Mr Trump has a different view of the race, claiming in a flurry of Truth Social posts made Saturday evening that Mr DeSantis was looking for an off-ramp.
"Ron DeSanctimonious is desperately trying to get out of the Presidential race, while at the same time saving face for 2028, where he has been greatly damaged," the former president said.
He then mused about whether or not he should even bother debating Mr DeSantis and his other challengers, citing — and exaggerating — his polling lead.
"Maybe I should enter the debates," Mr Trump said. "But, then again, when you have a 40 to 50 point lead over the field, maybe I shouldn't???"
play youtube
,
xnxx
,
xvideos
,
porn
,
porn
,
xnxx
,
Phim sex
,
mp3 download
,
sex 4K
,
Straka Pga
,
gay teen porn
,
Hentai haven
,
free Hentai
,