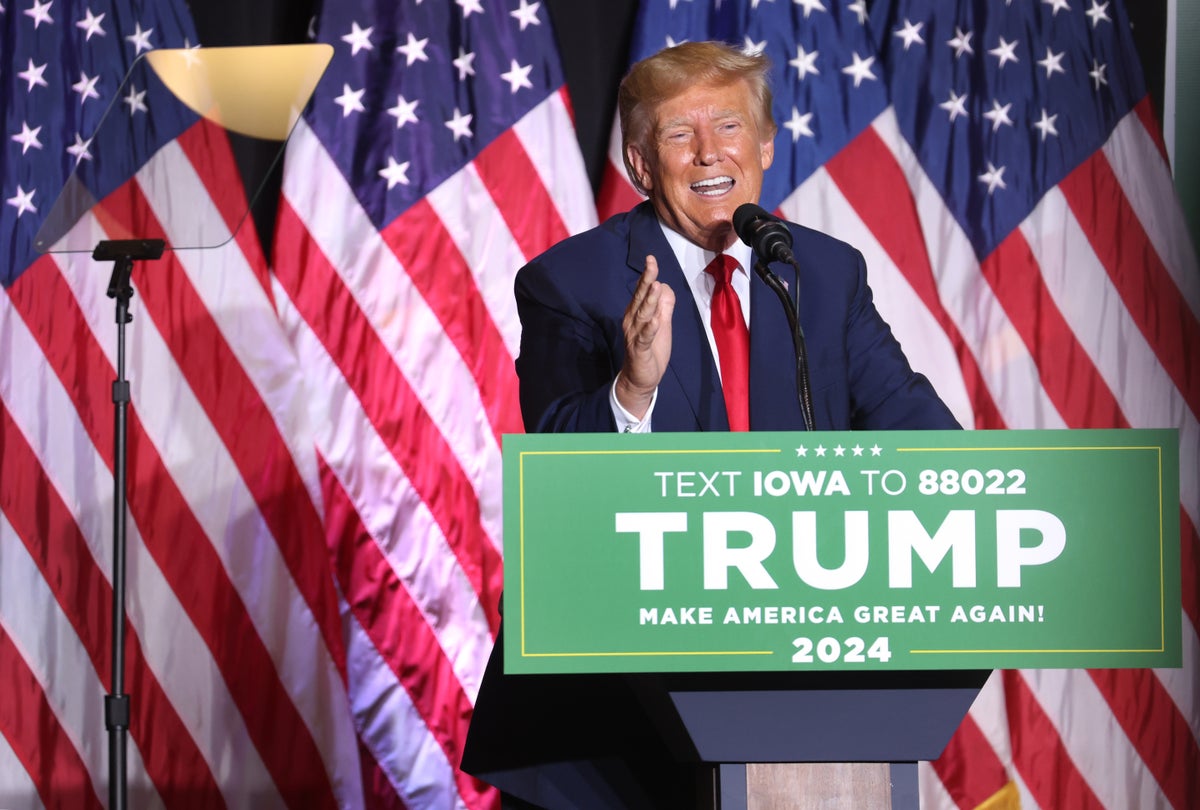 Donald Trump fumbled his words while speaking at his largest campaign event in Iowa on Friday.
The former president appeared in Council Bluffs in the western part of the state that hosts the first caucus in approximately just over five months.
Speaking about immigration, Mr Trump was relaying a campaign promise to deny entry to leftist ideologues when he accidentally referred to them as "communists and markers" rather than Marxists.
Stumbling somewhat in his hurry to get to his next point — what can be done about those leftists already in the country — he then named a series of prominent elected Democrats with whom he has frequently sparred.
Seeming to regain his rhythm, the former president then returned to his original point about immigration by saying he would "deny them access to our cunny".
Mr Trump has also said he would end birthright citizenship to those in the US illegally, as well as take a much harsher stance toward the southern border.
Both the former and current presidents are of advanced age — Mr Trump is 77 and President Joe Biden is 80 — and such errors and flubs in speeches are common on the campaign trail and in office.
Among his previous gaffes, Mr Trump once referred to Tim Cook, head of Apple, as Tim Apple; appeared to encourage people to treat Covid by injecting themselves with bleach; and asked that someone look at the "oranges" of the investigation into Russian collusion.
For his part, some of Mr Biden's slips of the tongue can be attributed to his struggle with a stutter, but he has forgotten words and names, referred to the war in Ukraine as the war in Iraq twice in 24 hours, and closed out recent remarks by curiously saying: "God Save the Queen."
Mr Trump often appears to let his temper and enthusiasm get the better of him in front of an audience, jumping from topic to topic when giving even prepared remarks while hurling out insults at his political rivals.
Elsewhere in his speech on Friday, the former president also attacked Florida Governor Ron DeSantis as an enemy of corn-based ethanol.
He criticised his top 2024 Republican presidential rival for voting as a member of Congress to oppose the federal mandate for the fuel additive that Iowa leads the nation in producing.
Mr Trump declared himself "the most pro-farmer president that you've ever had" at the event, which was aimed at promoting his administration's agricultural record and touting his oversight of clawbacks of regulations on farmers. "I fought for Iowa ethanol like no president in history," he said.
On a rainy Friday, Trump spoke to more than 1,000 Iowans and Nebraskans packed into the event hall inside Mid-America Center, with hundreds more huddled under umbrellas in line outside the arena.
As a congressman from Florida, Mr DeSantis co-sponsored a bill in 2017 that would have immediately ended the renewable fuel standard, a position consistent with fiscal conservatives who see such mandates as government overreach.
"Iowa also needs to know that Ron DeSanctus totally despises Iowa ethanol and ethanol generally," Trump said, intentionally mispronouncing his rival's name as he routinely does. "He's been fighting it for years. Don't forget, as a congressman he was voting against it, and fighting for years to kill every single job."
DeSantis' campaign described the attack as a distortion. "As president, Governor Ron DeSantis will be a champion for farmers and use every tool available to open new markets," campaign press secretary Bryan Griffin said in an emailed statement.
With reporting by the Associated Press
play youtube
,
xnxx
,
xvideos
,
porn
,
porn
,
xnxx
,
Phim sex
,
mp3 download
,
sex 4K
,
Straka Pga
,
gay teen porn
,
Hentai haven
,
free Hentai
,