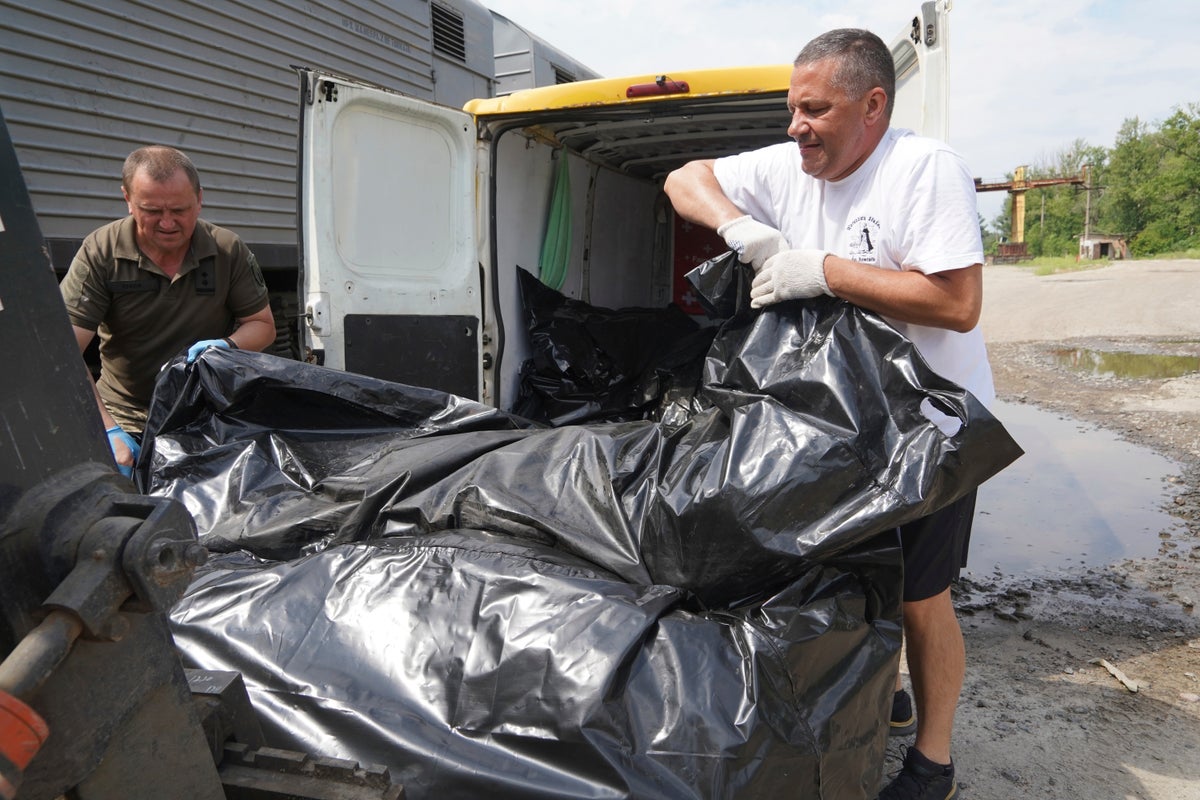 Here are the AP's latest coverage plans, top stories and promotable content. All times EDT. For up-to-the minute information on AP's coverage, visit Coverage Plan.
——————————
TOP STORIES
——————————-
RUSSIA-UKRAINE-WAR-RUSSIAN DEAD — Nearly 50,000 Russian soldiers have died in the war in Ukraine, according to a new statistical analysis. Moscow has tried to hide the human toll of its full-scale invasion of Ukraine, censoring local media and cracking down on activists who document Russia's expanding cemeteries. Now, two independent Russian media outlets, Mediazona and Meduza, working with a data scientist in Germany, have used Russian government data to shed light on one of Moscow's closest-held secrets. By Erika Kinetz. SENT: 840 words, photos. With RUSSIA-UKRAINE-WAR — Russia reports intercepting a missile over annexed Crimea and briefly halts traffic on key bridge .
NATO-DEFENSE-SPENDING — NATO leaders are set to make a new defense spending pledge as support for Ukraine eats into their military budgets. Only 11 countries are set to meet NATO's current spending ambition of 2% of national gross domestic product this year. But U.S. President Joe Biden and his counterparts are set to make 2% the least that nations should do. By Lorne Cook. SENT: 780 words, photos. With NATO-SUMMIT-GLANCE — Ukraine tops NATO summit agenda along with defense plans, Sweden's membership and Belarus fears.
BIDEN-BRITAIN — President Joe Biden's itinerary in Europe is dominated by the ongoing war in Ukraine and his continued efforts to rally an international coalition against Russia's invasion of its neighbor. But first, some tea. The U.S. president's initial stop on his three-nation trip is Britain, where he'll meet with King Charles III for the first time since the latter was crowned in May. By Seung Min Kim, Jill Lawless and Chris Megerian. SENT: 820 words, photos.
US-NORTHEAST-FLOODING — Heavy rain spawned extreme flooding in New York's Hudson Valley that killed at least one person, swamped roadways and forced road closures, as much of the rest of the Northeast U.S. began bracing for potentially punishing rains. As the storm moved east, the National Weather Service extended flash flood warnings and forecasters said some areas could get as much as 5 inches of rain. By Bobby Caina Calvan and Hallie Golden. SENT: 580 words, photos.
TRANSGENDER CARE-FAMILIES — Families around the U.S. are scrambling to navigate new laws that prohibit their transgender children and teenagers from accessing gender-affirming care. With at least 20 states moving to ban or restrict such care for minors, some kids feel they are receiving the message that they cannot be themselves. For more than a decade prior, such treatments were available to children and teens across the U.S. and have been endorsed by major medical associations. Advocates and families impacted by the recent laws say such care is vital for trans kids. By Arleigh Rodgers and Michael Goldberg. SENT: 1,750 words, photos, video. An abridged version of 1,090 words is available. This is the Tuesday spotlight.
ELECTION 2024-SUPER TUESDAY — As the Republican presidential primary intensifies this summer, most White House hopefuls are devoting their time to events in Iowa and New Hampshire, the states that kick off the nomination process early next year. Not Ron DeSantis or Donald Trump. By Sara Burnett. SENT: 1,180 words, photos.
————————————————-
SPOTLIGHTING VOICES
————————————————-
LOST-NATIVE AMERICAN-CEMETERY — Bodies of dozens of children who died at a Native American boarding school have been lost for decades, a mystery that archeologists aim to unravel as they begin digging in a central Nebraska field that a century ago was part of the sprawling campus. The Genoa Indian Industrial School was part of a national system of more than 400 Native American boarding schools that attempted to integrate Indigenous people into white culture by separating children from their families and cutting them off from their heritage. By Scott McFetridge and Charlie Neibergall. SENT: 610 words, photos.
——————————
MORE NEWS
——————————
ENERGY-DRINK-INVESTIGATION — The FDA is being asked to look into Logan Paul's energy drink, which has the caffeine of 6 Coke cans. SENT: 340 words, photo, video, audio.
VEGAS OFFICER-CASINO HEISTS — Las Vegas police officer set to go on trial over $165k stolen in 3 casino heists. SENT: 630 words, photos.
FILM-BOX OFFICE — "Insidious 5" topples "Indiana Jones" before "Mission: Impossible" launches. SENT: 870 words, photos, audio.
MASS-WEDDINGS-LINCOLN-CENTER — New York's Lincoln Center is accustomed to hosting grand events, but Saturday's mass wedding was far from routine. SENT: 710 words, photos.
———————————————————-
WASHINGTON/ POLITICS
———————————————————-
CONGRESS-ELECTIONS — Congress will consider shoring up voting and election laws — efforts that will reflect the vast gulf between Democrats and Republicans on protecting a foundation of American democracy. By Stephen Grove and Christina A. Cassidy. SENT: 1,180 words, photos.
——————————
NATIONAL
——————————
PHILADELPHIA-JULY3-MASS SHOOTING — Philadelphia authorities investigating a Fourth of July holiday shooting spree that left five people dead now say the gunman killed one of the victims almost two full days before the mass shooting. SENT: 260 words, photos.
NEW YORK CITY-SCOOTER SHOOTING — A Brooklyn man accused of killing an 86-year-old and injuring three other men in a series of shootings while riding a scooter in New York City is charged with murder and attempted murder, police said. SENT: 330 words, photos.
—————————————
INTERNATIONAL
—————————————
UNITED NATIONS-SYRIA-CROSS-BORDER-AID — The delivery of humanitarian aid to Syria's rebel-held northwest from neighboring Turkey is virtually certain to get a green light to continue from the U.N. Security Council — but the big question is for how long. SENT: 550 words, photo.
SOUTH KOREA-NATO-YOON — South Korea's president says it's time to clearly demonstrate strong international resolve to deter North Korea's nuclear ambitions, and he plans to discuss how to cope with the North's expanding weapons arsenal with NATO leaders. SENT: 1,010 words, photos.
ARGENTINA-VATICAN-BISHOP — Archbishop Victor Manuel Fernández, chosen by Pope Francis to head the Vatican office that ensures doctrinal orthodoxy, conceded he made mistakes in handling a 2019 case of a priest accused of sexual abuse of minors. SENT: 530 words, photos.
SOUTHEAST ASIA — Myanmar's prolonged civil strife, tensions in the disputed South China Sea and concern over arms buildups in the region are expected to dominate the agenda when Southeast Asia's top diplomats gather for talks in Indonesia. SENT: 950 words, photos.
CHINA-EXTREME WEATHER — Rescuers were looking for seven people missing in a landslide triggered by torrential rains while employers across much of China were ordered to limit outdoor work due to scorching temperatures as the country struggled with heat, flooding and drought. SENT: 350 words, photos.
JAPAN-HEAVY RAIN — Torrential rain has been pounding southwestern Japan, triggering floods and mudslides and leaving two people dead and at least six others missing. SENT: 290 words, photos.
SALVADOR-PRESIDENT-REELECTION — President Nayib Bukele was officially nominated by his New Ideas party to run for reelection next year, brushing aside objections from legal experts and opposition figures who say El Salvador's constitution prohibits his candidacy. SENT: 390 words.
CHINA-SCHOOL-STABBING — A man with a knife killed six people and wounded one more at a kindergarten in southeastern China, police and a news report said. SENT: 160 words.
—————————————————
BUSINESS/ECONOMY
—————————————————
FINANCIAL MARKETS — Asian shares got the week off to a slow start, with mixed trading as China reported wholesale prices fell in June, amid other signs the economy is slowing. By Business Writer Elaine Kurtenbach. SENT: 630 words, photos, audio.
————————
SPORTS
———————
WWCUP-MOROCCO-ARAB WORLD — Morocco's national women's team will make its debut this month at the FIFA Women's World Cup, the first to qualify from an Arab world where many are crazy for the men's game. By Mariam Fam. SENT: 1,840 words, photos. An abridged version of 1,200 words is available.
US-WOMEN'S OPEN — Allisen Corpuz found herself on the biggest and most beautiful stage in women's golf and made it look like a stroll on the beach. By Golf Writer Doug Ferguson. SENT: 1,050 words, photos.
——————————————-
HOW TO REACH US
——————————————-
At the Nerve Center, Lorian Belanger can be reached at 800-845-8450 (ext. 1600). For photos, Mayaso Yoshida (ext. 1900). For graphics and interactives, ext. 7636. Expanded AP content can be obtained from AP Newsroom. For access to AP Newsroom and other technical issues, contact apcustomersupport@ap.org or call 844-777-2006.
play youtube
,
xnxx
,
xvideos
,
porn
,
porn
,
xnxx
,
Phim sex
,
mp3 download
,
sex 4K
,
Straka Pga
,
gay teen porn
,
Hentai haven
,
free Hentai
,