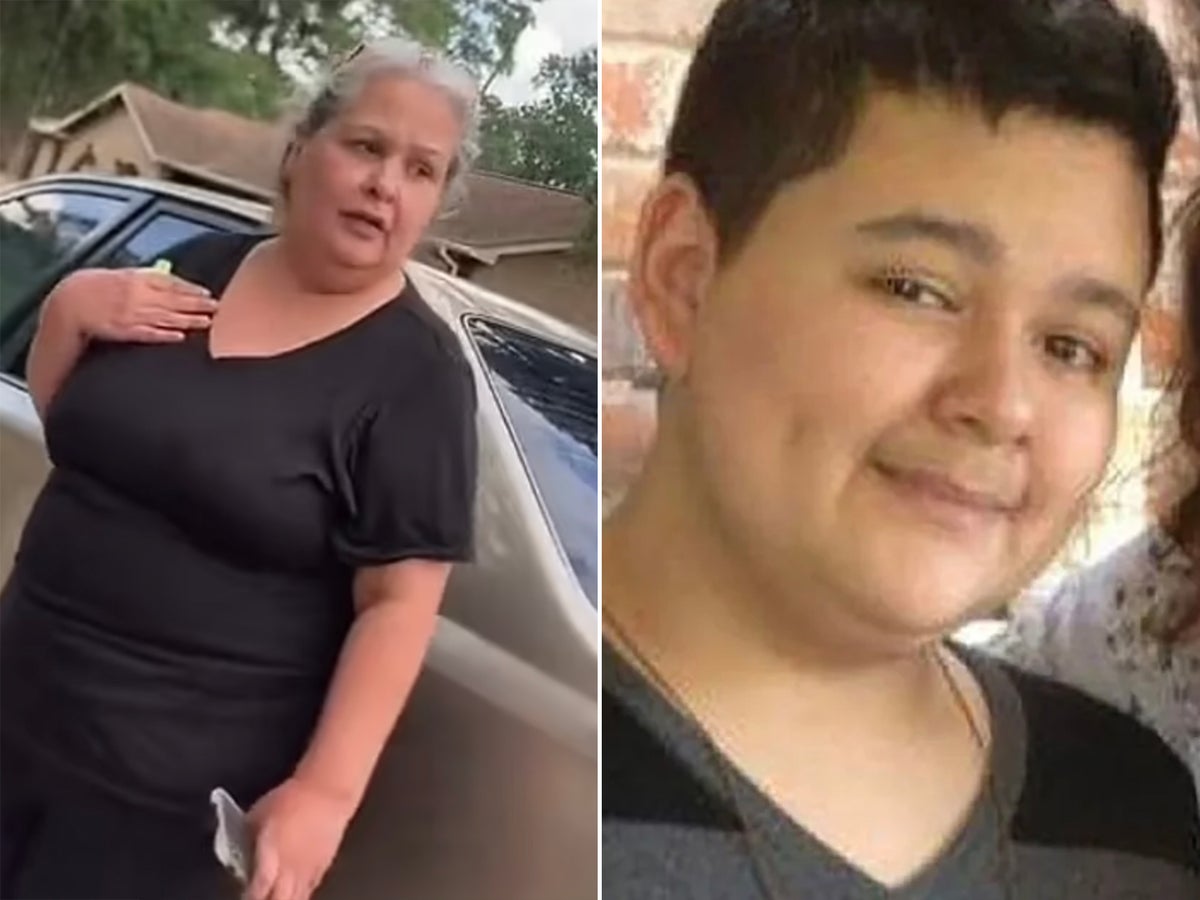 Rudy Farias mother is not facing charges for eight-year lie, police say
Rudy Farias is reportedly avoiding his mother after she was exposed for falsely claiming he was missing for eight years in Houston, Texas.
Pauline Sanchez said her nephew is staying with a family friend as spends time away from his mother Janie Santana, who has been the subject of harrowing claims of abuse against her son – though police denied those claims.
Mr Farias made headlines this week when Ms Santana announced that the now-25-year-old had been "found" eight years after she reported him missing.
Houston police later confirmed that Mr Farias was never actually missing and had been living at home with his mother the whole time.
Following an interview with detectives, community activist Quanell X, who was in the meeting, claimed that Mr Farias had alleged alarming abuse by his mother. After the activist's claims were refuted by police, he doubled down in an interview with The Independent and accused police of a "cover-up".
Prosecutors have declined to bring charges against Ms Santana for lying. The decision was condemned by other relatives, with one of her sisters accusing police of a "cover-up".
An investigation is ongoing as numerous questions remain around the case.
1688953512
Watch: Police announce Janie Santana not facing charges
Rudy Farias mother is not facing charges for eight-year lie, police say
Megan Sheets10 July 2023 02:45
1688939112
How did police not find the 'missing teen' if he was at home all these years?
Neighbours and family members have come forward saying that they knew Rudy Farias was not missing, yet for eight years the young man was still considered missing.
Houston police admitted that they had multiple interactions with both the 25-year-old and his mother during the time he was allegedly missing.
And yet police failed to uncover the deception for eight years.
In a press conference on Thursday, authorities said that they had received tips and leads over the years about Mr Farias – including lines of inquiry that he was not missing at all.
During follow-ups, police obtained statements from friends, relatives and neighbours.
Mr Farias also had multiple interactions with Houston police over the eight years – but both he and his mother, Janie Santana gave different names to officers, police said.
Ms Santana even claimed that the man was her nephew – and not her son, police said.
She "remained adamant that her son Rudy was still missing".
It remains unclear what steps police took – during those encounters – to determine whether or not the man before them was who he said he was.
Megan Sheets9 July 2023 22:45
1688931912
'Surrogate parent' to Rudy Farias reveals years-long suspicions about his mother
A woman who considered herself a "surrogate parent" to Rudy Farias before he was reported missing has spoken out following revelations that the disappearance was a sham.
Jacque Brunswick lived in the same Houston neighbourhood as Mr Farias in the years before his mother, Janie Santana, claimed he vanished in March 2015.
In a Friday appearance on NewsNation, Ms Brunswick revealed she has long believed that Ms Santana was involved in the disappearance.
"I honestly had always thought that Janie had something to do with it, had her hands in it some way or somehow," she said.
"After a couple of years I started grieving him because I truly thought that he was dead."
Ms Brunswick described Mr Farias as a "timid" teenager who appeared to be afraid of his mother.
Megan Sheets9 July 2023 20:45
1688928322
ICYMI: The neighbour claims that helped expose sham disappearance
Just days after 25-year-old Rudolph "Rudy" Farias was found eight years after he went missing, neighbours came out to say he'd been at home all along.
Kisha Ross, a neighbour of Mr Farias and his mother, Janie Santana, said she had seen, and spent time, with Mr Farias in the time he was supposedly missing.
"He used to come in my garage, chill with my cousin, son, and daughter," Ms Ross told ABC 7. "That boy has never been missing."
Ms Ross said that her family knew Mr Farias as "Dolph" and that he often spent time at their home, though they had not seen him recently.
Ms Santana said neighbours were likely confusing Mr Farias with her nephew but neighbours insisted the photo showed "Dolph".
"I am confused right now," Ms Ross said.
Another neighbour, who asked to remain anonymous to ABC 7, said he knew and saw Mr Farias living at his mother's house for years.
"I was just shocked someone over here was missing, and we see him," the neighbour said. "It's shocking to everyone."
Megan Sheets9 July 2023 19:45
1688924722
Watch: Rudy Farias' mother predicts her arrest
Janie Santana told neighbours she thought she was going to be arrested after claiming her son Rudy Farias had been "found" eight years after he was reported missing.
In a video clip, obtained by KPRC 2, Ms Santana is seen speaking to her neighbours as she got out of her car on Wednesday.
"When he first went missing, he didn't report it to the police," Ms Santana said.
"And they are trying to say that he might have done some crimes. Which he didn't. And now they want to arrest me. Because they said I was hiding him."
The following day, police confirmed that Mr Farias had never actually been missing and that his mother had lied to investigators.
However, officials said prosecutors were not planning to file charges against Ms Santana.
In an update on Friday, police cautioned that the investigation is active and ongoing.
Megan Sheets9 July 2023 18:45
1688921120
Rudy Farias is staying with family friend 'until he knows he can cope by himself'
Rudy Farias is currently staying with a family friend as a media firestorm continues over his sham disappearance.
The 25-year-old's aunt, Pauline Sanchez, told the Houston Chronicle that he's taking time away from his mother Janie Santana to "adjust" and will call his family when he's "ready".
"Nobody's going to go around him and he's not coming out of that place until there's no media around and he's free and comfortable," Ms Sanchez said.
"It won't be until he knows he can cope by himself."
Megan Sheets9 July 2023 17:45
1688917500
Rudy Farias' mother may face legal action from GoFundMe after she profited from fake disappearance story
Rudy Farias' mother could soon face legal action from GoFundMe after she raked in thousands of dollars in donations by falsely claiming that her son was missing.
The fundraising platform said in a statement on Thursday that Janie Santana had been permanently banned from GoFundMe and from all future beneficiary opportunities after the bizarre scam came to light this week.
"GoFundMe has zero tolerance for the misuse of our platform and cooperates with law enforcement investigations and those accused of wrongdoing," the spokesperson said in a statement to Newsweek.
"Our trust and safety team takes swift action against those who exploit the generosity of our community, including with the outright removal of a fundraiser, banning an account for violating our terms of service, and even pursuing potential legal recourse."
Megan Sheets9 July 2023 16:45
1688913920
Houston Police ask for public to 'respect the investigative process'
Houston Police presented a bevy of shocking information on the Rudy Farias case at a press conference on Thursday, revealing that he was never actually missing and that his mother would not face charges for lying to investigators.
Since then, officials have been quiet on the case.
The last police statement came on Friday, with a "reminder" for the public that the investigation is still ongoing.
Megan Sheets9 July 2023 15:45
1688910320
Activist accuses Janie Santana of 'catfishing' online
A local Houston activist has claimed that Rudy Farias' mother engaged in "catfishing" on social media.
Janie Santana regularly used photos of other people on a collection of fake Facebook profiles, the activist known as Grizzy told the New York Post.
In one instance as recently as last week – while her son's sham disappearance was making international headlines – she used a photo of a blonde country singer, Grizzy claimed.
"She created a family of catfish profiles to support her posts because nobody likes her stuff or comments back, so she's created a lot of fake profiles to circle her," she said. "She's using it for love, for personal gain, for money — whatever she needs it for. She's a very calculating person."
Grizzy claimed that Ms Santana contacted her after the mother claimed her son had been found "safe" to ask for help with online trolls.
Megan Sheets9 July 2023 14:45
1688906700
Four major unanswered questions in the Rudy Farias case
What exactly happened to Rudy Farias over the past eight years, why his mother sought to deceive authorities and how she seemingly succeeded for all this time continue to be something of a mystery.
Here, The Independent's Rachel Sharp seeks to unpack some of the many unanswered questions in the case:
Megan Sheets9 July 2023 13:45
play youtube
,
xnxx
,
xvideos
,
porn
,
porn
,
xnxx
,
Phim sex
,
mp3 download
,
sex 4K
,
Straka Pga
,
gay teen porn
,
Hentai haven
,
free Hentai
,