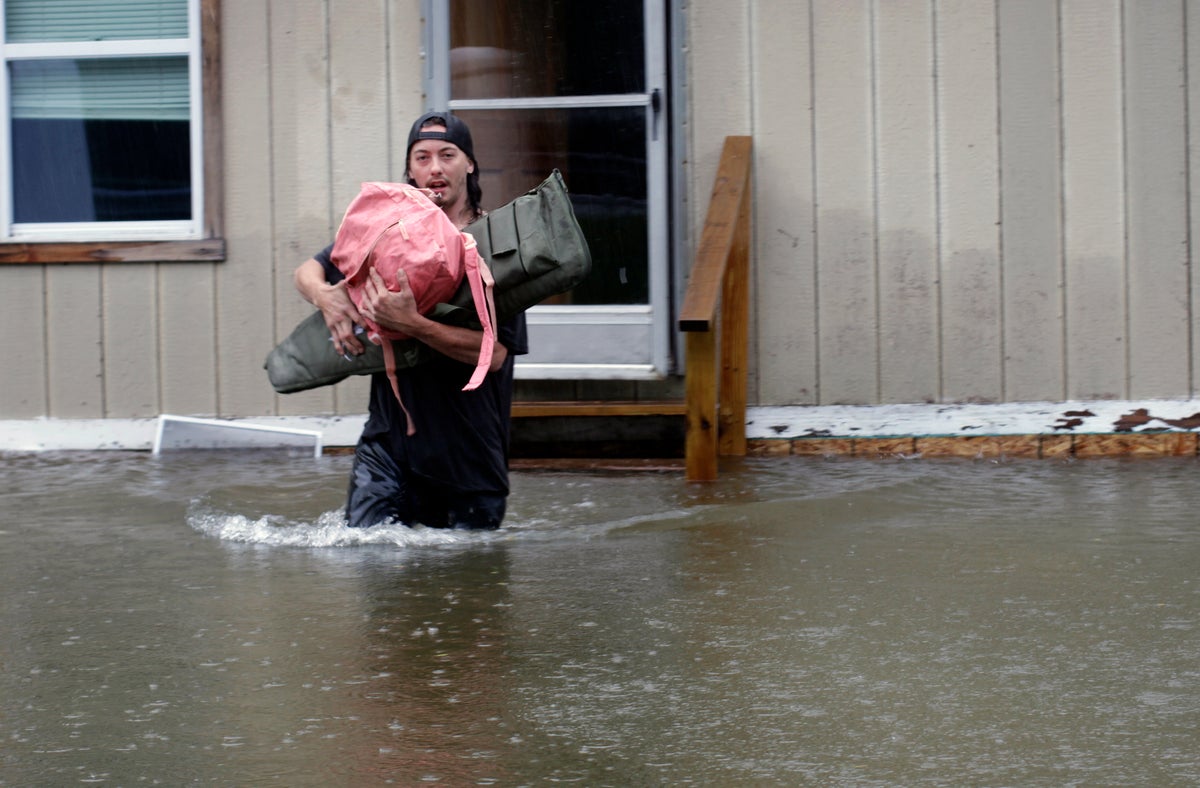 Heavy rains cause flash flooding in New York
The water is still rising in Vermont as other parts of the US Northeast battle to recover from devastating impacts of torrential rain and ensuing intense flooding in New York and New England.
One woman died in New York after she was swept away in floodwaters as she tried to escape her home with her dog, and dozens of people had to be rescued from submerged vehicles. Roads have been transformed into rivers and bridges and highways collapsed under the deluge and landslides.
New York State's Hudson Valley saw up to 10 inches of rain on Sunday, the equivalent of an entire summer.
"Dangerous, widespread flash flooding from excessive rainfall is expected across New England through Tuesday morning; Highest risk for Vermont with expected impacts to transit routes," the National Weather Service warned.
1689086994
Watch: Life-threatening flooding sweeps through Vermont
Life-threatening flash flooding sweeps through Vermont
Louise Boyle11 July 2023 15:49
1689082229
Vermont sets up shelters in churches and town halls
Some people canoed to the Cavendish Baptist Church in Vermont overnight, which had turned into a shelter while volunteers made cookies for firefighters working on rescues. the Associated Press reported.
"People are doing OK. It's just stressful," shelter volunteer Amanda Gross told AP.
Vermont representative Kelly Pajala said she and about a half dozen others evacuated early Monday from a four-unit apartment building on the West River in Londonderry.
"The river was at our doorstep," said Ms Pajala. "We threw some dry clothes and our cats into the car and drove to higher ground."
Stuti Mishra11 July 2023 14:30
1689078629
Rain moving out after flooding hits Vermont hard
A storm that left up to two months' worth of rain in Vermont and saturated other parts of the Northeast was moving out on Tuesday morning, but more flooding was expected after already cutting off access to some communities, including the main approach to the state capital.
There have been no reports of injuries or deaths related to the Vermont flooding, according to emergency officials. But dozens of roads were closed, including many along the spine of the Green Mountains. And the National Weather Service issued flash flood warnings and advisories for much of the state from the Massachusetts line north to the Canadian border.
The slow-moving storm reached New England after hitting parts of New York, where one person died as she was trying to leave her home during flash flooding, and Connecticut on Sunday.
Stuti Mishra11 July 2023 13:30
1689075929
Governor says Vermont downpour 'worse than Irene'
Vermont's governor Phil Scott said on Monday night that some parts of the state had seen flooding worse than in 2011 during tropical storm Irene, a historic storm that destroyed bridges, homes and roads.
"We have not seen rainfall like this since Irene," Vermont Mr Scott said, adding that the difference is that Irene lasted just about 24 hours.
"This is going on. We're getting just as much rain, if not more. It's going on for days. That's my concern. It's not just the initial damage. It's the wave, the second wave, and the third wave," he said.
Stuti Mishra11 July 2023 12:45
1689073434
Biden declares emergency in Vermont
US president Joe Biden has declared a state of emergency in Vermont, where torrential rainfall has triggered life-threatening flash floods.
The emergency action frees up federal resources to supplement the state and local response efforts as well as authorising the Federal Emergency Management Agency to coordinate all disaster relief efforts across Vermont.
Many rivers in the state were "expected to crest overnight at flood levels," according to a joint press release from the Vermont Department of Public Safety and the Vermont Emergency Management.
"Vermonters should be vigilant and aware of conditions as floodwaters rise," the agencies warned in the press release on Monday night.
"If flooding approaches your home evacuate to higher ground sooner rather than later, your route could be compromised by floodwaters and leave you stranded."
Stuti Mishra11 July 2023 12:03
1689070551
Video: Police rescue stranded motorists as flash floods hit New York state
Police rescue stranded motorists as flash floods hit New York state
Stuti Mishra11 July 2023 11:15
1689065130
Flood damage so far stands at $3-5bn
The devastating floods that hit New York and the entire northeast coast of the US have already wrought billions of dollars of flood damage, reports from private organisation shows.
While the authorities haven't yet released a combined figure of all the damages across states, private forecaster AccuWeather estimated damages and economic losses stood at $3bn to $5bn, preliminarily, based on its own method of evaluation.
Stuti Mishra11 July 2023 09:45
1689062446
'This is an all-hands-on-deck event' says governor as New York and Vermont hardest hit by floods
New York and Vermont were the hardest-hit states as torrential downpours lash large parts of the US northeast, leading to floods and widespread damage.
More precipitation was expected overnight until morning, creating further flood hazards, the National Weather Service said.
Vermont officials were calling the flooding the worst since Hurricane Irene reached the state as a tropical storm in 2011.
"This is an all-hands-on-deck" event, Vermont governor Phil Scott told a news conference.
Parts of Vermont had already received between 7 and 8 inches (17 and 20 cm) of rain, turning streets into raging rivers.
In New York, more than 8 inches of rain fell from Sunday to yesterday in Stormville, a small town just over 50 miles (80 km) northeast of New York City.
Much of the New York flooding was along the Hudson River north of New York City including the Orange County town of West Point, home to the Army's US Military Academy.
Stuti Mishra11 July 2023 09:00
1689059746
Flash flooding expected across New England today
Flash flooding from excessive rainfall was expected across New England until Tuesday morning with Vermont facing the highest risk, forecasters said.
"Dangerous, widespread flash flooding from excessive rainfall is expected across New England through Tuesday morning; Highest risk for Vermont with expected impacts to transit routes," the National Weather Service warned.
Rainfall rates may exceed 2 inches per hour, according to authorities.
The rain is expected to continue at least till the middle of this week with federal forecasters then determining whether another front is headed for New England.
Stuti Mishra11 July 2023 08:15
1689057233
Roads and homes submerged in knee-deep water in US east coast
Stuti Mishra11 July 2023 07:33
play youtube
,
xnxx
,
xvideos
,
porn
,
porn
,
xnxx
,
Phim sex
,
mp3 download
,
sex 4K
,
Straka Pga
,
gay teen porn
,
Hentai haven
,
free Hentai
,