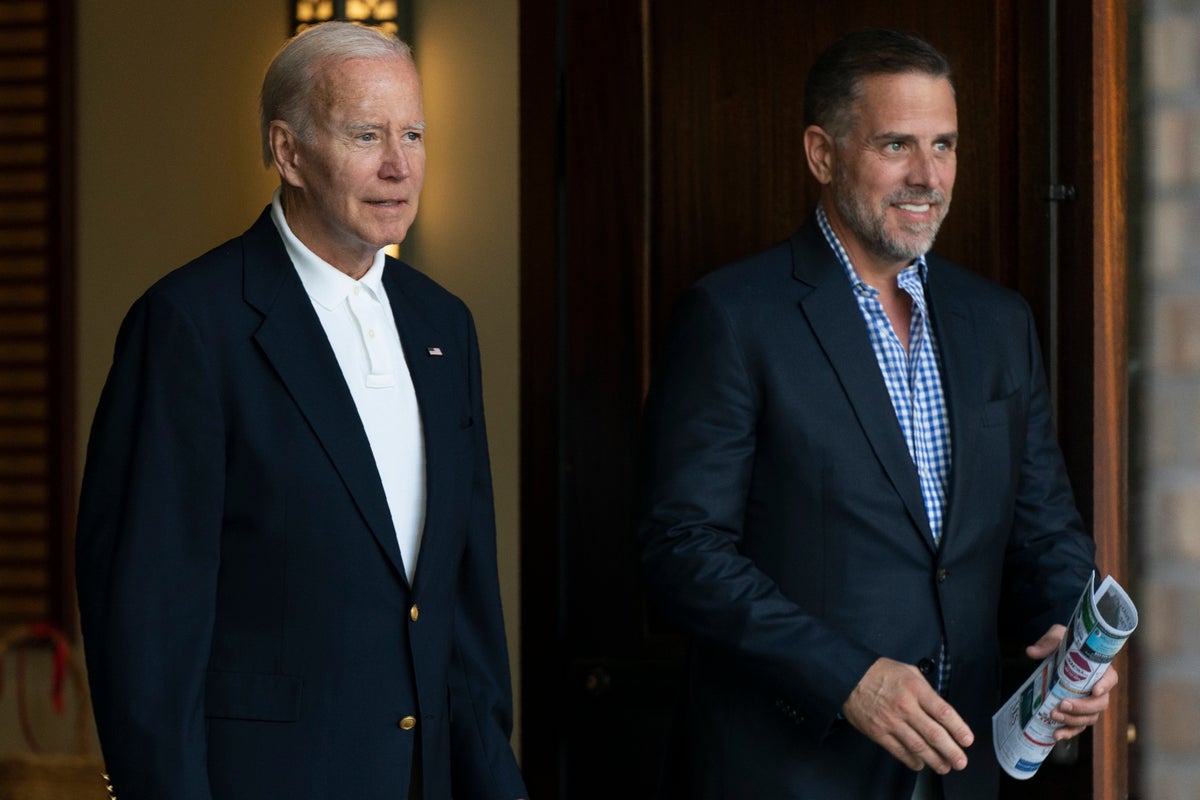 A "whistleblower" who has repeatedly accused the Bidens of corruption has been charged by the Justice Department with arms trafficking, acting as a foreign agent for China and violating Iran sanctions.
Gal Luft, who is a citizen of both the United States and Israel, is accused of paying a former adviser to Donald Trump on behalf of principals in China in 2016 without registering as a foreign agent.
Prosecutors say that Mr Luft pushed the former government employee, who is not named, to push policies that were favourable to China.
They also allege that he set up meetings between officials of Iran and a Chinese energy company to discuss oil deals, which would violate US sanctions.
They also alleged that Mr Luft "conspired with others and attempted to broker illicit arms transactions with, among others, certain Chinese individuals and entities" by working as a middleman to find both buyers and sellers for "certain weapons and other materials" in violation of the US Arms Control Act.
Specifically, prosecutors say he attempted to broker a sale of anti-tank weapons, grenade launchers and mortar rounds to Libya by Chinese companies, and also pushed to arrange for the United Arab Emirates to purchase bombs and rockets, and for Kenya to acquire unmanned aerial vehicles capable of striking targets on the ground.
Mr Luft, 57, was arrested in Cyprus in February on US charges but fled after being released on bail while awaiting extradition and is not currently in US custody.
US Attorney for the Southern District of New York Damian Williams said in a statement that Mr Luft "engaged in multiple, serious criminal schemes".
"He subverted foreign agent registration laws in the United States to seek to promote Chinese policies by acting through a former high-ranking U.S. Government official; he acted as a broker in deals for dangerous weapons and Iranian oil; and he told multiple lies about his crimes to law enforcement," Mr Williams said.
"As the charges unsealed today reflect, our Office will continue to work vigorously with our law enforcement partners to detect and hold accountable those who surreptitiously attempt to perpetrate malign foreign influence campaigns here in the United States".
The Acting Assistant Director in charge of the FBI's New York Field Office, Christie Curtis, said "the defendant engaged in multiple schemes to evade sanctions and laws intended to protect our national security".
"The FBI is determined to defend our nation by enforcing laws designed to promote transparency of foreign influence within the United States," she added.
Yet the now-indicted think tank founder claims that there is no basis for the charges and has accused the Biden Administration of targeting him because he is one of the alleged whistleblowers who Republicans have held up as having evidence that President Joe Biden and his family are corrupt.
In a bizarre video first reported by the New York Post, Mr Luft claims his arrest in Cyprus was meant to stop him from appearing before the GOP-controlled House Oversight Committee about alleged payments the Biden family allegedly received from Chinese intelligence-linked individuals.
The fugitive also claimed that he offered evidence backing up his claims to the FBI in March 2019, and said it was never followed up on.
"I, who volunteered to inform the US government about a potential security breach and about compromising information about a man vying to be the next president, am now being hunted by the very same people who I informed — and may have to live on the run for the rest of my life on the run," he said. "I warned the government about potential risk to the integrity of the 2020 elections … Ask yourself, who is the real criminal in this story?" 
Mr Luft also said he jumped bail and fled after his arrest because he dd not believe he could receive a fair trial in New York.
Kyle Herrig, the executive director of the Congressional Integrity Project, said in a statement that the case of Mr Luft shows there is "nothing more corrupt than the lengths MAGA Republicans will go to preserve and expand their own power, including consorting with other corrupt actors – even alleged spies for the Chinese Communist Party".
"Do James Comer, Jim Jordan and Kevin McCarthy lack a single ounce of shame? Apparently so. The case against President Biden was built on nothing more than conspiracy theories to begin with, but over the past few weeks we've seen their allegations crumble even more," he said. "Today's charges add to six months of misery and failure for MAGA Republicans whose political stunts have failed to uncover a single piece of evidence linking President Biden to any wrongdoing whatsoever".
A White House spokesperson did not immediately respond to a request for comment from The Independent.
play youtube
,
xnxx
,
xvideos
,
porn
,
porn
,
xnxx
,
Phim sex
,
mp3 download
,
sex 4K
,
Straka Pga
,
gay teen porn
,
Hentai haven
,
free Hentai
,