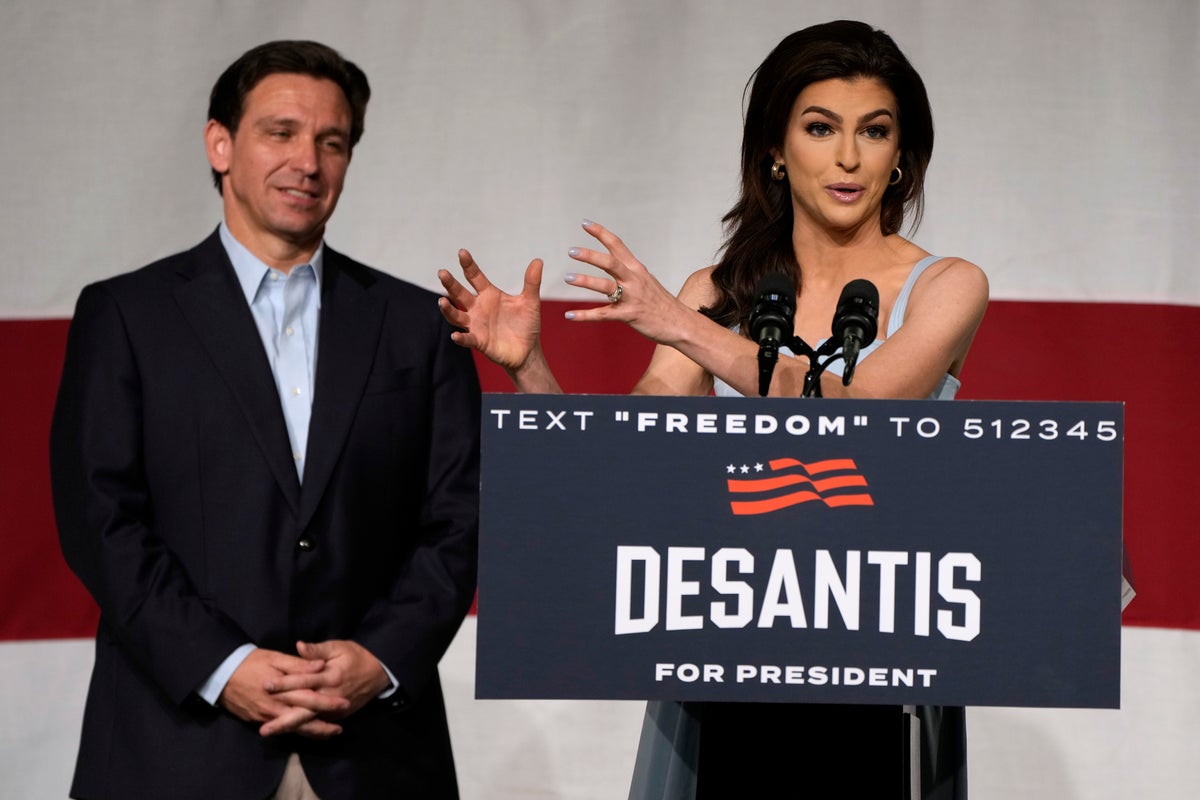 Florida governor Ron DeSantis came to his wife's defence on Monday, claiming that those mocking her as "America's Karen" were actually threatened by her.
Mr DeSantis's pushback came as MSNBC analyst and former Republican congressman from Florida, David Jolly, called his wife Casey DeSantis "America's Karen", a pejorative term typically used for a middle-class white woman who exhibits entitled, demanding, and often confrontational behaviour.
The comments were made on MSNBC's Saturday Show with Jonathan Capehart last week during a discussion on Ms DeSantis's campaign on behalf of her husband.
Appearing on Fox News on Monday, Mr DeSantis said he and his wife will wear the tag as a "badge of honour".
"My wife is an incredibly strong first lady of Florida, a fantastic mother and a great wife, and that threatens the Left," he said.
"So she and I kind of shrug it off because we know it just shows they view her as a threat, because the message that she was bringing in Iowa about the rights of parents and how we are not going to take this anymore with the Left trying to indoctrinate our kids, they understand that that resonates not just with Republican parents, with independent parents and, yes, with Democrat parents," he added.
Mr Jolly, who represented Florida's 13th Congressional District from 2014 to 2017, said the presidential hopeful's wife was a "fairly compelling political figure in Florida and now nationally".
"For many, she's the brighter side to Florida's angry governor. For others, she's become America's Karen," he said.
"Look, she's a more effective messenger than Ron DeSantis, but if all she's doing is amplifying the wrong message, she's actually clarifying Ron DeSantis's weaknesses," he added.
"It doesn't matter if it's presented in heels or boots, the DeSantis doctrine's a losing one," he said. "We're gonna learn that the more Casey DeSantis gets out there."
The panellists on the show, including The Lincoln Project member Tara Setmayer, cracked up at the mention of the words "America's Karen" and joined Mr Jolly in mocking her.
"Well, I called her, I called her this, you know, Serena Waterford wannabe needs to cut it out. We see you. So… there's all kinds of names for her," Ms Setmayer said. Waterford is a reference to the antagonist in Margaret Atwood's dystopian novel The Handmaid's Tale.
"She needs to stop trying to measure the drapes in the White House and think that she's some kind of Jackie O reincarnate. I mean, Casey DeSantis, keep an eye on her, though. She's a wily figure."
Mr DeSantis said those who are criticising her are probably feeling challenged.
"She's a great advocate for families, a great advocate for children. And I'm thankful that she's my wife," Mr DeSantis said. "And I'm really honoured that she's willing to go out there and press the case. And so we wear criticism from MSNBC as a badge of honour."
The comments came even as Donald Trump was found to be leading Mr DeSantis in polls of Florida Republicans. A survey of likely Republican primary voters in the Sunshine State by Florida Atlantic University showed him firmly trailing Mr Trump, with the pair's other rivals for the GOP nomination far out in the wilderness. Mr Trump leads Mr DeSantis 50-30 in the survey.
play youtube
,
xnxx
,
xvideos
,
porn
,
porn
,
xnxx
,
Phim sex
,
mp3 download
,
sex 4K
,
Straka Pga
,
gay teen porn
,
Hentai haven
,
free Hentai
,