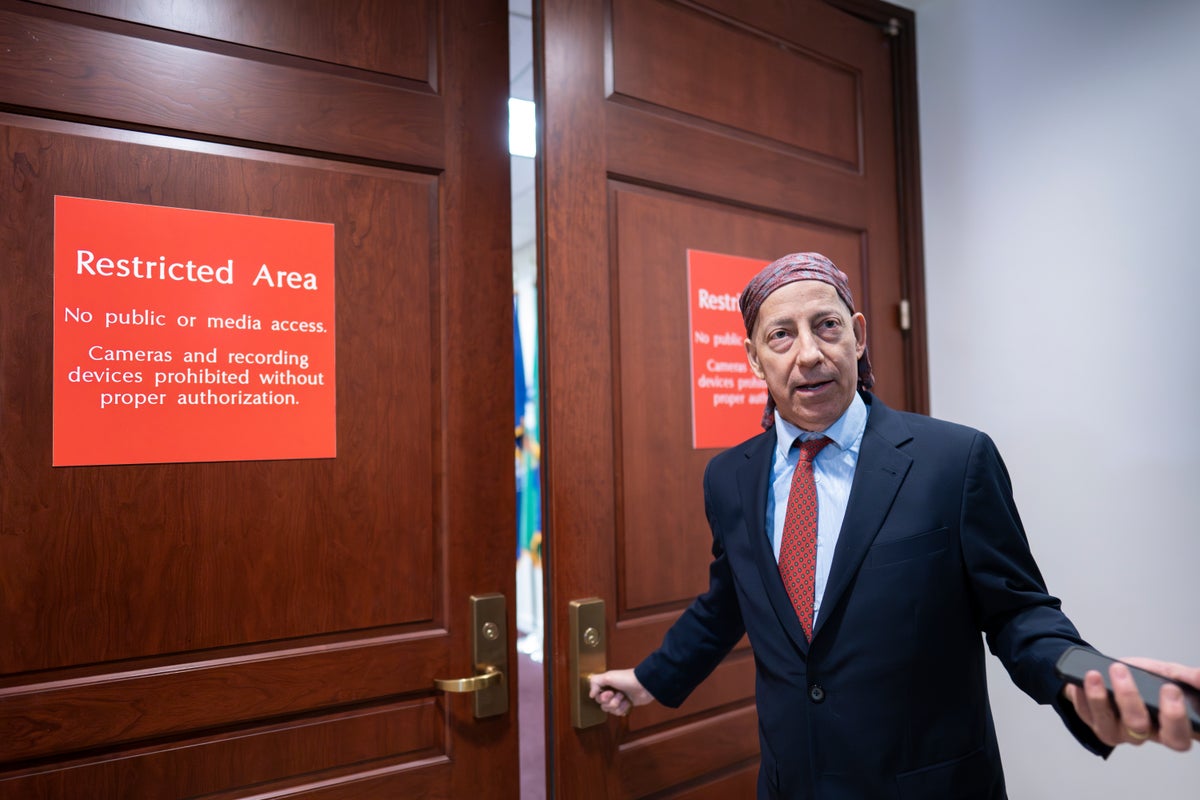 A pair of top Democrats on the House Oversight Committee are asking Chairman James Comer to look into whether the accused foreign agent who claims to be a "whistleblower" against President Joe Biden and his son was acting to further Chinese interests when he accused the Bidens of crimes.
In a letter to Mr Comer, Ranking Member Jamie Raskin of Maryland and Representative Daniel Goldman of New York expressed "concern" that the Oversight Committee "has been manipulated" by alleged arms dealer Gal Luft, who they described as "an apparent con man who, while a fugitive from justice, attempted to fortify his defense by laundering unfounded and potentially false allegations through Congres".
The alleged GOP whistleblower, an Israeli-American think tank founder, was indicted last November on charges that he allegedly trafficked arms, acted as a foreign agent for China and violated US sanctions on Iran.
Mr Luft, who was arrested in February by Cypriot authorities, jumped bail while awaiting extradition to the US and has been on the run ever since.
While he claims he is being persecuted by the federal government because he provided derogatory information about the Biden family to the FBI in a 2019 interview, US Attorney for the Southern District of New York Damian Williams said in a statement that he "engaged in multiple, serious criminal schemes".
"He subverted foreign agent registration laws in the United States to seek to promote Chinese policies by acting through a former high-ranking U.S. Government official; he acted as a broker in deals for dangerous weapons and Iranian oil; and he told multiple lies about his crimes to law enforcement," Mr Williams said.
Mr Raskin and Mr Goldman noted that the false statement charges against Mr Luft "eviscerate" his credibility, even as Mr Comer has continued to call him "a very credible witness" despite the fact that Mr Luft remains a fugitive from justice.
They also pointed out that Mr Luft is alleged to have lied to FBI agents during the same March 2019 interview at which he claims to have provided information to the bureau about Hunter Biden, and suggested that Mr Luft's claims against the president and his son may be part of a Chinese-backed effort to undermine US interests and Mr Biden's presidency.
"It appears as if Mr. Luft sought 'whistleblower' status from you in an effort to defend himself from criminal prosecution while a fugitive from justice. Worse yet, this latest episode also raises concerns that Mr. Luft may be manipulating your investigation not only for his own self-interest but perhaps also in furtherance of the CCP's efforts to undermine U.S. security interests and the President of the United States," they said.
"These recent revelations naturally raise broader concerns about the credibility and motivations of other purported whistleblowers that Congressional Republicans have relied on to support unfounded and baseless allegations. Sadly, the Luft episode severely undermines the credibility of the critical function of whistleblowers in this body".
The Democratic representatives called on Mr Comer to stop withholding documents relating to Mr Luft from members of the minority on the committee, and asked him to initiate an investigation into whether his panel has been manipulated by Mr Luft in service of a foreign power.
"In order to protect the Congress's institutional credibility and to reassure the American people that the CCP is not using Republicans' investigations as a vehicle to undermine the United States government, we urge you to immediately initiate an investigation into whether the Committee may have been unwittingly duped by Mr. Luft in furtherance of the CCP's interests, as well as any potentially false statements made by Mr. Luft to Members of Congress or congressional staff," they said.
play youtube
,
xnxx
,
xvideos
,
porn
,
porn
,
xnxx
,
Phim sex
,
mp3 download
,
sex 4K
,
Straka Pga
,
gay teen porn
,
Hentai haven
,
free Hentai
,