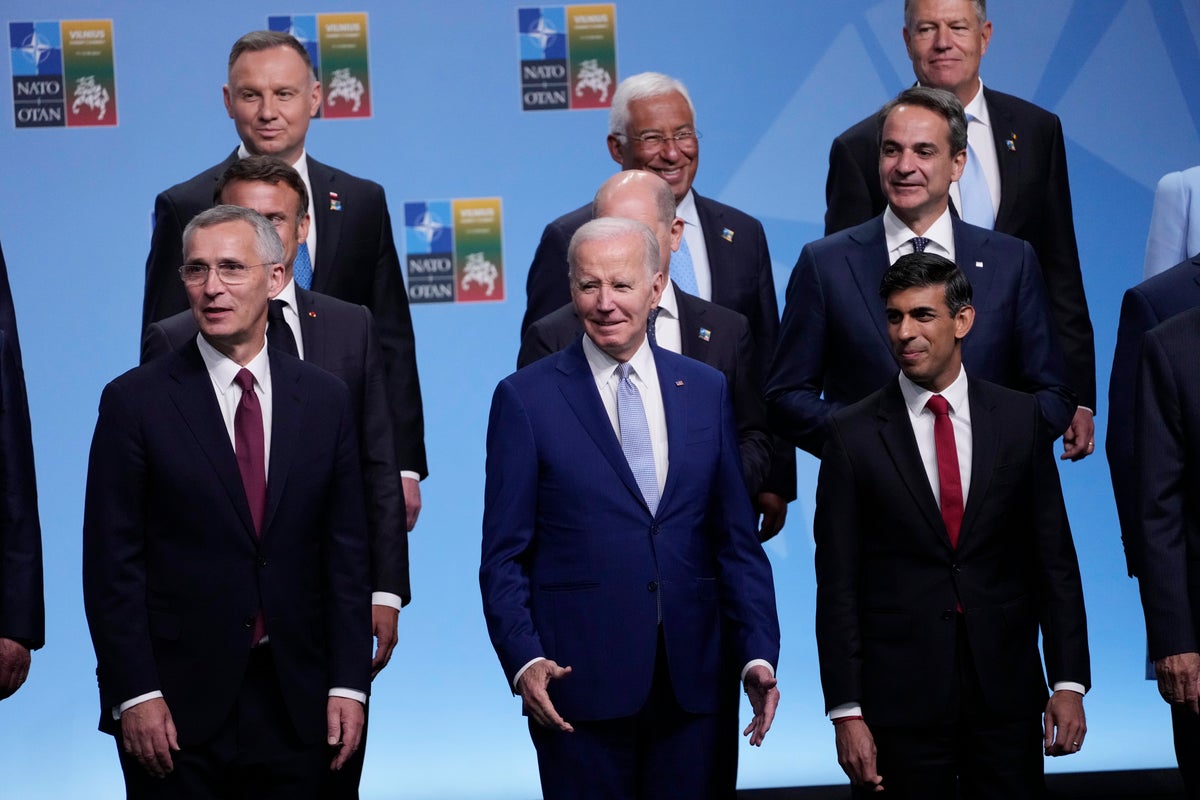 Rishi Sunak welcomes Joe Biden to Downing Street
President Joe Biden skipped dinner with Nato leaders and headed back to his Lithuania hotel on Tuesday night.
The White House said that the 80-year-old president was instead preparing for his "big speech" to Nato on Wednesday.
Earlier Mr Biden was cracking jokes as he met Nato leaders at a key summit in Vilnius, Lithuania, on Tuesday, joking that Defence Secretary Lloyd Austin "alone" can protect Nato while speaking to Lithuanian President Gitanas Nauseda.
The president also said that he is "looking forward" to welcoming Sweden into the membership after Turkey announced its support for the move.
But, while the meetings were off to a positive start for Mr Biden, Ukrainian President Volodymyr Zelensky was less impressed.
In a tweet on Tuesday morning, he slammed Nato leaders for not extending membership to Ukraine, calling the inaction "absurd" ahead of a meeting between him and Mr Biden Wednesday.
Last week, Mr Biden approved sending controversial cluster munitions to Ukraine – but also said he thinks Ukraine is "not ready" for membership.
On route to Vilnius on Monday, Mr Biden stopped off in the UK where he appeared to breach royal protocol by touching King Charles III on the back.
1689147123
WATCH LIVE: World leaders meet for Nato summit's second day in Lithuanian capital Vilnius
Rachel Sharp12 July 2023 08:32
1689105690
Fox News host says she's 'turned on' by Biden's alleged bad temper
"Swearing at people, it's a quirk," said Lisa Kennedy on Rupert Murdoch's network.
Graeme Massie11 July 2023 21:01
1689102271
Biden skips Nato leadership dinner
President Joe Biden skipped the Nato leadership dinner on Tuesday night in Vilnius, Lithuania, with White House officials citing his busy schedule on his European trip.
The 80-year-old president instead returned to his hotel and was "preparing for a big speech tomorrow, in addition to another day at the summit" US officials told reporters.
Graeme Massie11 July 2023 20:04
1689097541
Read the Nato communique's key passage on policy toward Ukraine.
We fully support Ukraine's right to choose its own security arrangements. Ukraine's future is in Nato. We reaffirm the commitment we made at the 2008 Summit in Bucharest that Ukraine will become a member of Nato, and today we recognise that Ukraine's path to full Euro-Atlantic integration has moved beyond the need for the Membership Action Plan. Ukraine has become increasingly interoperable and politically integrated with the Alliance, and has made substantial progress on its reform path. In line with the 1997 Charter on a Distinctive Partnership between Nato and Ukraine and the 2009 Complement, Allies will continue to support and review Ukraine's progress on interoperability as well as additional democratic and security sector reforms that are required. Nato Foreign Ministers will regularly assess progress through the adapted Annual National Programme. The Alliance will support Ukraine in making these reforms on its path towards future membership. We will be in a position to extend an invitation to Ukraine to join the Alliance when Allies agree and conditions are met.
Oliver O'Connell11 July 2023 18:45
1689096415
Biden not attending Nato leaders dinner
President Joe Biden is not attending tonight's dinner with Nato leaders.
When asked by the press pool why Mr Biden is not attending, a US official said the president has four full days of official business and is preparing for a big speech tomorrow in addition to another day at the summit.
Secretary of State Antony Blinken will attend the dinner.
Oliver O'Connell11 July 2023 18:26
1689095108
Nato revamped defence plans against Russian attack after Ukraine invasion
President Joe Biden and his Nato counterparts on Tuesday endorsed the biggest shakeup since the Cold War of the way the military alliance would respond to any attack on its territory by Russia.
Inspired in part by Moscow's invasion of Ukraine, the highly-secretive defense plans lay out which of the 31 member countries would be called on to respond to an attack anywhere from the Arctic and Baltic Sea regions through the northern Atlantic and south to the Mediterranean and Black Seas.
"Peace in the Euro-Atlantic area has been shattered," the leaders said in a statement, laying out the twin threats posed by Russia and terrorism. "Together, this family of plans will significantly improve our ability and readiness to deter and defend against any threats, including on short or no notice, and ensure timely reinforcement of all Allies."
Oliver O'Connell11 July 2023 18:05
1689091241
Biden reaffirms commitment to ally Lithuania
Oliver O'Connell11 July 2023 17:00
1689089989
Biden thanks Erdogan for his 'diplomacy and courage'
President Joe thanks President Recep Tayyip Erdogan for his "diplomacy and courage" in allowing for Sweden's accession while the Turkish leader wishes Mr Biden "the best of luck" in his re-election.
Mr Biden laughed: "Well thank you very much. Look forward to meeting you in the next five years."
Oliver O'Connell11 July 2023 16:39
1689089515
Nato says concerned over Iran's 'malicious activities' on its territory
Nato allies said on Tuesday they were seriously concerned by Iran's "malicious activities" within allied territory and called Tehran to stop its military support to Russia, including the supply of drones.
"We call upon Iran to cease its military support to Russia, in particular its transfer of Uncrewed Aerial Vehicles (UAVs) which have been used to attack critical infrastructure, causing widespread civilian casualties," the 31-member alliance said in a final declaration at a summit in Lithuania.
"We express our serious concern over Iran's malicious activities within Allied territory."
Martha Mchardy11 July 2023 16:31
1689088841
Watch: Biden fist pumps air as Sweden welcomes to Nato
Oliver O'Connell11 July 2023 16:20
play youtube
,
xnxx
,
xvideos
,
porn
,
porn
,
xnxx
,
Phim sex
,
mp3 download
,
sex 4K
,
Straka Pga
,
gay teen porn
,
Hentai haven
,
free Hentai
,