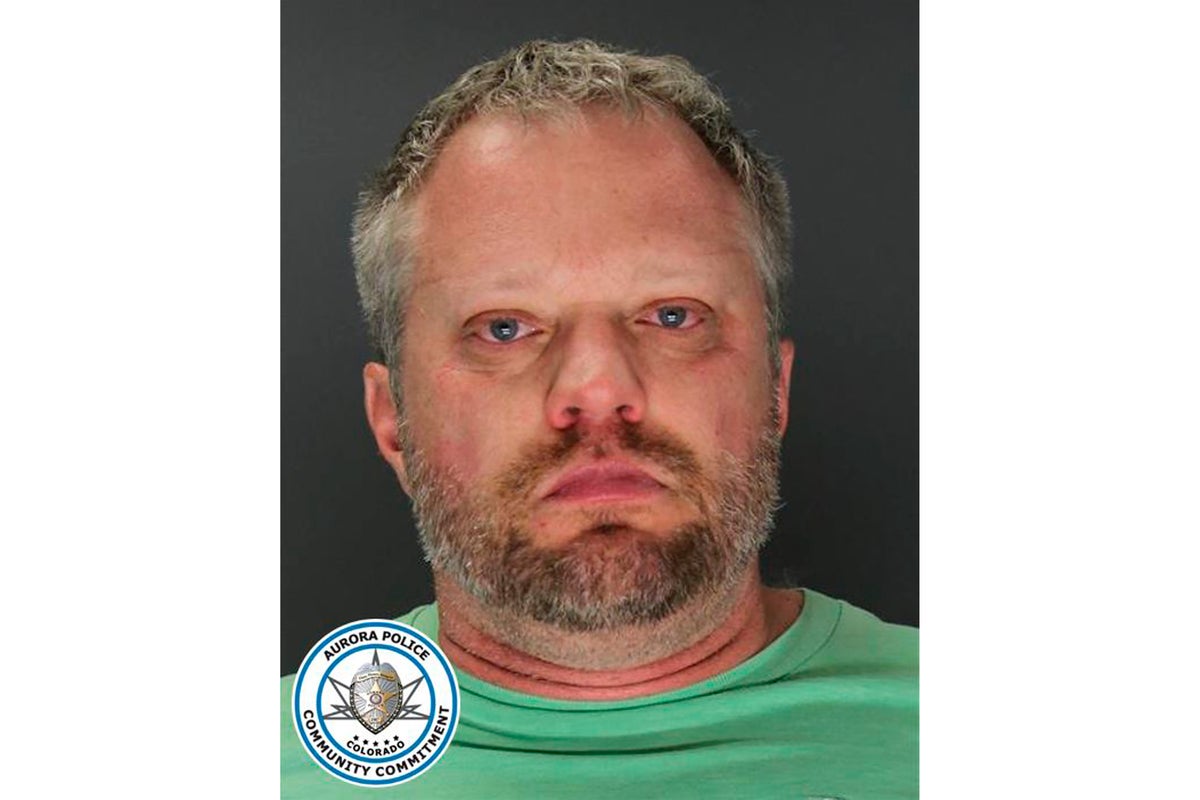 The Colorado mother of six whose dentist husband is accused of her poisoning murder had higher levels of cyanide in blood drawn during the evening than she had earlier in the morning at the hospital, a court heard Wednesday.
Angela Pray Craig, 43, was pronounced dead on 18 March after several hospital visits complaining of dizziness, light-headedness, vomiting and a host of other symptoms.
Her husband, 45-year-old James Toliver Craig, has been charged with first-degree murder in connection with her death. He appeared in court Wednesday for a preliminary hearing, handcuffed and wearing an orange Arapahoe County Detention Facility jumpsuit. He was unshaven, his beard unkempt and his curly hair matted behind his receding hairline.
According to evidence given by Arapahoe County Coroner Kelly Lear, samples showed that Angela had an arsenic level of 68 around 11.50am on 9 March – but that level had increased to 330 by 8.23pm.
That would be "consistent with her receiving additional cyanide exposure in that time period," Dr Lear said.
The cause of death she listed in her report was acute "cyanide and tetrahydrozoline poisoning; the manner of death is homicide," she testified Wednesday.
Prosecutors have alleged that Mr Craig slowly poisoned his wife of 23 years over time by lacing her pre-workout protein shakes with arsenic and cyanide.
Before his wife's death, the affidavit states that he researched how to poison her and get away with it, carrying out online searches for questions such as "Is Arsenic Detectable in Autopsy?"
As for the motive, prosecutors claim that Mr Craig wanted his wife dead so that he could pursue his burgeoning relationship with new girlfriend Karin Cain, who is named in the charging documents.
Just hours before Wednesday's hearing, Ms Cain broke her silence to claim that Mr Craig lied to her about the state of his marriage and that she would never have gotten involved with him if she had known the truth.
Rather than being his "mistress", the Texas orthodontist said they had only met three weeks prior to his wife's death at a dentistry conference.
"I don't like the label," she said. "If I had known what was true, I would not have been with this person."
Ms Cain shared doubts that she played a part in Mr Craig's alleged murderous motive, as she said they had never planned a future together.
"There's no way I'm a motive. There's been no planning a future together," she said.
Ms Cain said that she met Mr Craig at the dental conference in February and that he lied to her by claiming his marriage was over and that he did not live in the same home as his wife.
At the time, Ms Cain was also in the middle of divorcing her husband of three decades.
While she was "not looking for love," she said that they bonded over their apparent shared experiences and shared devotion to their children.
In total, they spent just three days together at the conference, meeting on a Thursday before parting ways – her to Texas, him to Colorado – on Saturday.
After that they messaged constantly and she felt "so connected" to her new companion, she said.
She planned to visit him in Colorado but the first trip fell through.
The second planned trip came in March when she said Mr Craig told her his wife was ill.
The day before she was due to arrive in Denver, she said that Angela had a seizure and was placed on life support, with a low chance of survival.
While she said she reconsidered going to Colorado at that time, Mr Craig allegedly encouraged her by saying that he could do with her support.
They went for dinner twice, she said, where she noted his behaviour seemed odd.
"He at no point seemed stressed or anxious," she said. "I mean really I had to drag it out of him like, 'Are you sure you're ok?'"
Days later, Angela was dead.
Now, Ms Cain says she feels lied to by the person she felt she was falling in love with.
"I don't have any sort of headspace in my reality where it fits" what she has now learned in the criminal affidavit, she said.
"I didn't willingly have a relationship with somebody who was in a marriage."
play youtube
,
xnxx
,
xvideos
,
porn
,
porn
,
xnxx
,
Phim sex
,
mp3 download
,
sex 4K
,
Straka Pga
,
gay teen porn
,
Hentai haven
,
free Hentai
,