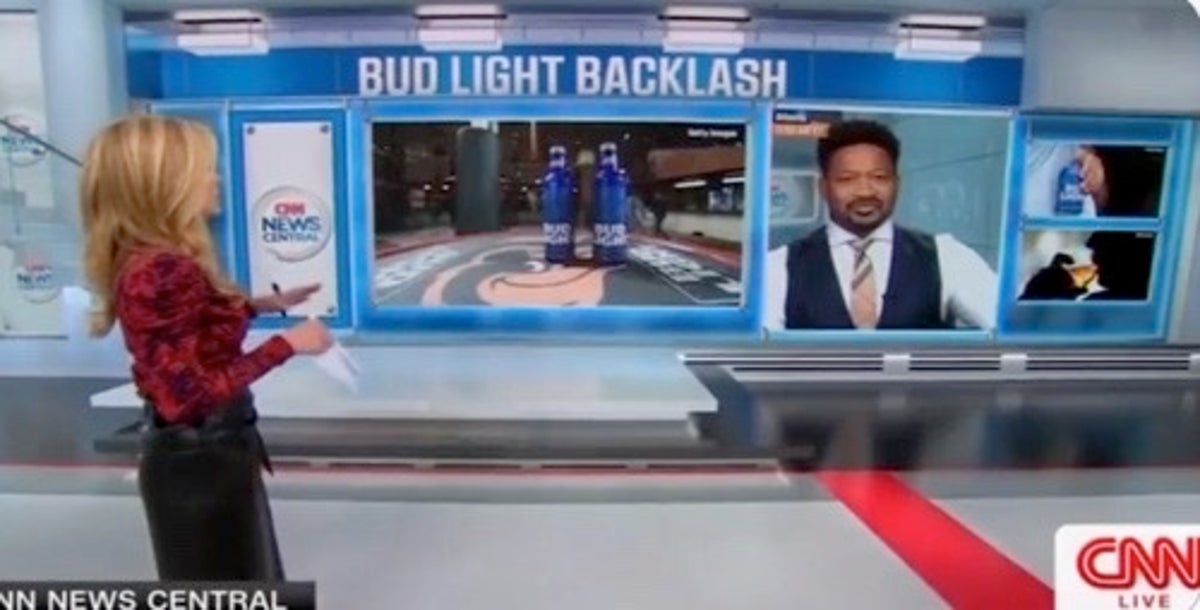 CNN has apologised to transgender influencerDylan Mulvaney after misgendering her twice in an on-air segment discussing the right-wing backlash to her Bud Light partnership.
On Tuesday, CNN National Correspondent Ryan Young incorrectly referred to the 26-year-old using the pronouns "he/him" – a mistake neither he nor anchor Kate Bolduan corrected at the time.
In the "CNN News Central" segment, the two CNN employees were discussing the boycott of Bud Light after the beer brand entered into a sponsorship deal with Mulvaney back in April.
Right-wing figures such as Kid Rock sparked a transphobic backlash and vowed to stop drinking the beer because of its collaboration with the transgender star.
The beer brand then faced further backlash from liberals and Mulvaney's fans who condemned it for not supporting her enough in the furore.
Ms Bolduan pointed out that, amid the controversy, sales of America's best-selling beer plunged a dramatic 28 percent in the last month alone.
Mr Young then joined the segment to reveal a number of interviews he had done on the topic – stopping people in bars in Nashville and Chicago and asking them their opinions on th matter.
One man in the show said that he supported the boycott: "It's quite simple: people just don't want it shoved down their throat."
A woman adopted a similar tone, saying: "No Bud Light, because it's like, I have grandchildren. We don't need to put that in the young kids' heads."
Meanwhile, another man did not support the boycott and instead recounted a moment where he was in a bar and other patrons dismissed a fellow patron's comments when he said he was no longer drinking the beer.
"And everybody else in the bar kind of rolled their eyes at him," the man said.
Mr Young said he also heard from one bar which planned to stop serving Bud Light "because they don't like the way Dylan Mulvaney was treated after this whole controversy started".
At this point, Mr Young then went on to explain who the transgender influencer is – but misgendered her in the process.
"He, of course, is the transgender person they were going to sponsor and go along with, with Bud Light," he said.
"But they didn't like how Bud Light didn't stand by him after all this."
Following the segment, CNN faced a backlash of its own, with social media users slamming the network for misgendering the social media star.
"What horrible coverage and the pundit couldn't even correct the misgendering of Dylan. This makes me sad," one person tweeted.
On Wednesday, anchor Ms Bolduan addressed the mistake live on air and issued an apology to the influencer on behalf of the network.
"Yesterday in a segment about transgender influencer Dylan Mulvaney, who was featured in Bud Light's recent campaign, she was mistakenly referred to by the wrong pronouns," she told viewers.
"CNN aims to honor individuals ways of identifying themselves and we apologise for that error."
Mulvaney does not appear to have commented on the matter.
However, earlier this month, she did speak out to slam Bud Light for failing to support her amid the transphobic backlash of the last three months.
"For a company to hire a trans person and then not publicly stand by them is worse, in my opinion, than not hiring a trans person at all," she said in a TikTok video.
She later revealed she has left the US for Peru because she no longer "feels safe" in the current situation.
play youtube
,
xnxx
,
xvideos
,
porn
,
porn
,
xnxx
,
Phim sex
,
mp3 download
,
sex 4K
,
Straka Pga
,
gay teen porn
,
Hentai haven
,
free Hentai
,