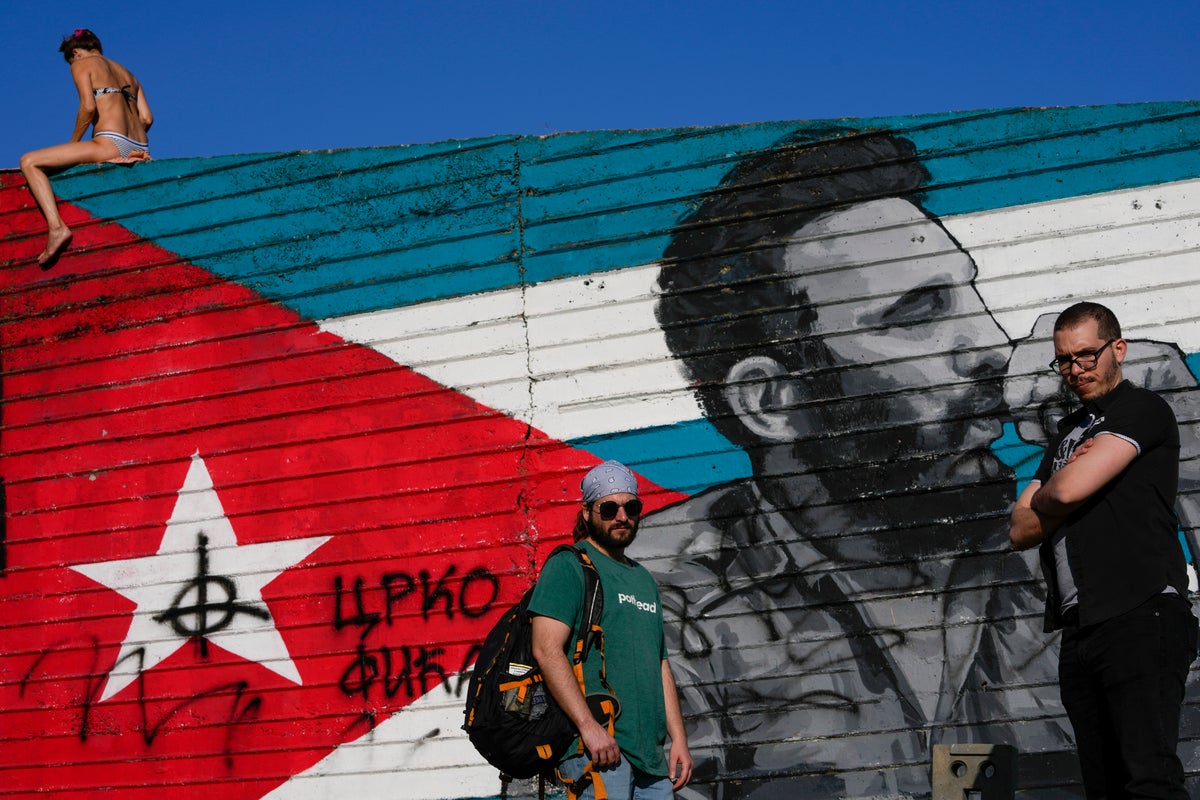 Fernando Almeyda Rodriguez and Remy Hernandez are two friends from Cuba, bound by a joint struggle for democracy in their country. But that comes at a price.
The two men — Rodriguez is 31 and Hernandez 27 — were forced to flee Cuba in the aftermath of mass protests in 2021 to avoid persecution for their activism. An unlikely migration route brought them to Serbia — on the Balkan peninsula, at Europe's southeastern edge — where they sought political asylum.
Rodriguez and Hernandez chose Serbia because it was among the few countries in the world that did not require entry visas for Cubans. But Belgrade has since revoked the open travel regime, closing down a passage into Europe used by fleeing Cubans for decades.
Serbia made the decision under pressure from the European Union, which it wants to join. Belgrade was also forced to impose visas for the citizens of countries such as Burundi, India or Tunisia which have become a source of migration into the 27-nation bloc.
For Rodriguez, however, the decision only meant that Cubans like him will now have fewer options if they wish to flee to avoid pressure from the Communist regime or escape crippling poverty.
"Cuba resembles more or less some kind of a concentration camp in which your only option is to die in silence and not complain," he said. "A lot of these (people) are humanitarian cases or refugee cases and you close the door to them. What about these people?"
Friendly relations between Cuba and Serbia date back to the era when Serbia was part of the former Communist-run Yugoslavia, resulting in a small Cuban community here. Last month, Belgrade hosted Cuba's President Miguel Diaz-Canel, at a time when Serbia's populist President Aleksandar Vucic has been facing weeks of street protests against his increasingly autocratic rule.
Rodriguez said he had been forced to hide for months in Cuba to avoid arrest before he finally flew to Belgrade via Frankfurt, Germany, in Feb. 2022. It was "jail or leaving," he told the Associated Press in an interview.
"I spent more than six months playing hide and seek with the security … the police," said Rodriguez. "I would not stop struggling for human rights in my country."
Rodriguez has since been granted asylum in Serbia while the procedure for Hernandez's application is still underway.
Serbian lawyer Nikola Kovacevic, who represented Rodriguez in the asylum procedure, also said the changes in Serbia's visa policies would expose many refugees from Cuba, Africa and Asia to much longer, dangerous and more complicated ways to reach Europe.
"It was the safest route to protection" said Kovacevic. "And now it does not exist any more, it was cancelled. The options for these people have narrowed down."
Migration activists have repeatedly criticized EU countries over the reported illegal pushbacks of migrants and efforts to keep the borders closed even as hundreds die while traversing dangerous routes over the seas or in the hands of people smugglers.
Last month, EU countries agreed on a reform of asylum laws and a shared responsibility for migrants entering Europe without authorization. Hungary and Poland opposed the deal, reflecting disunity in the bloc over migration.
Both Rodriguez, who is a well-known human rights lawyer and activist in Cuba, and Hernandez, an artist and art teacher, say they had no other option but to flee the government crackdown.
The protests in July 2021 were the biggest in Cuba in decades. Scores of people were jailed after the mass rallies that first erupted because of blackouts and shortages that soared during the COVID-19 pandemic.
Rodriguez was a prominent member of the Archipelago group that was active on social networks. Hernandez says he lost his job as an art teacher in a Havana high school because he published cartoons in a satirical magazine critical of the Communist authorities.
"They expelled me from the school where I worked, from the profession that I studied all my life," he said.
Hernandez said most his friends and family members had also fled as part of a major exodus in recent years. In Cuba, he said, "there is no food, there is no electricity, there is no medicine."
The majority of fleeing Cubans still head for the United States while Europe, primarily Spain, had been an option via Moscow or Serbia. So far, 56 Cubans expressed their intention to seek asylum in Serbia in the first half of 2023, a number that is expected to fall because of the change in the visa regime.
Lawyer Kovacevic says that the numbers of Cubans who have used Serbia as a gateway to Europe represent merely a trickle compared to other nationalities migrating along the so-called Western Balkan land route. Serbia's relaxed visa policies in the past had saved lives, he said.
"Any refugee escape is not dignified," added Kovacevic. "But at least you come directly to safety and then apply for asylum, (which) is way better than to jump over 15 borders where you are going to be beaten up 20 times, pushed back, extorted, humiliated.
"This is the way people should be provided with safe routes," he said. "And this is not the case now."
—-
Follow AP's coverage of migration at: Migration ' AP News
play youtube
,
xnxx
,
xvideos
,
porn
,
porn
,
xnxx
,
Phim sex
,
mp3 download
,
sex 4K
,
Straka Pga
,
gay teen porn
,
Hentai haven
,
free Hentai
,