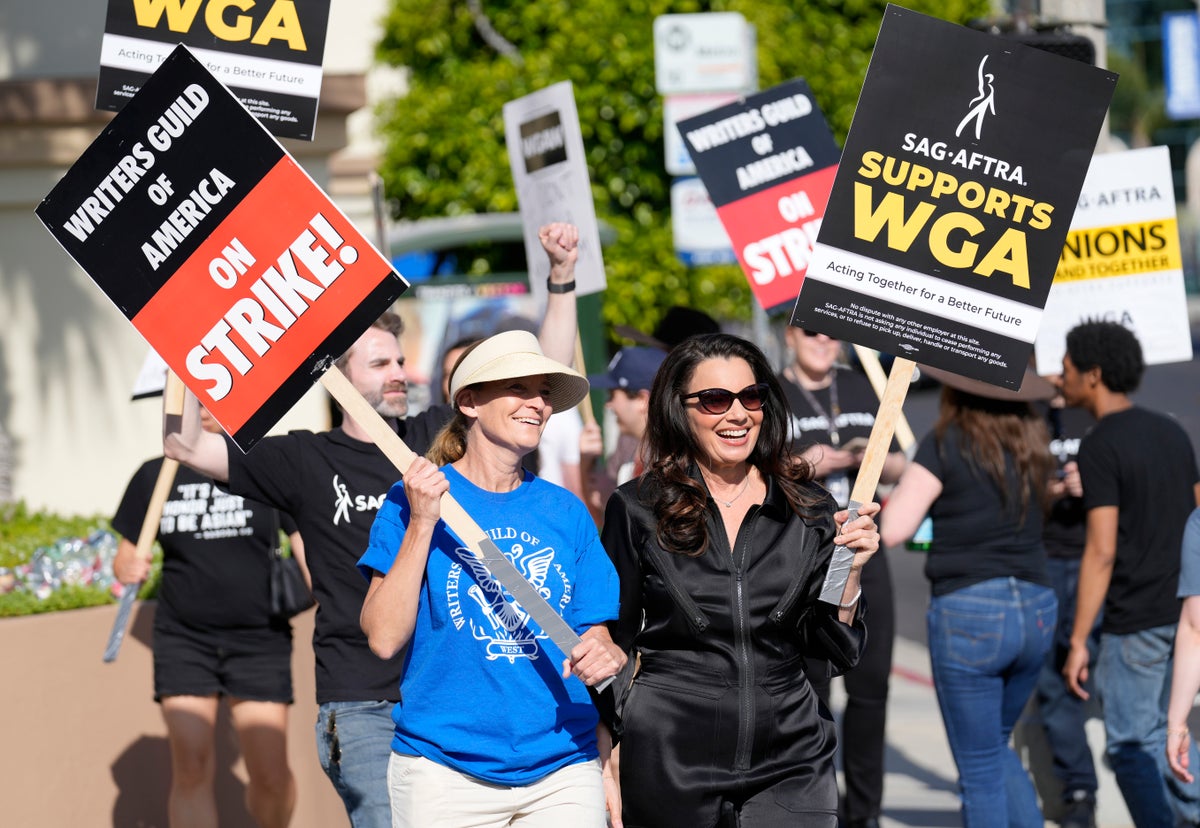 Hollywood actors poised to strike after union negotiations fail
Negotiators for Hollywood's actors' union unanimously recommended a strike after talks with studios broke down, setting the stage for performers to join writers on picket lines as early as today, disrupting TV and movie production across the US.
The national board of Hollywood's largest union, SAG-AFTRA, will vote on a strike order on Thursday morning. If approved, Hollywood studios would face their first dual work stoppage in 63 years.
The 160,000 members would join a walkout by the Writers Guild of America (WGA) as both demand increases in base pay and residuals in the streaming TV era plus assurances that their work will not be replaced by artificial intelligence (AI).
The WGA, representing 11,500 screenwriters, has been on strike since 2 May. Both unions are in dispute with the Alliance of Motion Picture and Television Producers (AMPTP).
Fran Drescher, former star of The Nanny and the president of SAG-AFTRA, said studios' responses to the actors' concerns had been "insulting and disrespectful".
Meanwhile, Disney CEO Bob Iger has condemned the threatened strike action as "very disruptive" at the "worst time" as well as calling the expectations of writers and actors "just not realistic".
1689273975
Who is on the national board of SAG-AFTRA?
The SAG-AFTRA national board is made up of dozens of members and they will currently be voting on the strike action.
Among the notable names on the board are union President Fran Drescher, Sean Astin, Jennifer Beals, Yvette Nicole Brown, Brad Garrett, Elliott Gould, Dulé Hill, Rosie O'Donnell, Michael Rapaport, and Sharon Stone.
Oliver O'Connell13 July 2023 19:46
1689273368
Watch: Cast of 'Oppenheimer' leave UK premiere, Christopher Nolan confirms
Oliver O'Connell13 July 2023 19:36
1689273033
White Lotus star reveals season 3 is delayed due to writers' strikes
Oliver O'Connell13 July 2023 19:30
1689272718
Actor Matthew Modine shares message of solidarity from Galway Film Fleadh
Actor Matthew Modine has shared a message of solidarity having arrived in Ireland for what was supposed to be the world premier of a movie he originally filmed in 1998 with Sir Derek Jacobi and John Cleese.
He says: "Tonight was supposed to be our world premier, a celebration thwarted by unforeseen circumstances. But sometimes, sacrifices must be made on the path to victory."
Read his full statement here:
Oliver O'Connell13 July 2023 19:25
1689271833
'Oppenheimer' cast will leave UK premiere if strike called
Variety reports that the cast of Oppenheimer will leave the London premiere if the SAG-AFTRA strike is called.
"We talked about it," actor Matt Damon told the outlet on the red carpet. "Look, if it's called now, everyone's going to walk obviously in solidarity … Once the strike is officially called, [we're walking]. That's why we moved this [red carpet] up because we know the second it's called, we're going home."
He added: "We gave the strike authorisation. We voted 98 per cent to 2 per cent to do that because we know our leadership has our best interest at heart."
"It's really about working actors," he added. "It's $26,000 to qualify for health coverage and a lot of people are on the margins and residual payments are getting them across that threshold. This isn't an academic exercise. This is real life and death stuff. Hopefully we get to a resolution quickly. No one wants a work stoppage, but we've got to get a fair deal."
Co-star Emily Blunt told Variety: "Obviously we stand we all of the actors and at whatever point it's called, we're going to be going home and standing together through it because I want everyone to get a fair deal."
Asked whether she'll be joining the picket line herself, she said: "Oh, I think so!"
The red carpet for the highly-anticipated Christopher Nolan movie began shortly before 5pm London-time (12pm ET, 9am PT). SAG-AFTRA are holding a press conference at their Los Angeles headquarters at 12 noon PT.
Oliver O'Connell13 July 2023 19:10
1689271233
Disney boss complains actors' union is threatening to join writers strike at 'worst time'
Disney chief Bob Iger has spoken out against the looming potential of the actor's union joining the writers' strike, calling the threat "very disturbing".
Appearing on CNBC's Squawk Box on Thursday (13 July), the CEO, 72, addressed the strike recommended by Sag-aftra, complaining that its timing is the "worst in the world" – as it would effectively shut down Hollywood.
Inga Parkel has the details.
Oliver O'Connell13 July 2023 19:00
1689269433
Why might Hollywood actors join striking writers and what is at stake?
Hollywood actors may be on the verge of joining screenwriters in what would be the first two-union strike in the industry in more than six decades, with huge consequences for film and television production.
Here is a look at how it could play out, and why it's happening.
Oliver O'Connell13 July 2023 18:30
1689267633
Letterman sketch resurfaces amid ongoing writers strikes in Hollywood
In May, the Writers Guild of America (WGA) went on strike after a deal was not reached with representatives from Hollywood studios.
There is precedent for the strike. In 2007, the WGA took industrial action, with a key issue in the negotiations being royalties from DVD sales.
A sketch from The Late Show with David Letterman, which aired around that time, has recently gone viral on social media.
Annabel Nugent has the story.
Oliver O'Connell13 July 2023 18:00
1689266180
SAG-AFTRA press conference scheduled for 12 noon pT
The union will hold a press conference today, Thursday 13 July, at 12 noon Pacific Time at SAG-AFTRA Plaza in Los Angeles, following the conclusion of the National Board vote.
Oliver O'Connell13 July 2023 17:36
1689265833
Read full statement from SAG-AFTRA leadership
The leadership of the actors' union SAG-AFTRA released the following statement late on Wednesday night.
After more than four weeks of negotiations, the Alliance of Motion Picture and Television Producers (AMPTP) — the entity that represents major studios and streamers, including Amazon, Apple, Disney, NBCUniversal, Netflix, Paramount, Sony, and Warner Bros Discovery — remains unwilling to offer a fair deal on the key issues that you told us are important to you. Because of this, we've called for a meeting with our National Board this morning to vote on a strike order.
From the time negotiations began on June 7, the members of our Negotiating Committee and our staff team have spent many long days, weekends and holidays working to achieve a deal that protects you, the working actors and performers on whom this industry relies. As you know, over the past decade, your compensation has been severely eroded by the rise of the streaming ecosystem. Furthermore, artificial intelligence poses an existential threat to creative professions, and all actors and performers deserve contract language that protects them from having their identity and talent exploited without consent and pay. Despite our team's dedication to advocating on your behalf, the AMPTP has refused to acknowledge that enormous shifts in the industry and economy have had a detrimental impact on those who perform labor for the studios.
Though we've engaged in negotiations in good faith and remained eager to reach a deal that sufficiently addressed performer concerns, the AMPTP's responses to our proposals have not been adequate.
We will update you immediately after the National Board's vote and information will be provided on how the strike impacts your ability to work. Details on picket times and locations will be provided as well. Please check your inbox.
Our ninety-year history is a testament to what can be achieved through our conviction and unity. For the future of our profession, we stand together.
Duncan Crabtree-Ireland
National Executive Director & Chief Negotiator
Oliver O'Connell13 July 2023 17:30
play youtube
,
xnxx
,
xvideos
,
porn
,
porn
,
xnxx
,
Phim sex
,
mp3 download
,
sex 4K
,
Straka Pga
,
gay teen porn
,
Hentai haven
,
free Hentai
,