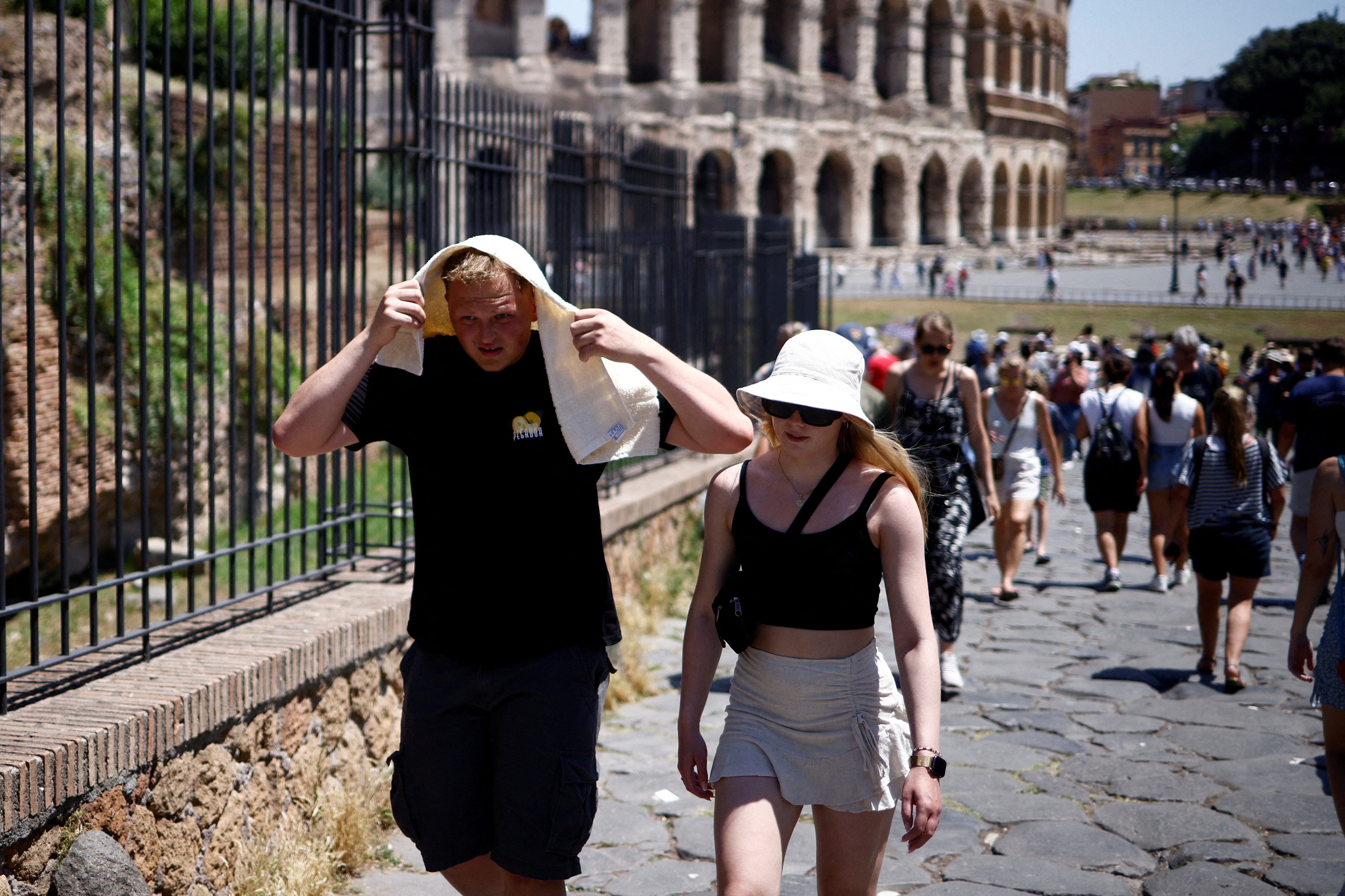 A deadly heatwave is sweeping Europe with ground temperatures in Spain hitting more than 60C while thunderstorms have been forecast for France.
The heatwave – named Cerberus by Italian forecasters – has the potential to see record-breaking temperatures in the coming days, with 48.8C possible in Italy.
A heat map for Europe has turned to dark red and even black in areas because of the severity of the extreme weather.
Forecasters have said the heatwave could last for up to two weeks and already one person has died as a result.
The 44-year-old worker was reportedly painting a zebra crossing in 40C heat in the town of Lodi outside Milan, Italy, at midday on Tuesday when he collapsed. He was said to have lost consciousness due to the intense heat.
"We are facing an unbearable heatwave," Italian MP Nicola Fratoianni tweeted.
"Maybe it's the case that in the hottest hours all the useful precautions are taken to avoid tragedies like the one that happened today in Lodi."
1689255470
Met Office has not predicted summer heatwave for UK
As already reported, the Cerberus heatwave will not bring 40C plus temperatures to the UK – and instead the Met Office has predicted cool winds.
The weather agency has told Sky that it is unlikely that a heatwave will come to Britain this summer, unlike in 2022.
Rachel Ayers said temperatures will be up in August but there is a "below average" chance of super warmth.
William Mata13 July 2023 14:37
1689254791
Europe heatwave: Is it safe to travel to Italy, Spain, Greece and Croatia?
Travellers from the UK, US and elsewhere in the world may be looking with concern at planned trips to the Mediterranean.
As the busiest summer getaway since 2019 begins, travellers to southern Europe are likely to experience extreme heat. An area of high pressure appears to have settled over the Med with little sign of abating.
The deadly "Cerberus" heatwave (so named by Italian meteorologists) is gripping southern France, Spain, Italy, Croatia, Greece and Turkey, as well as smaller countries in the Mediterranean region.
William Mata13 July 2023 14:26
1689254593
Warning of wildfires in Greece
Greece's minister of climate change and civil protection has warned that wildfires could hit the country.
"We are going to have fires, we are going to have floods… and we have to deal with what is happening," Vasilis Kikilias told Sky News.
He added that wildfires are a particular concern when winds pick up in a few days time, as they are forecast to do.
Mr Kikilias said that climate change was behind the extreme weather.
William Mata13 July 2023 14:23
1689254383
More on emergency measures in Greece
Greece's government has shared more details of the emergency measures in place to deal with the heatwave.
Temperatures of more than 44C could hit the country within the next week.
The labour ministry has said that when heat stress is high between 12pm and 5pm work must be stopped.
It has also said high-risk members of the private sector must work from home and that special provisions should be given to outdoor workers.
William Mata13 July 2023 14:19
1689252311
Pictures from around Europe
William Mata13 July 2023 13:45
1689250511
When will temperatures peak?
Europe will see different peaks at different times over the next few days.
Germany will see highs of around 34C on Saturday, as will Austria.
But the most extreme heat will come to Italy a little later – with temperatures above 40C expected on Tuesday and Wednesday.
There is a similar outlook in Spain and France.
William Mata13 July 2023 13:15
1689248738
Is heatwave going to hit the UK?
The UK has had wet and windy conditions this week while other parts of Europe have baked.
Temperatures are expected to go beyond 40C in parts of Spain, France, Greece, Croatia and Turkey in the next few days.
The Met Office has instead issued a yellow weather warning for wind for the UK.
On Twitter, the Met Office forecast "strong gusts across southern, central and eastern England," into Saturday.
William Mata13 July 2023 12:45
1689247523
Killer Cerberus heatwave sweeping Europe turns heat maps black as health alerts issued
The Cerberus heatwave is bringing temperatures to central and southern Europe that are so extreme, heat map graphics are turning the most critical shade of black.
The map turns a dark shade of red when the mercury reaches the high 30s and then creeps into black when it gets to 40C and beyond. Parts of central and southern Spain have already been shaded black, while Greece is also dark over the coming weekend.
William Mata13 July 2023 12:25
1689244209
Record temperatures
Hot weather is expected to be on the way in central and southern Europe in the next fortnight.
Already the heat map for Spain has showed black patches, suggesting the most extreme heat.
Here is a look at what the record temperatures are for countries.
Expected peak this next week: 35C
Expected peak this week: 34C
Expected peak this week: At least 40C
Expected peak this week: 43C
William Mata13 July 2023 11:30
1689241937
Heatwave stretches in America
America has also been feeling the impacts of the heat
A prolonged heatwave blanketed a swath of the US stretching from California to South Florida on Wednesday, with forecasters expecting temperatures that could shatter records in parts of the south west in the coming days.
The National Weather Service issued excessive heat advisories, watches and warnings for areas where about 100 million Americans live. The sweltering conditions are expected to worsen over the weekend and continue into next week.
The south west was bracing for potentially deadly heat with much of the area under an excessive heat warning.
William Mata13 July 2023 10:52
play youtube
,
xnxx
,
xvideos
,
porn
,
porn
,
xnxx
,
Phim sex
,
mp3 download
,
sex 4K
,
Straka Pga
,
gay teen porn
,
Hentai haven
,
free Hentai
,