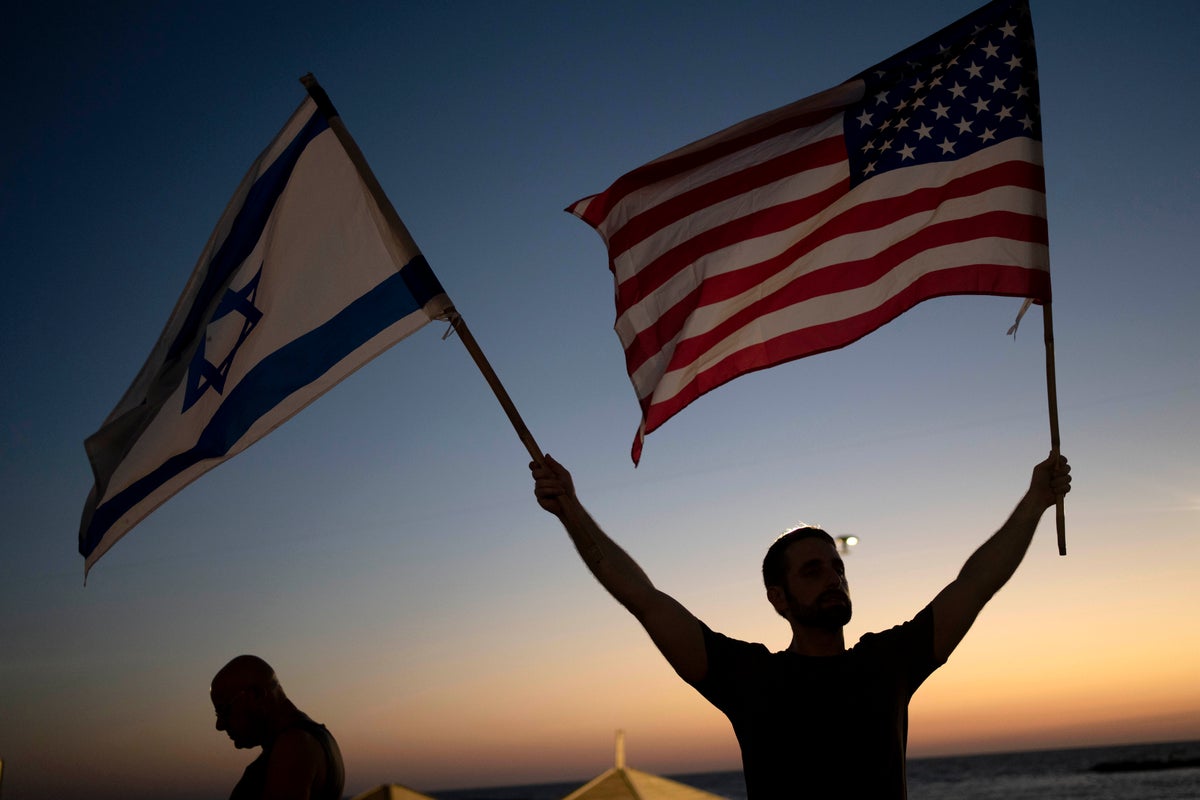 Thousands of protesters gathered outside the main U.S. diplomatic office in Tel Aviv Thursday night, calling upon the U.S. to condemn Prime Minister Benjamin Netanyahu's plan to overhaul the country's judiciary.
The gathering came days after President Joe Biden called members of Netanyahu's far-right government "extreme" and said that supporters of Israel's West Bank settlements were "part of the problem."
Netanyahu's allies, who comprise the most far-right Israeli government ever, have proposed a series of changes to the Israeli legal system aimed at weakening what they say are the excessive powers of unelected judges.
The proposed changes include giving Netanyahu's allies control over the appointment of judges and the power to overturn court decisions they do not support. Protesters say the plan will destroy the country's fragile system of checks and balances and concentrate power in the hands of Netanyahu and his allies.
Protesters, who are now in their seventh month of demonstrations, fear that Netanyahu's plans will strain Israel's close alliance with the U.S. Standing outside the U.S. Embassy Branch Office, they waved American flags and LGBTQ+ pride flags and brandished signs reading "SOS" and "Mayday!"
The overhaul has drawn consternation from Biden and American Jews. On Sunday, Biden told CNN that Israel's current government has some "of the most extreme members" he has ever seen and criticized their support for West Bank settlements, built on occupied lands sought by the Palestinians for a future state. He also urged Netanyahu to show "moderation" with the judicial overhaul.
Israeli hardliners rejected Biden's criticism. National Security Minister Itamar Ben-Gvir, a firebrand settler leader, said that Israel is "no longer another star in the American flag."
Biden has so far declined to invite Netanyahu to the White House, normally a standard courtesy extended to Israeli leaders.
Israel's figurehead president, Isaac Herzog, is set to visit Washington next week, and has been invited to address a joint session of Congress on July 19 to celebrate Israel's 75th anniversary.
Thursday's protest in Tel Aviv was joined by others across the country, including at Netanyahu's home in Jerusalem and his seaside villa in the town of Caesarea.
The Israeli parliament's vote on Tuesday to move forward with a bill that would limit the Supreme Court's oversight powers has given new momentum to the protests, which have swept the country since January. Protesters this week blocked major highways and disrupted operations at Israel's main airport, and more protests are planned this weekend.
Wide swaths of Israeli society, including reserve military officers, business leaders, LGBTQ+ and other minority groups, have joined the protests.
Netanyahu's government says it wants to pass parts of the legislation by the end of the month.
play youtube
,
xnxx
,
xvideos
,
porn
,
porn
,
xnxx
,
Phim sex
,
mp3 download
,
sex 4K
,
Straka Pga
,
gay teen porn
,
Hentai haven
,
free Hentai
,