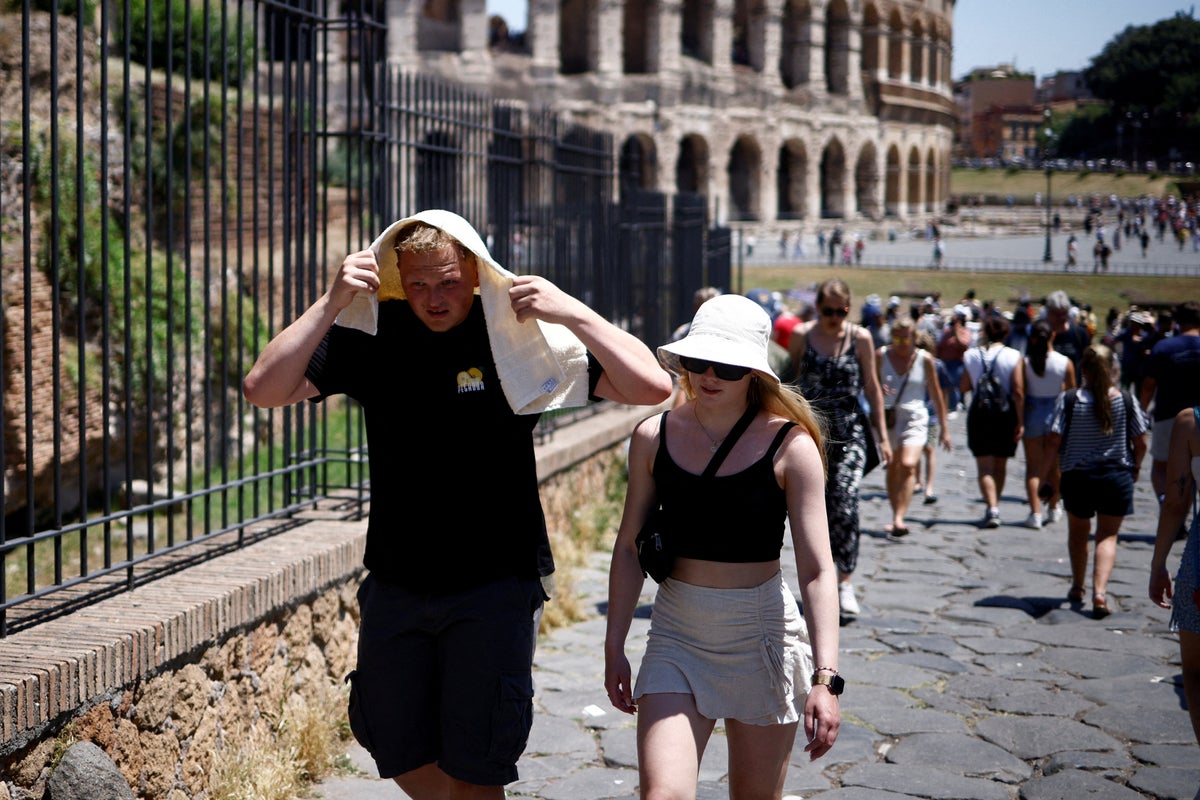 Europeans seek shade as heatwave grips much of the continent
Greece has introduced emergency measures to help workers cope with temperatures of more than 40C as the Cerberus heatwave grips Europe.
The country has introduced the mandatory stoppage of work where there is heat stress from 12-5pm and high risk members of the public service will work from home.
Temperatures in Greece could top 44C in the days to come while already in Spain the ground temperature has reached 60C.
A heat map for Europe has turned to dark red and even black in areas because of the severity of the extreme weather, with forecasters noting that the heatwave could last for up to two weeks. One person has already died as a result.
The 44-year-old worker was reportedly painting a zebra crossing in 40C heat in the town of Lodi outside Milan, Italy, at midday on Tuesday when he collapsed.
The scorching heat is being driven by the rising global temperature as well as El Nino – a cyclic climate pattern which makes many places a lot hotter.
There is also extreme heat in the US, and you can follow the blog for that here.
1689267330
European Space Agency releases heat map as Europe braces for sweltering month
As temperatures are expected to reach 48C on the islands of Sicily and Sardinia, the European Space Agency has released a map depicting the land surface temperature across Europe.
On 10 July, temperatures hit 42C in Milan, 46C in Rome and Madrid and highs of 47C in Seville, characterised by the sea of red sweeping the continent.
Following last year's summer heatwave across Europe, more than 60,000 people died, with Italy, Greece, Spain and Portugal experiencing the highest mortality rates.
This summer, The Red Cross has urged locals and tourists alike to be cautious and look out for those who are most vulnerable.
"Climate warming amplified this year by El Niño severely affects food production, water availability as well as our health. To properly adapt to these changes we need timely information at actionable resolution which the Copernicus programme is providing with Sentinel-3 and soon with the Copernicus Land Surface Temperature Monitoring mission at 50 m resolution," Benjamin Koetz, Mission Scientist of the Land Surface Temperature Monitoring mission, explained.
Eleanor Noyce13 July 2023 17:55
1689300000
Scorching earth, from Balkans to Spain
Health authorities issued a top, red alert warning for 10 Italian cities for the next two days, including Rome, Florence, Bologna and Perugia.
In Greece, the government has ordered the suspension of work between 12 p.m. and 5 p.m. local (0900-1400 GMT) in areas where the risk from heat is very high, and also requested remote work for private sector employees with health conditions.
In the Balkans, beachgoers in the Croatian town of Nin smeared themselves in its medicinal local mud to protect themselves from the sun while 56 firefighters with 20 vehicles and three aircraft struggled to contain a brush fire near the Adriatic town of Sibenik.
Cloke said that the current heatwave was caused by hot air coming up from the Sahara, with the air mass then becoming lodged across parts of Europe.
Images captured by the ESA's Sentinel 3 satellites had measured the land surface temperature at more than 60 Celsius in the western Spanish region of Extremadura on Tuesday.
Weather forecasts and official records are based on the air temperature which is significantly lower than the land surface reading. The record European temperature of 48.8C was registered in Sicily in August 2021 and that figure could be exceeded.
"Next week there will be an even stronger heatwave than this one, some values in the central south will be really freaky," said Luca Lombroso, meteorologist from the AMPRO group in Italy.
"Between Tuesday and Wednesday in Rome and Florence we will probably exceed 40 degrees, which will also be approached in the north," he added.
Animals are also feeling the strain.
Italian farmers' lobby group Coldiretti said milk production was down by around 10% because cows eat less in the heat, drink huge quantities of water and make less milk.
Eleanor Noyce14 July 2023 03:00
1689296400
UK must adapt its buildings for higher temperatures, say scientists
The UK is one of the countries that will have to adapt the most radically to cool down buildings as climate change drives up the global average temperature, according to a new study.
Like other countries in Northern Europe, such as Ireland, Switzerland and those in Scandinavia, homes were built to retain heat during cold winters.
But rising temperatures because of climate change means more unwanted heat during the summer, which can be fatal for older and more vulnerable people.
Eleanor Noyce14 July 2023 02:00
1689292800
More than 113 million Americans under extreme heat alerts as relentless temperatures continue
More than 113 million Americans were under heat alerts on Thursday as stifling, life-threatening temperatures dug in across large parts of the country.
In the south and southeast, relentless, hazardous heat is expected to continue for at least another week after constant triple-digit temperatures in the past month.
A wide area will experience temperatures of 110 degrees Fahrenheit (43.3 Celsius), from a combination of heat and humidity, the National Weather Service reported.
Eleanor Noyce14 July 2023 01:00
1689289260
Land temperatures in Spain surpass 60C as deadly heatwave sweeps Europe
The temperature of the ground in some areas of Spain has hit more than 60C during the deadly heatwave sweeping Europe, satellite recordings have shown.
It was so hot that a heat map that highlights scorching temperatures in red turned even darker – to black.
Temperature records have been broken on most of the continent, including France, Switzerland, Germany and Italy, where highs of 40C were recorded again on Wednesday.
Jane Dalton has the full story:
Eleanor Noyce14 July 2023 00:01
1689285635
Will the UK see a 40C heatwave again this summer?
The summer in the UK has already begun on a hotter note, with June temperatures smashing all-time records.
Eleanor Noyce13 July 2023 23:00
1689282035
Europe heatwave: Is it safe to travel to Italy, Spain, Greece and Croatia?
Travellers from the UK, US and elsewhere in the world may be looking with concern at planned trips to the Mediterranean.
As the busiest summer getaway since 2019 begins, travellers to southern Europe are likely to experience extreme heat. An area of high pressure appears to have settled over the Med with little sign of abating.
The deadly "Cerberus" heatwave (so named by Italian meteorologists) is gripping southern France, Spain, Italy, Croatia, Greece and Turkey, as well as smaller countries in the Mediterranean region.
Eleanor Noyce13 July 2023 22:00
1689278435
Cerberus heatwave: Why UK weather is wet and windy as Europe swelters
As the UK gets prolonged showers – the Met Office predicts unsettled conditions to continue for the next few days – the Mediterranean region grapples with soaring heat that could touch a new European record as soon as this week.
Temperatures are expected to go beyond 40C in parts of Spain, France, Greece, Croatia and Turkey in the next few days.
Eleanor Noyce13 July 2023 21:00
1689277535
Cerberus heatwave threatens new record temperatures for Europe
Southern Europe sweltered under a fierce heatwave on Thursday, with a warning that temperatures could hit record highs for the continent next week, raising fears about the impact on human health, crops and animals.
Weather alerts were in place across Spain's Canary Islands, Italy, Cyprus and Greece, with the Greek authorities expecting temperatures to reach as high as 43C (109.4F) or 44C on Friday or Saturday.
Authorities put an ambulance on standby near the archaeological site of the Acropolis in Athens, ready to provide first aid to tourists wilting in the heatwave, which Italy's Meteorological Society has named "Cerberus".
The European Space Agency (ESA), whose satellites monitor land and sea temperatures, said July could be a torrid month.
"Italy, Spain, France, Germany and Poland are all facing a major heatwave with temperatures expected to climb to 48C on the islands of Sicily and Sardinia, potentially the hottest temperatures ever recorded in Europe," it said.
The impact of extreme summer heat has been brought into focus by research this week that said as many as 61,000 people may have died in Europe's sweltering heatwaves last summer.
Governments and employers are under pressure to do more to protect workers exposed to the burning sun in the latest heatwave, named after the three-headed dog of the underworld in Greek mythology.
There are concerns about the impact on those working outdoors in Italy after a 44-year-old man who was painting road markings in the northern town of Lodi collapsed and died this week.
"Heat is a silent killer. So this is the main concern that people's lives are at risk," said climate scientist Hannah Cloke, a professor at England's Reading University.
"Certainly, we should immediately stop pumping greenhouse gases into the atmosphere," Cloke added, warning that some changes to the climate were already locked in.
Eleanor Noyce13 July 2023 20:45
1689276618
Cerberus heatwave fans out to Balkans
Swathes of the Balkans sweltered in temperatures above 40C (104F) on Thursday in a heatwave named "Cerberus", after the three-headed dog of the underworld in Greek mythology, that has fanned across Europe.
In Croatia, 56 firefighters with 20 vehicles and three aircraft, struggled to contain a bushfire that was spreading rapidly due to strong southerly winds near the Adriatic town of Sibenik.
In the country's Adriatic resort of Nin, dozens of beachgoers covered themselves in thick black mud believed to have medicinal properties and an effective sunscreen.
"It (mud) is definitely better than sun screen, I think protection factor is much better," said a tourist from Slovakia who only gave his name as Josef.
Meteorologists and doctors in Montenegro, Bosnia and Serbia, warned people to stay indoors or drink plenty of liquids if venturing outside.
Temperatures were expected to stay around 40C across the region into next week.
Eleanor Noyce13 July 2023 20:30
play youtube
,
xnxx
,
xvideos
,
porn
,
porn
,
xnxx
,
Phim sex
,
mp3 download
,
sex 4K
,
Straka Pga
,
gay teen porn
,
Hentai haven
,
free Hentai
,