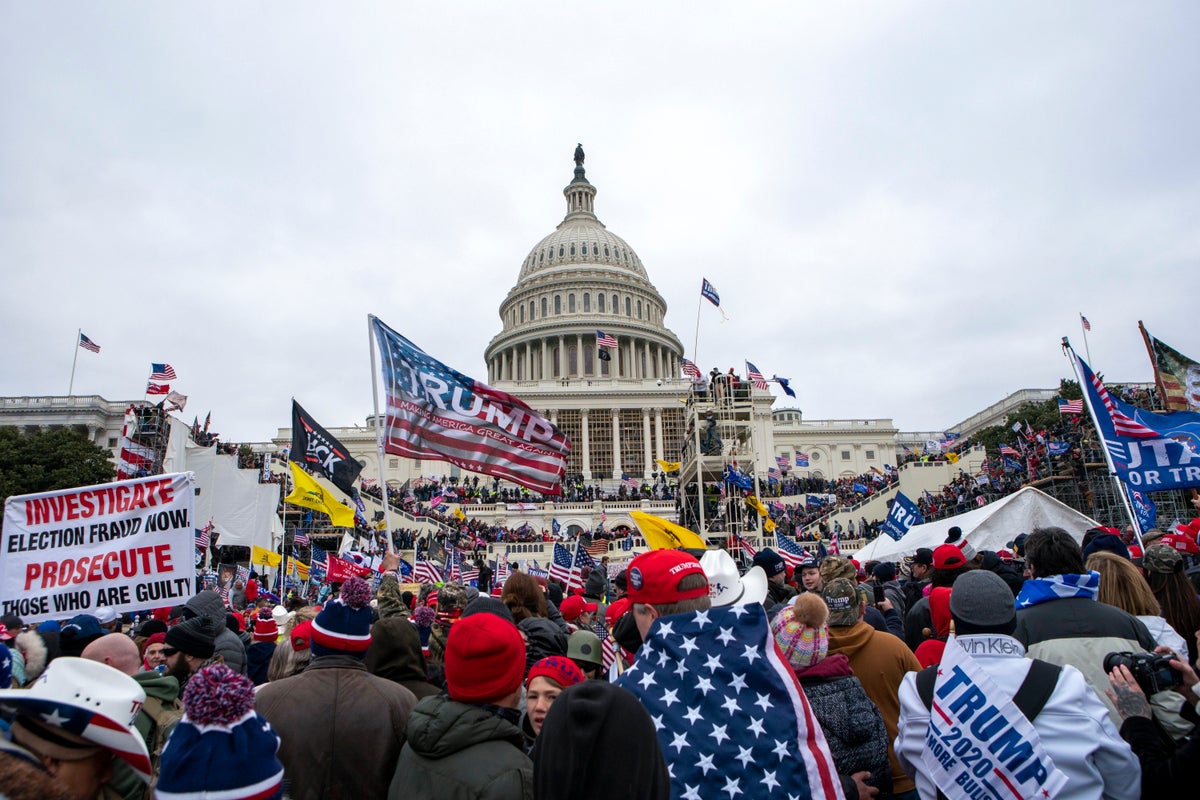 For the past two years, Ray Epps has been living a surreal nightmare, one born out of the same conspiracy theory universe that launched a riot in the halls of Congress, hundreds of criminal investigations, and a blockbuster defamation lawsuit against one of the most influential cable networks in the country.
He cast his vote for Donald Trump weeks before he would end up at the centre of a conspiracy theory on that same network, one he loyally watched.
Mr Epps traveled to Washington DC from Arizona to support the president while a joint session of Congress certified the results of an election he lost but refused to accept. He moved past exterior barricades as an unruly mob pushed through police and stormed the US Capitol.
He never went inside, and he was never arrested, fuelling an ongoing conspiracy theory that the now 66-year-old was working with law enforcement to instigate a riot to entrap Trump supporters, part of a long-running belief among Republicans that federal authorities are using the levers of power to discriminate against them.
Those claims have circulated across social media, among members of Congress – and in dozens of segments on Tucker Carlson's Fox News platform, now the subject of a defamation lawsuit from Mr Epps.
The man in the middle of the right-wing conspiracy theory surrounding January 6 has accused the far-right pundit of amplifying a "fantastical" story that has destroyed his family and his business, accusations that echo an historic $787m settlement between Fox and Dominion Voting Systems, which accused the network of spreading defamatory statements about the company in the election's aftermath.
A lawsuit filed in Delaware Superior Court on 12 July points to the mountains of allegations from that case, noting that "Fox's role in creating and disseminating destructive conspiracy theories has already been well documented".
The complaint was signed by Brian Farnan – who served as the lead Delaware counsel for Dominion in its suit against Fox.
"Defamation is defamation, so if Tucker and Fox News defamed Ray Epps, it doesn't ultimately matter what happened with Dominion," Michael Teter, an attorney for Mr Epps, told The Independent.
"It certainly is possible for us to prove a pattern of disregard for the truth. I think it will resonate with a jury that there should be additional punitive damages associated with Fox's behavior and conduct," he said. "I believe that this case is ripe for punitive damages, not just because of the willfulness on the part of lying about Ray and the egregious lies but also because there's a past conduct here of disregard for the truth."
Rodney Smolla, president of Vermont Law School who consulted for Dominion in its case against Fox, told The New York Times that when it comes to proving defamation "no case is easy" but the lawsuit from Mr Epps is "certainly, in my view, viable."
The challenge, Mr Smolla said, is for a judge to agree that the conspiracy theory is "so inherently, bizarrely improbable that only a reckless person would put it into circulation."
The lawsuit follows a cease-and-desist letter that Mr Teter sent to the network earlier this year, demanding that Carlson retract his "false and defamatory" statements about him and deliver a "formal on-air apology" for the "lies" he promoted. Fox did not respond, Mr Teter said.
The extensive filings in the Dominion case documented how Fox employees "were harassed and intimidated and threatened by Fox viewers because of the lies that Fox was spreading about the company," according to Mr Teter.
"And if a company is going to feel the brunt of that, then an individual who's singularly targeted by Fox is going to especially feel that, and so they acted with a heightened degree of malice and disregard for the consequences of their actions," he said.
The Independent has requested comment from Fox.
On his Tucker Carlson Tonight, Carlson claimed there is "no rational explanation" why this "mysterious figure" who "helped stage-manage the insurrection" had not yet been charged, among more than two dozen statements collected in the lawsuit, which notes that the claims were not isolated to Carlson's prime-time program.
"Fox repeatedly published defamatory falsehoods about Epps, including by broadcasting and rebroadcasting defamatory statements by Tucker Carlson who devoted over two dozen segments to Epps and by republishing those falsehoods" across Fox platforms, according to the lawsuit.
The House select committee that investigated the January 6 attack and efforts to overturn the 2020 election also dismissed the conspiracy theory surrounding Mr Epps. In his interview with committee investigators, he testified that he was not a federal agent, and that the "crazy" conspiracy theories surrounding him have torn his life apart.
"It's almost like an out of body experience like, 'is this really happening to me?'" Mr Teter said. "They had one life that was serene and calm and happy and contented and busy and prosperous. And then within a matter of weeks or months, after lies started being told about them, all that disappeared, all of it."
Ray and his wife Robyn Epps received threatening messages, including death threats and a plastic bag with a bullet casing inside and voicemails threatening to burn their house down, according to the complaint, which includes several examples of harassing emails, letters and text messages.
They were forced to sell their five-acre ranch in Arizona, out of which they ran their wedding business, according to the complaint. They moved into a 350-square-foot mobile home in Utah.
"The business went with it," Mr Teter said. "They didn't get to sell the business separately. It just was part of the house going for the appraised value and that was it. There was no additional value of the business. So they've lost their business. They've lost their livelihood."
The lawsuit also seeks unspecified "significant" damages for the extensive emotional harm the couple has endured.
The Epps's story illustrates the depths of the conspiratorial coverage driving right-wing media – the irony of a Trump-supporting Fox News viewer turning into the star of a conspiracy theory is not lost on Mr Teter.
"I think it demonstrates the extreme nature of conspiracy theories and that conspiracy theories are often born out of his political tool," He said. "You could look at any amount of evidence existing prior to January 6 to see that Ray Epps and Robyn Epps supported Donald Trump and supported Republicans. The fact that they would turn against some of their own demonstrates that it really is about serving some other interests and other purpose."
Those claims have also been echoed by Republican members of Congress who have made Mr Epps the subject of investigative hearings. On the same day the lawsuit was filed, House Republicans grilled FBI director Christopher Wray about alleged federal agents at the scene of the attack.
"I will say this notion that somehow the violence at the Capitol on January 6 was part of some operation orchestrated by FBI sources and agents is ludicrous and is a disservice to our brave, hardworking dedicated men and women," Mr Wray said in his sworn testimony to the House Judiciary Committee.
Carlson, in his first interview since his exit from the network in the wake of the Dominion settlement, said he doesn't know why he was fired.
The network announced that Carlson "agreed to part ways" days after Fox agreed to the settlement with the voting machine company over bogus claims that Carlson privately disputed but amplified on air.
Fox also reached a $12m settlement with Abby Grossberg, a former producer for Tucker Carlson Tonight, who alleged a culture of misogyny at the network in a federal lawsuit that depicted an environment where women are routinely verbally violated "by a poisonous and entrenched patriarchy."
Speaking about her case, Ms Grossberg alleged that she was directed to find lawyers for January 6 defendants who would speak to and validate a conspiracy theory surrounding any alleged federal involvement in the attack.
When none of them would, she was told to find someone else, she said.
"Tucker was very set on finding an FBI person who was implanted in the crowd and spinning this conspiracy that they were ultimately the ones responsible for the Capitol attack," she told MSNBC.
An attorney told her, twice, "there is no conspiracy, get away from this stuff, this is dangerous, tell Tucker to stop," she said.
"The response was, 'Find somebody else. Tucker is really intent on this,'" she said.
Mr Teter said they are keeping the door open for potential settlement discussions, but attorneys have not had any communication from the network's legal team after issuing the cease-and-desist letter in March.
"They've had opportunities to reach out to us," he told The Independent. "Maybe it takes the formality of a complaint to get those conversations started. And if they want to engage in those conversations, we are always open to them."
Ray and Robyn Epps face the prospect of a similar media circus that descended on the near-trial in the Dominion case, with media reporters and news outlets from around the US parked in front of the Delaware courthouse in Wilmington.
"They've been scrutinized for two years. And so in some sense, having a framework and a forum that is fair and deliberate and meaningful will be much better for them than what they've had to experience," Mr Teter said. "They're open-eyed about it. They know their lives will never be the same as they were before."
play youtube
,
xnxx
,
xvideos
,
porn
,
porn
,
xnxx
,
Phim sex
,
mp3 download
,
sex 4K
,
Straka Pga
,
gay teen porn
,
Hentai haven
,
free Hentai
,